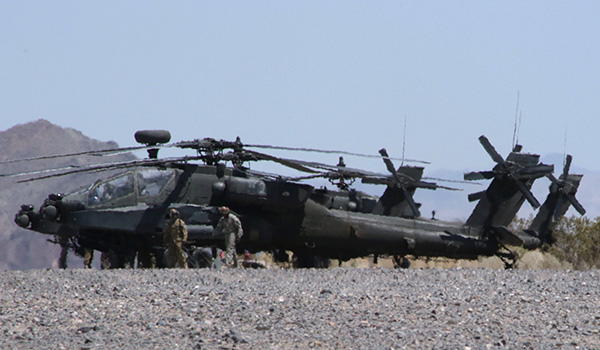 Aviation Branch Chief Update / By MG William K. Gayler: I am absolutely honored and humbled to serve as the Army Aviation Branch Chief and Commanding General of the U.S. Army Aviation Center of Excellence.
I look forward to serving with the great Soldiers and civilians from across the enterprise as we tackle the challenges facing the branch and our Army and forge a path to the future. The strength of the branch is not our aircraft, but the outstanding people who fly, fix and support Army Aviation operations across the globe. Building and sustaining readiness is the primary objective of every unit not engaged with the enemy.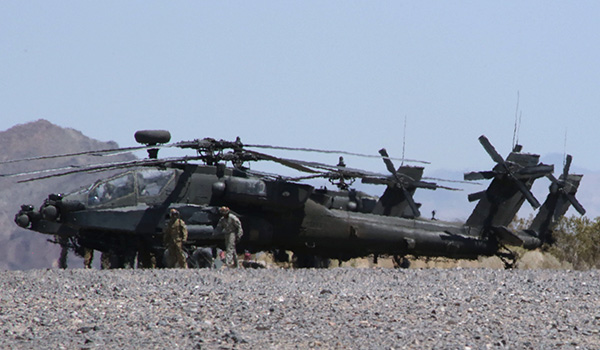 Soldiers assigned to the 3rd Battalion, 501st Aviation Regiment, Combat Aviation Brigade, 1st Armored Division, unload their AH-64D Apache Longbows during Decisive Action Rotation 16-05 at the National Training Center in Fort Irwin, CA, April 20, 2016.)/ U.S. ARMY PHOTO BY PFC DANIEL PARROTT, OPNS GRP, NTNL TNG CTR
Michele and I would like to personally thank the Lundys for their selfless service, dedication and sacrifice to our Soldiers, leaders, civilians and families as they expertly led our branch over the past two years. Their professionalism, dedication and vision made a lasting impact during an extremely challenging time in our history.
The accomplishments of the branch during the last 15 years are staggering. We executed millions of flight hours during home station training and sustained combat operations in multiple theaters while continuing to modernize the force. The operational environment and fiscal constraints drove change as the branch adapted manning, equipping, training and doctrine. We saw an increase in global terrorism, challenges in the Pacific, the resurgence of Russia in Europe and continued conflict in Iraq and Afghanistan. The world continues to grow more complex with Aviation playing a central role in the full scope of military operations.
As a result, Army Aviation is in high demand and globally committed in nearly 40 countries. We must continue to work to provide our force the improved capabilities to increase our access, deny our enemies sanctuary and maintain overmatch.
Our adversaries have learned from our years of conflict and are investing and innovating to exploit our capability gaps. Army Aviation must mitigate these gaps in the near term until we can close them in the future. We are rapidly realizing the evolutionary limit of our current airframes and must act now to field bridging capabilities that will enable the current and future force. Decisions are required now to shape funding and fielding in the far term to meet the requirements of the Army Operating Concept.
Army Aviation's core competencies are fundamental to enabling the AOC imperatives and crosscut all Warfighting Challenges. To set the force and dominate in the current and future operating environment, Army Aviation requires improved reach – speed, range, power and endurance to fly and fight in all environments to deny sanctuary to our adversaries; protection – advanced survivability equipment to protect our forces; and lethality – common, lighter, more lethal, precision munitions and more capable sensors.
Current demand exceeds capacity and continues to grow with no programmed future growth of the force. In light of where we are today, we have to ask ourselves, how can we do more with what we currently have to close our capability gaps, meet combatant commander demand and build readiness? This will require a concerted effort from the entire enterprise and I look forward to working with each of you in the pursuit of answers to the myriad complex challenges we face today and those we will face in the future.
In the end, our most important weapon systems are our Soldiers. We must provide them with the best equipment, training and leader development to create agile and adaptive leaders who thrive in uncertainty to win in an increasingly complex world.
Thank you for your dedicated service and sacrifice to our Nation. I also want to thank our Families who are faithful, supportive and vital to our mission. Michele and I are honored to serve with each of you.
Above The Best!
MG Bill Gayler
MG William K. Gayler is the Army Aviation branch chief and commander of the U.S. Army Aviation Center of Excellence and Fort Rucker, AL.
Soldiers assigned to the 3rd Battalion, 501st Aviation Regiment, Combat Aviation Brigade, 1st Armored Division, unload their AH-64D Apache Longbows during Decisive Action Rotation 16-05 at the National Training Center in Fort Irwin, CA, April 20, 2016.)/ U.S. ARMY PHOTO BY PFC DANIEL PARROTT, OPNS GRP, NTNL TNG CTR