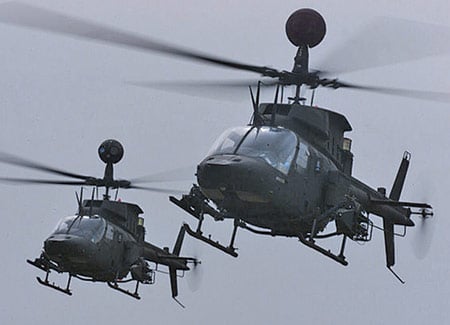 Branch Command Sergeant Major —By CSM James H. Thomson Jr.
This month I will highlight the 110th Aviation Brigade stationed at Fort Rucker, Alabama and one that all Army aviators are familiar with as the brigade primarily conducts all rotary flight training. 
The brigade traces its lineage back to the 10th Aviation Group that was activated in June 1965 at Ft. Benning, Georgia to support the 11th Air Assault Division (Test) developing emerging techniques, tactics and procedures for rotary wing aircraft use in combat in Southeast Asia. After the 11th Division was inactivated, the 10th Avn. Gp. remained at Ft. Benning training helicopter units preparing to deploy to Vietnam.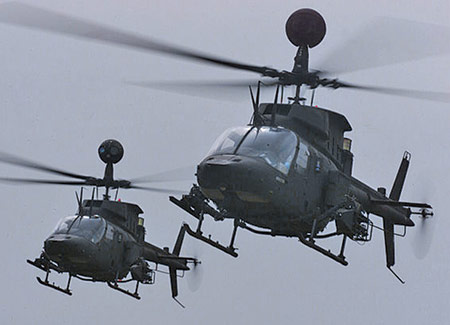 A pair of OH-58D Kiowa Warrior light attack helicopters belonging to Task Force 1-25 Aviation. 
Today the 110thAvn. Bde. "Warriors" is one of three training brigades assigned to the U.S. Army Aviation Center of Excellence (USAACE) and routinely flies in excess of 5,000 flight hours a week. The brigade's mission is to provide the Army with professionally trained aviators through planning, coordinating, and executing formal flight instruction at the undergraduate and graduate levels. 
The brigade consists of the Headquarters and Headquarters Company which provides staff assistance to the four subordinate battalions – 1-11th, 1-14th, 1-212th, and 1-223rd each having a unique mission. The brigade also provides crash rescue and air ambulance support to Ft. Rucker and the surrounding communities.
1st Battalion, 11th Aviation Regiment provides air traffic support to the flight training mission and National Airspace System while simultaneously certifying assigned air traffic control Soldiers to Army Control Tower Operator standards in order to support and sustain the Army Aviation community. This is accomplished through the management of 25 facilities at Fort Rucker and the surrounding community covering a training area of over 32,000 square miles of airspace. 
1-11th also supports the Federal Airspace System through operations of an Army Radar Approach Control facility and two joint use municipal airports that provide southeast regional radar services for all air traffic up to 10,000 feet altitude and out to 100 nautical mile radius. 
Further support of the Federal Airspace System is provided at Troy and Andalusia Municipal Airports through the operation of Ground Control Approach Radars and navigational operation. The battalion continues to provide safe and expeditious air traffic services with administrative, logistical, operational support and navigational aid maintenance sustainment for long term aviation training support.
1st Battalion, 223rd Aviation Regiment is currently organized into three line companies, an HHC and an Army Air Ambulance Detachment "FLATIRON." The battalion's mission is to coordinate and conduct flight instruction and operations at Cairns Army Airfield and Knox Army heliport in order to provide the Army with professionally trained CH-47, C-12, and Mi-17 aviators. Additionally it conducts initial entry rotary wing contact and instrument training in the TH-67 Creek while evaluating and performing quality assurance to include instrument flight examiner training. 
The 1-223rd also conducts the Non-rated Crewmember Flight Instructor Course for our CH-47 community awarding 15Us the Additional Skill Identifier N1. The battalion provides general aviation and crash rescue support to Fort Rucker, and when called upon, is capable of conducting aeromedical evacuation operations throughout the southeastern United States. The battalion continues to provide safe and quality training to our future aviation professionals. 
1st Battalion, 212th Aviation Regiment operates Lowe and Shell Army Heliports. The battalion's mission is to train initial entry rotary wing students in UH-60A, OH-58C, and TH-67A helicopters. This training includes basic war fighter skills, basic combat skills, and night/night vision goggle qualification. 1-212th also conducts aircraft qualification training in the UH-60A, and UH-60M, and instructor pilot training in the UH-60A, UH-60M, OH-58C, and TH-67A for aviation units Army wide. 
The unit also conducts the Non-rated Crewmember Flight Instructor Course producing FIs for our UH-60 fleet awarding 15Ts the ASI N1. In addition, the battalion provides world class support to the allied military training mission.
1st Battalion, 14th Aviation Regiment operates out of Hanchey Army Heliport. The unit has a mission to conduct both primary and graduate-level flight instruction in various rotary wing aircraft. The current mission of 1-14th is flight instruction in the Kiowa Warrior and Apache Longbow helicopters. Courses taught include Flight School XXI, Aviator Qualification Course, Instructor Pilot Course, and Method of Instruction. 
The battalion trains all live fire aerial gunnery qualification conducted at Ft. Rucker. The battalion continues to be the leader as it forges the future of attack and recon training with the incorporation of running/diving fire, night vision goggle qualification in the AH-64 Apache, as well as close combat attack in the OH-58D Kiowa Warrior.
The Warrior Brigade is clearly a very busy organization and an integral part of USAACE's mission to deliver Army aviation professionals and indispensible aviation capabilities to support commanders and Soldiers on the ground.
Above the Best!
CSM Thomson 
This email address is being protected from spambots. You need JavaScript enabled to view it.
CSM James H. Thomson Jr. is the command sergeant major of the Aviation Branch and the U.S. Army Aviation Center of Excellence, Fort Rucker, AL.