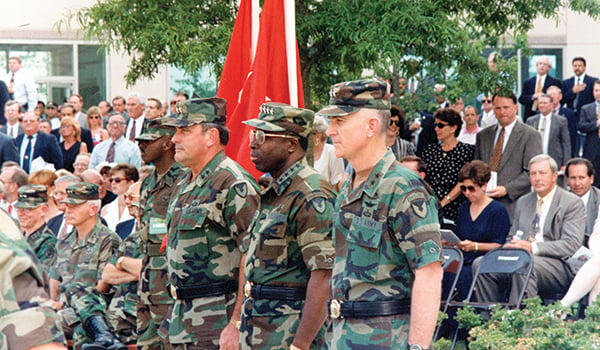 From the Field / By Kaylene Hughes, Ph.D.: On the afternoon of July 17, 1997, U.S. Army Materiel Command (AMC) Commander, GEN Johnnie E. Wilson, presided over the provisional stand-up ceremony for the U.S. Army Aviation and Missile Command (AMCOM) thereby merging the Army's missile and aviation commands as recommended by the 1995 Base Realignment and Closure (BRAC-95) Commission. As part of the approved BRAC-95 action, the PEO Aviation also relocated from St. Louis, Missouri, to Redstone Arsenal.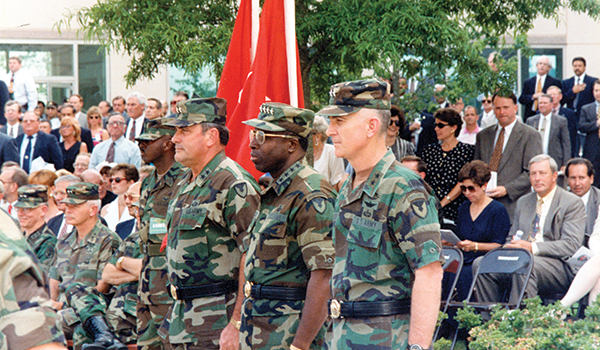 AMCOM Activation Ceremony, July 17, 1997. Standing left to right: MG James M. Link, GEN Johnnie E. Wilson, MG Emmitt E. Gibson. / U.S. ARMY PHOTO FROM HISTORICAL OFFICE ARCHIVES
On October 1, 1998, AMCOM's mission expanded further when it assumed operational control of Corpus Christi Army Depot (CCAD) and Letterkenny Army Depot (LEAD). CCAD is the Army's organic industrial base facility which performs depot level repairs on Department of Defense (DOD) rotary wing aircraft, while LEAD performs tactical missile depot repairs and some vehicle maintenance and ammunition missions. Recognized by the Secretary of the Army as centers of industrial and technical excellence for the past 19 years, these facilities are part of a larger and essential organic industrial base, key to AMCOM's readiness sustainment mission and providing capacity for the Nation's defense.
The Early Years
From July 17, 1997 to September 10, 2001, AMCOM and its depot partners successfully executed the command's primary support responsibilities for eight of the Army's 16 highest priority weapons systems. Known initially as Status of Resources and Training System (SORTS) materiel, the Army tracked this part of its inventory on a monthly basis and used the condition of the identified SORTS systems to indicate the readiness of the Army as a whole.
Despite challenges generated by the newly formed organizations, AMCOM engaged in a variety of activities in its first four years including support for several smaller-scale contingencies in Southwest Asia, Africa, Haiti, and the Balkans. All of the Army's rotary wing assets and HELLFIRE and PATRIOT missiles were engaged in these deployments. In addition, AMCOM's Test, Measurement and Diagnostic Equipment (TMDE) Activity provided worldwide mission command over a broad metrology and calibration program.
9/11
However, the morning after AMCOM's third change of command on September 10, 2001, Army assets managed and sustained by organizations at Redstone Arsenal became a crucial part of the immediate reaction to the Al-Qaeda terrorist attacks. Team Redstone, as the separate Army organizations on post are known collectively, not only supported the Army missile and aviation systems assigned to the homeland security mission and other ongoing global contingency operations but also began preparing for the anticipated overseas deployment, sustainment, and combat use of these critical weapons systems.
MG Larry Dodgen, the new AMCOM commander, took the lead in the overall effort to coordinate the Team Redstone response. His service as a PATRIOT missile battalion commander during Operation Desert Shield/Storm helped the AMCOM work force to focus on support from the user standpoint. He brought the tactical-level soldier focus to the AMCOM workforce.
Reorganization
Additional organizational changes in the 21st century further reshaped the command in light of AMCOM's primary Soldier readiness responsibilities, Army transformation goals, and ongoing national security needs. In the past 13 years, AMCOM has undergone several major reorganizations, starting in February 2003 when the command assumed operational control of all aviation logistics management functions at Fort Rucker, Alabama. The Aviation Center Logistics Command (ACLC) was formally activated on August 5, 2004 to provide quality aviation sustainment, logistics, and materiel in support of the U.S. Army Training and Doctrine Command training mission at Fort Rucker; Fort Bliss, Texas; and Fort Benning, Georgia.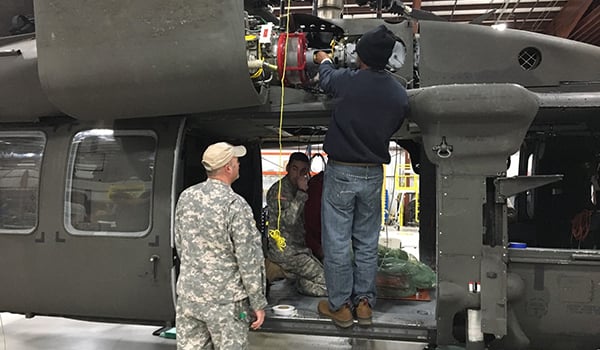 PEO-Aviation, Northrup-Grumman coupled with a unified team from AMCOM, AMRDEC and ACC-Redstone combine efforts to provide the warfighter with a digitized cockpit solution for the UH-60V. / U.S. ARMY PHOTO
In 2004, the Aviation and Missile Research, Development, and Engineering Center (AMRDEC) transferred to AMC's newly created U.S. Army Research, Development and Engineering Command (RDECOM). Another AMC-directed reorganization resulted in the transfer in October 2008 of the former AMCOM Acquisition Center to the U.S. Army Acquisition Command (ACC), at which time it was renamed ACC-Redstone.
The Army's First LCMC
In June 2005, AMCOM joined with the PEO Aviation and PEO Missiles and Space to form the Aviation and Missile Life Cycle Management Command (LCMC) which provided integrated engineering, logistics, and contracting support to more than 90 major systems, representing about half of the Army's inventory at that time. As the Army's first LCMC, AMCOM continues to assure aviation and missile readiness with seamless transition to combat operations.
Integral to the partnership with PEO Aviation and PEO Missiles and Space, AMCOM also partners closely with the Joint Attack Munition Systems Project Management Office where the future Joint-Air-to-Ground Missile is a key weapon system for Army aviation.
The Joint Air-to-Ground Missile (JAGM) is the next generation of air-to-ground missiles, replacing HELLFIRE. It has a newly developed multi-mode guidance section mated to the existing HELLFIRE Romeo backend (motor, warhead, and associated electronics). JAGM is compatible with all joint force and allied aircraft that currently use the HELLFIRE II missile. It uses advanced seeker and guidance technologies, combining multiple sensors to provide improved precision point and fire-and-forget targeting for capability against fast moving and stationary targets in dirty battlefield/countermeasure-intensive environments and adverse weather. Future improvements may also provide greater range and passive engagement capability. JAGM's integrated fire-and-forget and precision point targeting capability meets current requirements. Threshold platforms for JAGM include the Army's AH-64E Apache and the United States Marine Corps' AH-1 Viper.
AMCOM resumed operational control of AMRDEC and ACC-Redstone February 2016 when AMC issued a realignment order designed to strengthen the Army's portfolio management-based readiness empowering LCMC commanders to establish and manage priorities and resources within their respective portfolios. AMCOM initiated 'Operation Unified Action' for order execution.
Recapitalization/Reset
In addition, AMCOM supports Soldier readiness with Recapitalization, which upgrades and refurbishes current systems instead of buying all new equipment. In the spring of 2003, the aviation and missile Reset program is the Army-wide effort to return all major systems used in combat to pre-deployment condition. This required the adoption of Lean industrial/manufacturing processes at LEAD and CCAD which helped the depots to reset respectively 55 Patriot missile battalions and 4,970 aircraft by 2015. AMCOM also reaches out directly to its customer base and industry partners in a variety of ways. The command's logistics assistance representatives (LARs) successfully interface with unit commands and serve as a bridge between AMCOM and the soldiers it supports. The LARs are essential to the proper use of condition-based maintenance (CBM), which involves component monitoring to determine when maintenance is required. AMCOM uses continual training improvements for LARs and CBM to meet readiness requirements "while reducing costs."
Readiness – A Team Sport
As AMCOM Commander, MG Doug Gabram, points out frequently, "Readiness is a team sport." One of the best examples of that tenet is the modernization of the older UH-60L Black Hawk helicopter's analog cockpit to a state-of-the-art digital "glass cockpit" similar to the UH-60M. Designated as the UH-60V, the upgrade is expected to "improve fleet readiness, ease training requirements, and help save money" by decreasing the number of UH-60M models purchased. The project brings together AMRDEC's Prototype Integration Facility, CCAD, the PEO Aviation, and contractor Northrup-Grumman in a cooperative project to reduce costs and increase warfighter readiness.
The last 20 years have proved challenging; we have learned valuable lessons. Gen Colin Powell once stated ,"There are no secrets to success. It is the result of preparation, hard work and learning from failure." We must remain cognizant of those words as we prepare for the future. The initiative to develop the next generation of vertical lift aircraft in support of the Joint Warfighter will require the team to continue its partnering efforts. We will be required to sustain legacy systems as we embrace new technology that will dramatically change sustainment as we know it.
Since that hot July day just over two decades ago, AMCOM's vision has remained fundamentally constant: "Mission First, People Always," enabling synchronized aviation, missile and calibration materiel enterprises providing unmatched capability for the Army, the Joint Community and the Nation. Today, we stand ready as an agile, unified and synchronized team of professionals prepared to embark on the challenges of the next 20 years and beyond.
Kaylene Hughes, Ph.D. is the historian for the U.S. Army Aviation and Missile Command located at Redstone Arsenal, AL.