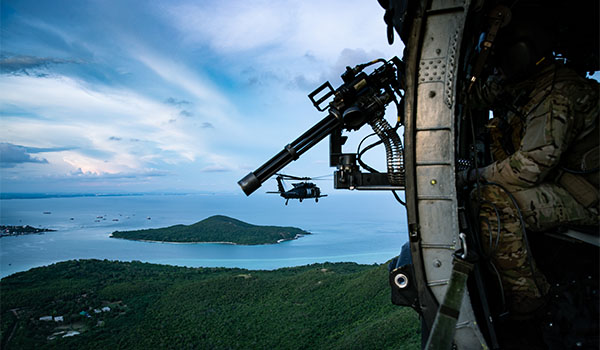 Army Aviation Branch Chief's Corner / By MG David J. Francis: I am extremely proud of our Special Operations Aviation and the close working relationship that exists between them and our conventional Army Aviation forces. This relationship that developed over many years of shared lessons learned in training and combat, established a common understanding and trust between the two organizations.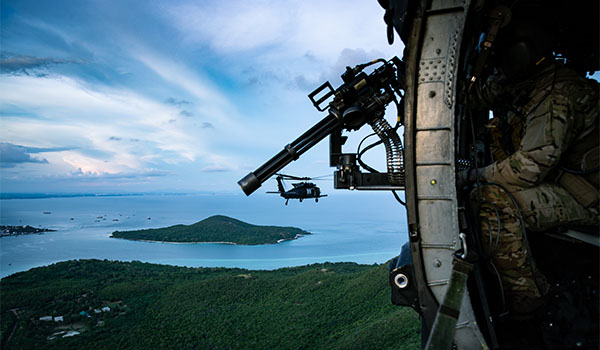 Special Operations Command Pacific units from Naval Special Warfare, 1SFG, 160th SOAR and 353rd SOG conducted Exercise Tempest Wind 2019 (TW19). TW19 involved tactical training with weapons, close-quarter combat, helicopter insertions, maritime boat operations, mission planning, communications, and development. / U.S. NAVY PHOTO BY MASS COMMUNICATION SPECIALIST 1ST CLASS ERIC CHAN
OPTEMPO
As is the case with the rest of Army Aviation, Special Operations Aviation brings its own unique capability set to the fight and is in constant demand around the globe. Their steady deployments into combat zones, the standing Global Force Management Allocation Plan (GFMAP) requirements, ever changing Combatant Commander requirements, continuous training cycles, ongoing modernization and other variables such as attrition, funding, and institutional throughput all come together to create a significant OPTEMPO for a relatively small organization. With the increasing demand on these forces quickly becoming an issue of capacity, the conventional forces were able to lend a hand and fill some gaps. But conventional Army Aviation forces are faced with a significant OPTEMPO as well. However, both organizations established the means to provide mutual support across many aspects of each organization.
Recruiting
The scope of Special Operations Aviation, combined with their OPTEMPO, creates a demand for a particular kind of Soldier. I highly encourage brigade commanders to search out the best and brightest within your ranks and have a discussion with them about serving in our Special Operations Aviation formations. In addition, I ask that you support Soldiers in your ranks who are interested in assessing for this mission. A considerable number of those who choose to serve in Special Operations Aviation return to serve in conventional or training battalions, brigades, and divisions. The infusion of knowledge and experience these Soldiers bring back with them is immensely valuable and helps maintain the rapport and trust that took years to build. This is all about investing in people, getting the right people in the right job, continuing to build on our success, and making a great team even better as we modernize, train, and fight together.
Above the Best!
MG David J. Francis is the Army Aviation branch chief and commander of the U.S. Army Aviation Center of Excellence and Fort Rucker, AL.