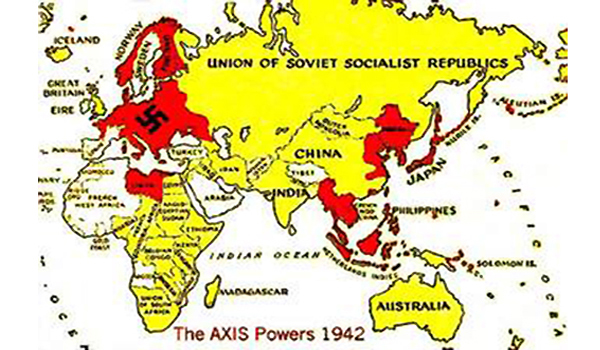 Looking Back, September 2016 / By Mark Albertson: George P. Seneff, Jr. was born in Chicago, Illinois in 1916.  His Army career commenced in 1936, when he enlisted as a private.  Within a year, he was selected to attend the U.S. Military Academy at West Point.  He graduated in 1941, a 2nd Lieutenant attached to the Field Artillery.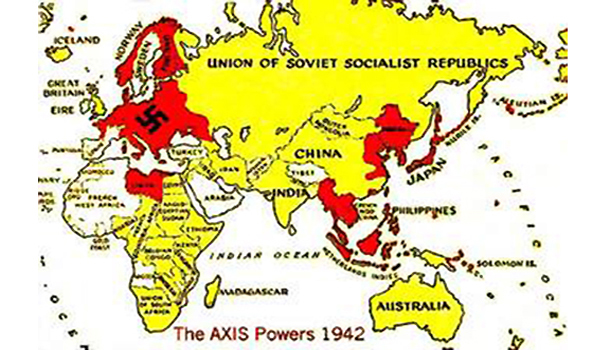 WWII Axis Powers
During World War II, he served in the European Theater of Operations, attached to the 14th Armored Division.  Following the defeat of the Axis Powers, he served as a Tactical Officer at the Military Academy (1946-1948); after which he was transferred to the Armored Branch.  But not for long, as he would become an Assistant Army Attache in London (1950-1953), followed by service with the 82nd Reconnaissance Battalion of the 2nd Armored Division in USAREUR (1953-1955).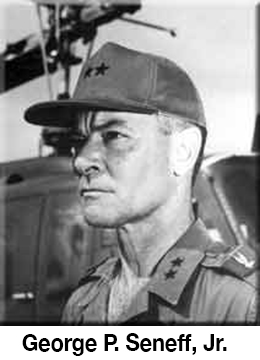 Rotated stateside, this officer was assigned to G-1 OCRD, D/A, where he was put in charge of R&D.  In 1956, he graduated the Army Aviation School.  Other forms of education while in uniform:  completed equivalent of Command and General Staff College, 1947; Army Language School, 1949; Strategic Intelligence School, 1950; and, the National War College, 1960.  And among his many decorations:  Legion of Merit; Bronze Star Medal, with Oak Leaf Cluster; Army Commendation Medal; French Croix de Guerre; and the European Campaign Medal (with three Bronze Stars). . .  
In 1960, this officer joined the U.S. delegation to NATO, in Paris; after which he would become CO of the 11th Air Assault Aviation Group and the Division Aviation Officer of the 11th Air Assault Division (Test) upon the unit's activation in February, 1963.  This dual-rated Senior Army Aviator with over 2,500 hours of flying time, who will become the Sixth Man or the sixth Director of Army Aviation, was none other than George P. Seneff, Jr.
Postscript:  Spring, 1978, Army War College student project, General Seneff was interviewed by Lieutenant Colonel Ronald K. Andreson.  Certainly an interview worth reading; more like a consultation, the history put forth by General Seneff is both lengthy and lucid, yet at the same time, priceless.  On Pages 6 and 7, when LTC Andreson queries General Seneff about Aviation's struggle for its Place in the Sun, General Seneff intimates that Aviation was the new kid on the block.  "It was something new," he explained.  "The armor people, to go back to them, won World War II with tanks, and the Air Force incidentally won it with bombers, and the Navy won their war with carriers.  It (meaning Aviation) was a threat to everyone's empire."  In other words, change was in the wind and many resist change.  However, even those agents of change can become stale and unmovable after attaining their objectives.  And General Seneff seemed to understand this concept, when he said, ". . . yesterday's radicals inevitably are tomorrow's reactionaries."
The incomparable George P. Seneff, Jr. . . . the Sixth Man.
Sources:  See page 9, "The Sixth Director," Army Aviation Magazine, Vol. 14, No. 4, Army Aviation Publications, Inc., Westport, Ct. 06880, April 1965.
Interview with General G.P. Seneff, by Lieutenant Colonel Ronald K. Andreson, as part of an Army War College project, "The History of Army Aviation," 1978.