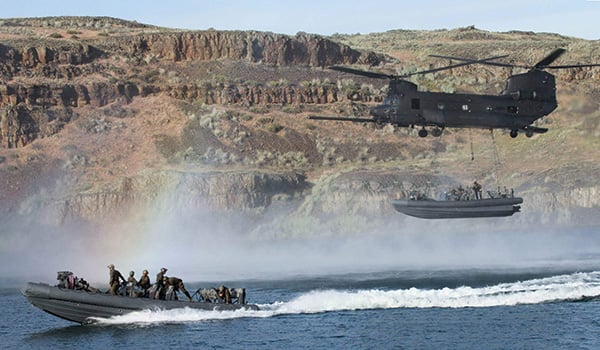 Special Operations Aviation / By COL Michael J. Hertzendorf and MAJ Michael C. Athanasakis: When you mention the 160th Special Operations Aviation Regiment (Airborne) (SOAR) (A), people may think of advanced aircraft with unique capabilities like multi-mode radar or in-flight aerial refuel probes. While these capabilities are important, the truly unique capability within the organization is the culture that is embodied by the unit's Soldiers and leaders. The first Special Operations Force (SOF) truth states "humans are more important than hardware" and nowhere is this more important than in the 160th SOAR (A). Night Stalkers begin to learn the Regiment's culture in "Green Platoon" and leaders, through all levels of the organization, continue to inculcate and develop it. It is the culture, the soldiers, and leaders of the organization, which enables success, and allows for the employment of distributed mission command on a global scale.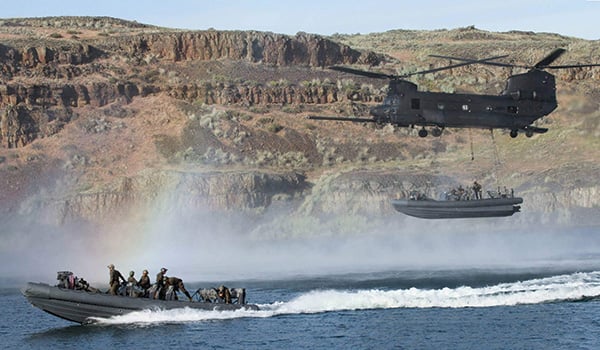 An MH-47G extracts special boat teams during an exercise. / 160TH SOAR(A) PHOTO
The Regiment is a team of professional, empowered warriors who win. Night Stalkers are relentlessly focused on the supported customer, and dedicated to mission accomplishment. In order for this culture to endure, leaders at all levels must understand how their leader actions elicit behaviors. These behaviors instill and influence the shared assumptions, values, and beliefs within the organization. This culture is a focused effort on leader development and fosters trust within the organization, which enables a positive culture to permeate in the organization and emanates excellence.
The Keystone
Trust is the keystone within the Regiment's culture; we define trust as a belief in the competence, reliability, motivation, and integrity of both the individual and the team. This organizational trust translates directly to the current operating environment. Currently, company level leaders lead five deployed combat Mission Command nodes. Additionally, over the previous year, these leaders led 17 Theater Support Cooperation Plan (TSCP) missions that operated in a dozen countries, and 23 Building Partner Aviation Capacity (BPAC) engagements in 25 countries. Furthermore, the Regiment dispersed teams throughout the United States, executing missions in nearly every State supporting over 145 special operations training exercises. Developing trust which allows junior leaders to command these deployed C2 nodes and missions, is imperative for the organization and its culture.
The Regiment's global dispersed C2 nodes provide a responsive capability for our nation. In order to operate in the current volatile, complex, uncertain environment, the Regiment's leaders must be able to thrive in ambiguous situations. Therefore, leader development within the Regiment focuses on building agile, adaptive, and inspirational leaders who can succeed while operating in complex environments, where failure could have national implications. It is not enough to teach or coach leaders on their future responsibilities, 160th culture strives towards empowering them. The focus is not on the individual leader, but rather their actions, how they serve others, and how they can inspire teammates. It is the actions of leaders, which motivate the team, and evoke the behaviors that create a positive culture.
Maintaining the Culture
In order to maintain the culture and sustain our required global reach, the Regiment actively scouts talented leaders from our Army. The Regiment looks for leaders who are passionate and display the will and tenacity to win. Through the "Green Platoon" process, which every Night Stalker must pass, newly assigned soldiers begin to learn the Night Stalker culture. They accept the values and beliefs of the unit and our reason for existence, to provide unparalleled special operations aviation support and expertise to our elite customers. During the initial entry stage of training, leaders learn that the Regiment rewards bottom-up generated ideas and disciplined initiative. Soldiers assigned to "Green Platoon" function in leadership roles. In Green Platoon training, soldiers are accountable for all aspects of their training, from planning, coordinating, briefing, to execution. It is not only expected, but also demanded, that they think, behave, and conduct themselves as leaders verses trainees.
Soldier progression from Green Platoon to duty positions within the Regiment exposes newly assigned leaders to the greater SOF Network. Through stateside and overseas training operations, senior leaders underwrite the risk and afford junior leaders the opportunity to develop their skills and leadership abilities as they plan, coordinate, and lead these missions. The underwriting of risk and allowing junior leaders latitude and initiative is critical to prepare them to lead missions in deployed contingency locations where mistakes are often more costly and cannot be accepted. This process is where the greatest leader development occurs, as well as where leaders learn teamwork to build trust and confidence, within themselves, their teams, and most importantly with our supported customer.
Junior Leader Empowerment
As our junior leaders progress and internalize the culture of the Regiment, they become more empowered throughout a continuous and evolving cycle. A key aspect within this cycle is for senior leaders to provide junior leaders with feedback that is candid, predictable, and consistent. In turn, our junior leaders routinely seek constructive criticism of their performance. There is no better feedback than providing opportunities to lead in situations with increased levels of complexity.
Junior leader empowerment is not limited to the training environment. Company grade and platoon level Army Special Operations Aviation (ARSOA) leaders command C2 nodes at forward deployed contingency locations. As part of the development and risk mitigation process, senior leaders employ various and deliberate forms of risk mitigation. For example, a task force commander will deploy with a seasoned Senior Enlisted Advisor (SEA) and Flight Lead (FLD) qualified Senior Warrant Officer. This provides leaders with a mix of experience and tools that the commander can leverage and draw upon as they lead their formations. In addition, the CONUS-based battalion commander for the deployed unit is responsible to oversee the forward C2 node and curtail external pressure to provide maneuver space for the forward commander.
While the Regiment's culture and leaders enable successful mission command of current operations, they are also the best weapon against future threats. As we continue to face complex, dynamic enemies along with an uncertain future fiscal environment, organizational culture, leadership, and leader development is the key to maintaining a competitive advantage and ensuring success on the battlefield. An organization with a strong culture that develops, nurtures, and places a primary focus on leader development will not have to worry about future success or the loss of a professional force.
COL Michael J. Hertzendorf is the commander of the 160th SOAR(A). MAJ Michael C. Athanasakis is the Regiment S3.Both are stationed at Fort Campbell, KY.