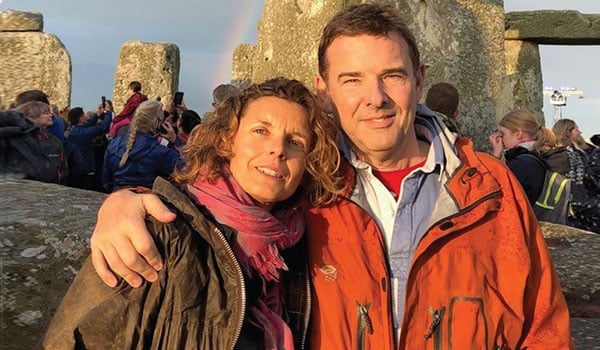 Liaison officers (LNOs) have been stationed at Fort Rucker since 1956. One person who has served as the British LNO is Lieutenant Colonel Claire Curry. Claire and her husband, Colonel Ian Curry, currently live in Wiltshire, England, just over 5 miles from Stonehenge.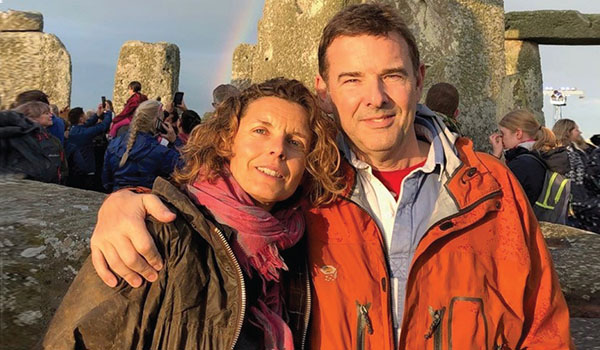 Lt. Col. Claire and Col. Ian Curry / LTC CURRY PERSONAL PHOTO
Claire left Exeter University in 1993, joined the Reserves and took a job working in London. Claire decided that she could work for a Blue-Chip company anytime, but not join the Army later in life, so in 1996 she joined Commissioning Course 962 at the Royal Military Academy Sandhurst. The appeal of leading Soldiers, travel, the promise of adventure and an aspiration to make a difference were driving factors.
Back then women were not legally permitted to serve in front line units, so she joined the Royal Artillery (RA). During her three years in the RA she was a Phoenix Unmanned Air Systems (UAS) Troop Commander, Command Post Officer, Battery Training Officer and Battery Ops Officer, exercised in Canada and flew Phoenix on D-Day during OP AGRICOLA I (NATO mission to Kosovo 1999). She also trained as a multiple commander for infantry operations in Northern Ireland but didn't deploy.
In 2000 Claire attended the Army Pilots Course, where alongside Royal Navy and Air Force officers she flew fixed wing, progressed to the A-STAR helicopter before earning her wings in 2002. Claire transitioned into the Gazelle – a recon helicopter. She served with 663 Squadron, 3 Regiment Army Air Corps (AAC) in OPERATION IRAQI FREEDOM (OP TELIC 1) and flew on numerous exercises in Europe and Canada. Claire says that without a doubt it was her best time in her Army career.
Claire has served in a variety of staff roles which have included training delivery, training design, manpower planning, aircrew retention, media, and personnel management. She has been COS HQ AAC, trained Phase I recruits, worked for Army International Branch and been the UK LNO to U.S. Army Aviation.
Other than flying and having the privilege to command Soldiers, the Army has offered her some unique opportunities. Claire led the renovation of a bombed elementary school in Kosovo, organized heli-humanitarian aid in Iraq, and led a 167-mile expedition retracing the Sandakan Death March through the jungles of Sabah, Borneo. She has also been lucky enough to represent the Army in swimming, tennis and sailing.
Claire and Ian met at a wedding at St. Andrews, Scotland. They married on 22 May 2004. Ian has the dual-designator of Pilot-Physician and worked at U.S. Army Aeromedical Research Lab (USAARL) as a senior researcher during their time at Fort Rucker. In 2018 Ian was inducted as a Knight of the Honorable Order of St Michael.
In addition to working with some fantastic American Aviators, as the UK LNO, Claire says it was a privilege to work alongside fellow LNOs from Australia, Canada, Holland, France, Italy, and Germany. She thinks it's the only place in the world where this unique situation exists.
Claire is currently assigned as the J1 and J9 lead for the Joint Helicopter Command based in HQ Army, Andover, and Ian is the Consultant Adviser Aviation Medicine (Army) based in HQ Army Air Corps, Middle Wallop, the home of British Army Aviation.
Here is Claire's response to the question of why it is important for people to join a professional organization like AAAA: "I think an organization such as AAAA is a fantastic way of sharing information and keeping everyone up to date on changes. Fellowship, intellectual discourse and support are just three reasons. AAAA brings Active Duty, National Guard, Reserves, Veterans, and even foreign allies together. When I attended 2016-2018 AAAA conferences, I was struck by the openness, drive for betterment and most importantly the camaraderie that I've witnessed first-hand. The genuine friendship that people extended to us, made us feel so welcome and part of your organization. Thank you!"
If you have a Soldier who you think should be highlighted in this column, please reach out to me at This email address is being protected from spambots. You need JavaScript enabled to view it..">This email address is being protected from spambots. You need JavaScript enabled to view it..
CW4 Becki Chambers
AAAA Vice President for Membership