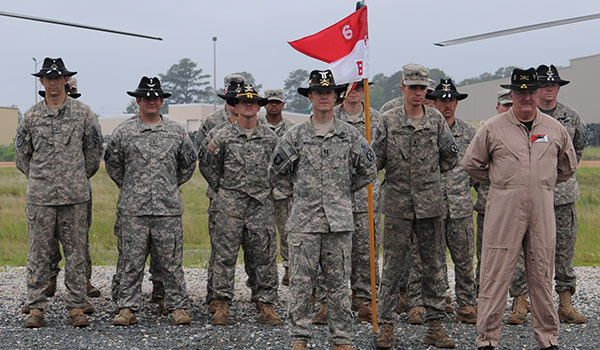 By CPT Charles N. Hill: At the end of Joint Readiness Training Center (JRTC) Rotation 15-06, one of the first scout helicopter pilots and some of the last shared the same ground and air. In April 2015, the OH-58D Kiowa Warrior completed its final JRTC rotation, marking the end of the scout helicopter at the combat training centers.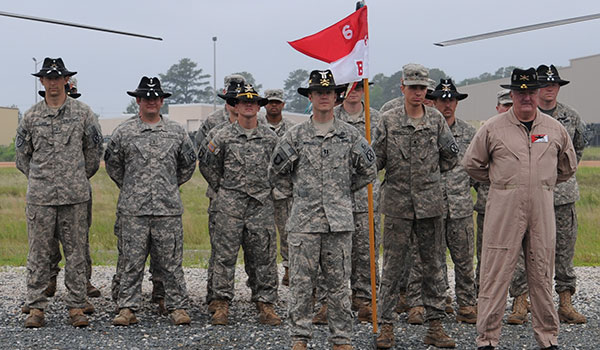 LTC (Ret.) Hugh L. Mills Jr. (right) stands in formation with CPT Greg Marsh, commander, and the Soldiers of Bravo Troop, 6-6th CAV following the final flight of the last Kiowa Warrior rotation at the JRTC, Fort Polk, LA, April 28, 2015.
RTC Rotation 15-06 concluded with a visit from LTC (Ret.) Hugh L. Mills Jr., a Vietnam-era aero scout and author of Low Level Hell: A Scout Pilot in the Big Red One. On April 28th, Bravo Troop, 6th Squadron, 6th Cavalry Regiment stood in formation with their aircraft as Mills flew by in a team of two OH-58C Kiowas, the helicopter that bridged the time gap between his beloved OH-6 Loach and the OH-58D Kiowa Warrior. Mills, a 2011 Army Aviation Hall of Fame inductee who serves today as the Under Sheriff and Colonel for the Jackson County Missouri Sheriff's office, then provided an historical perspective of the aero scout's battlefield impacts to the officers and aviators of the unit.
Mills, call sign Darkhorse 16, and his "Outcasts" were some of the very first scout helicopter pilots, and Army Aviation still utilizes many of the tactics, techniques, and procedures that these brave aviators developed on the battlefields of Vietnam. In Iraq and Afghanistan, modern AH-64 Apache companies and OH-58D Kiowa Warrior troops regularly employed combined attack and scout helicopter "pink teams," a concept directly descended from the Outcasts' OH-6 Loach and AH-1 Cobra hunter-killer teams of Vietnam.
Though the Army is divesting the OH-58D Kiowa Warrior as a result of the Aviation Restructure Initiative (ARI), the aero scout spirit and mindset endure through the mission's lauded history and the people that shaped it. AIR CAV!