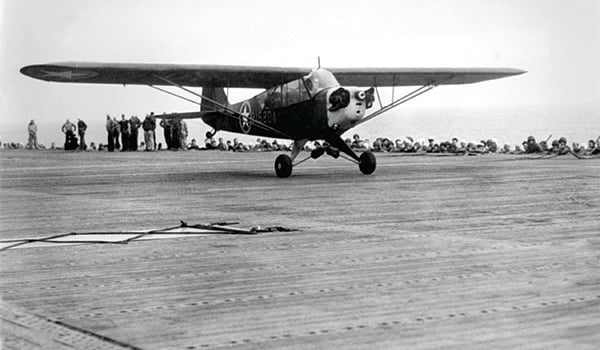 Historical Perspective / By Mark Albertson: Editor's Note: This is the third and final article commemorating the 70th anniversary of the Korean War.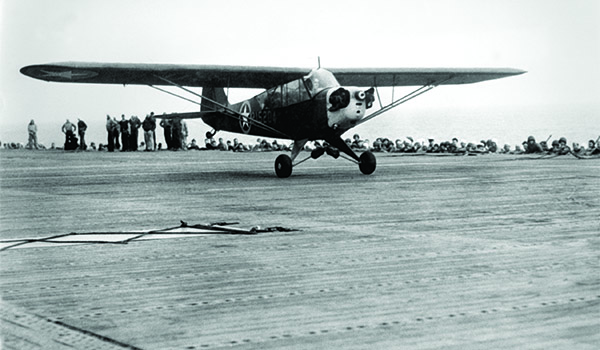 ALL PHOTOS AAPI FILE PHOTO
V-J-Day, September 2, 1945, the Air OPs boasted 2,630 pilots, 2,252 mechanics and 1,600 aircraft. Before the year was out, only 200 aircraft remained. The Air Observation Post was not only facing irrelevance, but outright extinction. Yet with the National Defense Act of 1947, the United States Army Air Forces became the United States Air Force. It was imperative, then, that the Ground Forces have a capability – no matter how rudimentary – for serving their immediate tactical air needs. And despite bumps on the road ahead, this would prove to be the launching pad for Army Aviation as we know it.
In the Beginning
On June 25, 1950, the Air OPs began the Korean War with 1,211 aircraft, 56 of which were helicopters. Many of the fixed wing were aging L-4s and L-5s. Yet during the aircraft competition, held in April-June 1950, the Cessna Model 305 emerged the winner, known to the Army as the L-19 Bird Dog. This aircraft was found suitable for the combat tasks required, such as directing artillery fire, wire laying, emergency supply drops, air taxi for brass and even training. Production was to commence in December 1950, with a target of 25-30 aircraft per month. In the meantime, holdover L-4s and L-5s would have to shoulder the load in Korea.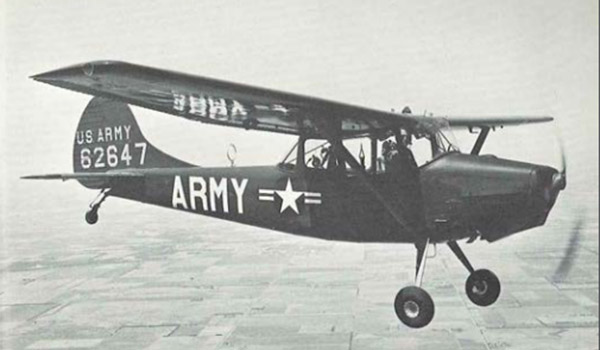 An O-1 (L-19) Bird Dog; a derivative of the Cessna 305, replaced the L-4 Cub and Stinson L-5 as the Army Ground Forces' cooperation aircraft; it would faithfully serve in two wars, Korea and Vietnam.
Between July 4, 1950 and December 31, 1951, some 90 percent of the aerial fire direction missions were flown by these aircraft. Only 10 were lost during combat operations, while non-combat accidents claimed another 122 aircraft. During this same period, U.S. Eighth Army L-4s and L-5s logged 186,372 hours during 140,792 missions; 64,541 of these were combat sorties. By 1952, the L-19 was flying most of the liaison sorties. That year, Army Aviators logged 117,593 administrative missions, evacuated 7,654 sick and wounded soldiers, in exchange for ten pilots killed in action.
War enabled the Army to modernize its fixed wing fleet. For instance, besides the Bird Dog, the de Havilland L-20 Beaver made its debut in Korea, December 22, 1951. As a utility aircraft, it replaced the L-17 Navion. The L-23 Seminole, built by Beech, was the Army's first twin-engine aircraft. Introduced into Korea on December 1, 1952, the Seminole was a six-place, high-performance, all-weather personnel transport.
First Combat Sortie
Credit for the first Army Aviation combat sortie is attributed to Lieutenant James E. Alvator, flying for the 21st Infantry Regiment, July 4, 1950. During the course of this mission, he was bounced by a trio of prowling Yak-9s, but was able to avoid being chalked up. Not so 24th Division aviator, Lieutenant David O. Munson, shot down and killed three days later while directing artillery fire near Taejon.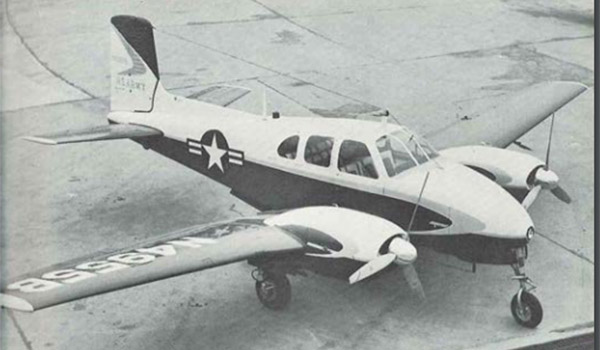 The L-23 Seminole, or U-8D/F, was built by Beech and was Army Aviation's first twin-engine fixed wing aircraft. This air taxi for staff personnel was a six-place type with a tricycle landing gear. Between 1952 and 1962, the Army procured 358 machines.
During the summer of 1950, Army Aviators not only directed artillery fire, but flew missions of route column control, observation and reconnaissance for American and ROK units retreating south towards what would become the Pusan Perimeter. But with the change in the course of the war – the Inchon landings; breakout from the Pusan Perimeter; invasion of North Korea; the ensuing intervention of Red Chinese troops – fixed wing Army Aviators were assigned other tasks. During the last week of November 1950, the Army's little planes evacuated some 800 seriously wounded.
During the American Civil War, Confederate gunners learned to hold their fire when Balloon Corps gas bags suddenly appeared, for this invariably meant a storm of Federal artillery. During World War II, on many occasions, German and Japanese gunners withheld their fire rather than betray their positions to the snooping Cubs. In Korea, though, the Reds proved to be a good deal less prudish. This was especially so with the Chinese, who deployed anti-aircraft units to deal with the bothersome little planes.
During the global conflict, many Cub missions, especially early in the war, were flown along the front lines, on the Allied side. With the Korean conflict, many missions were flown on the enemy side of the lines; sometimes going as deep as 50 miles or even more. A healthy respect for Red Chinese gunners forced many aviators to higher altitudes, prompting observers to resort to field glasses to conduct their observations.
Heroism and Resilience
One of the more harrowing, and certainly one of the most unusual, of fixed wing sagas during the Korean War, occurred on February 24, 1952. Captain Charles N. Posz, from Eau Claire, Wisconsin, was piloting his L-19 near Pyonggang, on the cusp of the "Iron Triangle." His observer was Lieutenant Ralph T. Clark, from Smithfield, Utah.
The two were observing enemy positions from an altitude of 6,000 feet. Suddenly their Bird Dog shook like a toy in a dog's mouth. Both looked immediately to starboard. Some 12 square feet of wing was missing. Posz and Clark were some six miles inside enemy territory. To get back to UN lines, they first had to get control of the aircraft. The L-19 sagged, plunging 1,000 feet at 125 miles-per-hour. Posz managed to right the wounded Bird Dog. He found that throttling back to 110 mph, the plane seemed to want to stall. So, he put everything to the firewall and kept the L-19 straight and level.
The significant loss of wing surface made control difficult. Applying full left rudder and full left aileron was needed to keep the L-19 aloft; and this required both Posz and Clark to keep their plane in the air. Clark broadcast their plight.
Flying nearby was Lieutenant John J. Self from Lockhaven, Pennsylvania and Lieutenant C. J. Wanger who hailed from Utica, New York. Self hurried to render assistance. He sidled up alongside, ready to provide an escort back to the 2nd Division Artillery airfield. Once over UN lines, Posz ordered Clark to hit the silk.
"What are you going to do, Posz?"
"I'm going to try to bring it in."
Clark refused to abandon his pilot. As he explained later, "The pressure on the controls was such that I knew it would take both of us to keep the thing in the air. Posz also needed someone to work the radio."
Posz approached Hartell Field. He tried three passes; but the nagging threat of stalling out made the runway too short. Posz and Clark ignored urgings to bail out. Posz and Clark pushed on for K-47, an Air Force strip at Chunchon, which had a longer runway. Posz made his approach to land. Standing by was a crash truck, fire truck and ambulance. Posz brought the stricken Bird Dog in, at full throttle. The runway was some 4,600 feet long, and Posz and Clark used most of it. But that wasn't all . . .
. . . In three hours, Posz's L-19 had a new wing. From there the plane was flown to an ordnance unit for complete repairs. And Posz and Clark? Both received a DFC for their white-knuckle flight.
Mark Albertson is the award-winning Army Aviation Publications Historian and a contributing editor to ARMY AVIATION magazine.