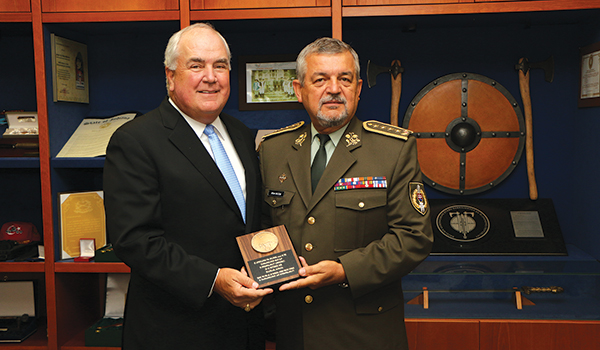 President's Cockpit / By BG E.J. Sinclair, Ret.: Our mission, as you know, is "AAAA Supporting the U.S. Army Aviation Soldier and Family." That said, supporting the U.S. Soldier sometimes takes us to interesting places indeed.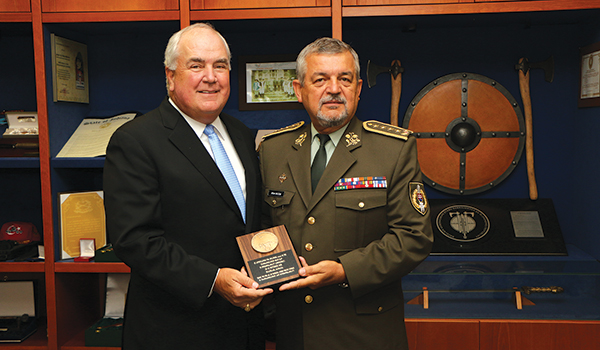 AAAA President BG E.J. Sinclair presents an AAAA plaque of appreciation to General Milan Maxim, Chief of Defense – Slovak Republic, at the September 2016 Standardization Conference, "Road Map to Interoperability", in Bratislava, Slovakia. / Photo courtesy of Slovokia Ministry of Defense
These last few weeks have seen myself and our Executive Director Bill Harris in Bratislava, Slovakia to participate in the "NATO Standardization and Interoperability Conference." The conference took place September 20-22 with many of our NATO partners in attendance. There were 29 countries represented and it was an excellent opportunity to network AAAA with our allies. Meanwhile, our Senior VP, BG (Ret.) Steve Mundt has been representing AAAA in Colombia at the Colombian International Army Aviation Conference, September 27-29.
What does AAAA have to do with Europe and South America? It is all about coalition warfare and interoperability. None of our countries can afford to go it alone anymore in terms of budget, force structure nor politics. How can we work together to be an effective force that provides a credible deterrence to international aggression?
There is no doubt that the U.S. is the gold standard when it comes to Army Aviation. Everyone wants to learn more about how we do what we do and how we can all work together. This reaches far beyond similar or even identical equipment, to TTPs, doctrine and organization and training.
The issues that surface in these very frank, yet collegial forums are critical to our allies being a huge help on the battlefield. These exchanges and working the solutions we all need through standards and common communications and operating pictures can literally mean the difference between inconvenience and duplication of effort in some cases, to literally matters of life and death.
We look forward to continuing to welcome our friends to our meetings and especially the AAAA Annual Summit in Nashville in 2017. Each year the NATO HISWG (Helicopter Integrated Service Working Group) meets at the Summit to work through these tough issues. Colombia has already reserved their space at the Summit also. More and more, we are seeing interest among foreign nations to participate in our events and we welcome them so that we all can be more effective.
Speaking of the Summit, our Proffer to assist military and government employees in attending the Summit has been approved. So there will be a large presence of key decision makers. We are still over six months away and already we have sold out the Marriott Opryland on a couple nights and have had to expand our block to over 2,200 rooms per night. In addition, the main exhibit hall is completely sold out and the adjacent hall is at 80%. Event and ticket registration opens on December 1, 2016 so get ready. I am sure you know by now that Josh Turner is our entertainment.
Join us in Nashville to celebrate the 75 years since the authorization of the first Piper Cub L-4s in Army Land Forces on June 6, 1942. We have come a long way indeed.
And remember, the ASE and Cribbins symposia are coming soon, 14-17 November in Huntsville.
BG E.J. Sinclair, Ret.
32nd President, AAAA
This email address is being protected from spambots. You need JavaScript enabled to view it.