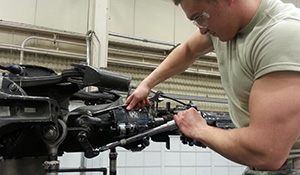 128th Aviation Brigade Update / CW3 Rosa M. Alvarez: In this issue, I've asked CW3 Rosa Alvarez to provide some insight as to the challenges your school house faces in ensuring the safe training of our future Army Aviation maintainers. "Above the Best!"  —COL Rigole, Commander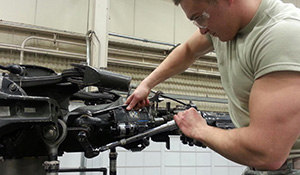 A student, PVT Mitchell Spychalski, performs a main rotor damper torque check at the 128th Aviation Brigade. 128th AVN BDE COURTESY PHOTOThe 128th Aviation Brigade at Joint Base Langley-Eustis, Virginia is the proponent for the Advanced Individual Training (AIT) of Army Aviation maintenance Military Occupational Specialties (MOS).
The 2nd Battalion, 210th Aviation Regiment directs the training of AIT Soldiers for the following MOSs: 15B (Aircraft Powerplant Repairer), 15D (Aircraft Powertrain Repairer), 15G (Aircraft Structural Repairer), 15T (UH-60A/L/M Helicopter Repairer), and 15U (CH-47D/F Helicopter Repairer).
During my last two years as the battalion's safety officer, I oversaw many hours of training, paying particular attention to Initial Entry Training (IET) Soldiers as they repeatedly made common mistakes. Most safety incidents involving new Soldiers are categorized into three main areas: lack of situational awareness, lack of communication and lack of acknowledgement.
The success of an aviation maintenance task goes beyond having the latest tools. The IET Soldiers need to have the knowledge and awareness of aviation safety requirements to perform at optimal conditions. This article will provide examples of common mistakes/errors, explain the underlying causes of the common mistakes, and provide recommendations on how to address issues to reduce future safety incidents for incoming Soldiers.
Situational Awareness Key
The majority of the training incidents occurring over the past few years involve special tools, such as torque wrenches. The incidents have multiple underlying causes, but the most prominent cause is lack of situational awareness while using special tools. Lack of situational awareness is defined as failure to recognize the current situation, understand what it involves, and foresee the possible results. A Soldier failing to understand what will happen when they use the torque wrench may keep them from positioning their body to prevent injury. The consequences of these actions are cuts, bumps and bruises on the face.
One example of a lack of situational awareness is a Soldier breaking torque on an engine starter and pulling the wrench towards himself. The wrench slips and hits him on the forehead. Immediately after the incident, the Soldier provides a safety briefing to peers about the proper way to hold a wrench and break the torque on an engine starter.
Another common training incident with new Soldiers is pinched appendages from moving components on the helicopter which typically occurs due to lack of communication. An example of this issue is a Soldier turning helicopter rotor blades for maintenance access. In accordance with the unit SOP and command policies and procedures, Soldiers are to call aloud that the blades are about to be turned.
The reason for this type of notification is to make everyone aware of their surroundings and prevent accidents. Recently, rotor blades were moved without being called out and a Soldier had his hand caught between the rotor blades causing a fractured finger and hand lacerations. The instructor performed a one-on-one counseling following the incident emphasizing the failure to communicate. All Soldiers are briefed after any incident to heighten the awareness on mistakes and emphasize the importance of following company policies and established safety protocols.
Finally, another common cause of injuries is when Soldiers fail to follow the proper procedures and acknowledge Notes, Cautions, and Warnings associated with each task. Soldiers are constantly reminded by instructors on the correct use of maintenance manuals, not to skip steps, and to stop and seek help when a task is beyond their ability, comprehension and understanding.
An example of lack of acknowledgement is when one Soldier is sitting inside the cockpit and another approaches the aircraft from the right front. The Soldier outside attempts to open the cockpit door while at the same time, the Soldier inside intends to pull the door handle but pulls the jettison handle instead. The door disengages and hits the Soldier outside in the face. Reading and paying attention to Notes, Cautions, and Warnings provides the proper maintenance steps and follow-on procedures to perform a specific task without injury.
Immediate Feedback
Immediately after the incident instructors counsel the Soldiers and brief the class on the importance of paying attention to the manuals as well as asking for assistance when needed rather than making assumptions.
In summary, it is important to remind IET Soldiers that all rotary-wing aircraft maintenance operations must be conducted in accordance with all applicable references; manufacturer's aircraft manuals, policies, and procedures; as well as local safety policies and procedures. Army aviation personnel are expected to utilize sound and conservative judgment in their approach to their duties and training to ensure safe maintenance operating practices at all times.
Our responsibility as leaders and trainers is to ensure that IET/AIT and newly assigned Soldiers communicate properly, understand and acknowledge policies and procedures, and have constant situational awareness of their surroundings when conducting maintenance.
CW3 Rosa M. Alvarez is the safety officer for 2nd Battalion, 210 Aviation Regiment, 128th Aviation Brigade, Joint Base Langley-Eustis, VA.