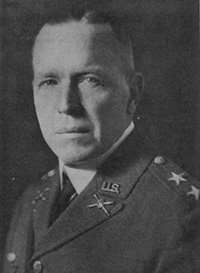 By Mark Albertson / 1919: On the heels of the 1914-1918 conflict, the performance of the Field Artillery was reviewed. Major General William J. Snow, Chief of the Field Artillery (1918-1927), convened three boards: The Westervelt Board, so-named for Brigadier General William I. Westervelt, which would review gun types, calibers, ammunition and transport of the Field Artillery. A second board was chaired by Brigadier Westervelt as well, the Trench Artillery Board. Objective was to survey the result of mortar use during the World War and offer recommendations for the next conflict.
The last of the trio of panels convened was the Hero Board, so-named for its chairman, Brigadier General Andrew Hero, Jr. Like the first Westervelt Board, General Hero's effort researched then offered recommendations concerning the Field Artillery. But the council also considered the aerial direction of artillery fire. Aerial observers and pilots assigned to artillery spotting were assigned other tasks—observation, photo reconnaissance, bombing . . . hence the lack of continuity which affected their performance with the direction of artillery fire. Instead of rotated personnel, organic artillery aviators and observers should perform no other function than that of the aerial direction of artillery fire.
In addition, the Hero Board recommended that artillery commanders should maintain control over their observation assets. That each division should have an observation squadron attached to it. Field Artillery pilots and observers should come from the ranks of same; training and flying with the units to which they are attached. Undoubtedly the Hero Board's recommendations were a decided step forward in the evolution of that process that would eventually result in . . . Army Aviation.
Sources: "Extracts from the Report of the Chief of the Field Artillery for the Fiscal Year, 1919," The Recommendations of the Hero Board, in Some of Whose Recommendations Both of the Chief of the Field Artillery and the Chief of Artillery, A.E.F., Concur, and in Others Dissent, are: page 594, The Field Artillery Journal, Vol. IX, No. 5, November-December 1919.
Pages 17-20, chapter 5, "Interregnum," Aerial Observation and Artillery Spotting, Vol. 1, Sky Soldiers: The Saga of Army Aviation, completed manuscript by Mark Albertson.