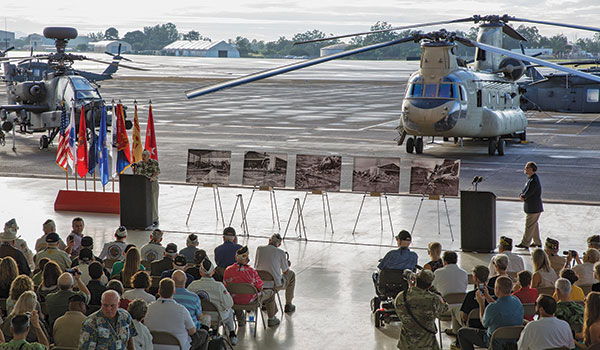 Family Forum / By Judy Konitzer, CPT Heba Bullock and SGT Daniel K. Johnson: The 75th Anniversary of the attack on Pearl Harbor was an opportunity to honor our "Greatest Generation" as they endured incredible sacrifices on December 7, 1941, the "date which will live in infamy."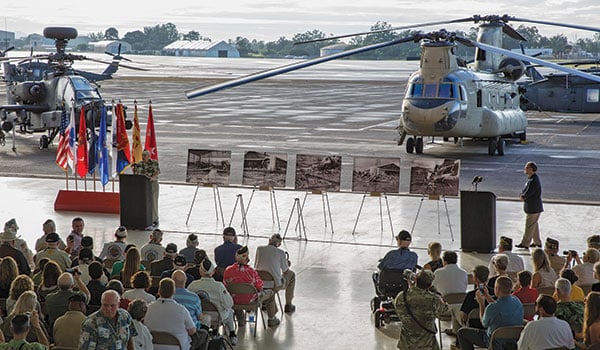 Thomas Pesto, a Pearl Harbor survivor, addresses Soldiers, veterans, civilians and family members at the 75th Anniversary of Pearl Harbor Day Remembrance Ceremony at Wheeler Army Airfield Hangar 206 on December 5, 2016. The hangar was the first to come under attack on the "day that will live in infamy." Soldiers from the 25th CAB hosted the initial ceremony, with several other ceremonies being held throughout Oahu culminating on December 7. /PHOTO BY SGT DANIEL K. JOHNSON, 25TH CBT. AVN. BDE. PUBLIC AFFAIRS
The Greatest Generation Foundation orchestrated the return of thirty Pearl Harbor survivors and their families to Oahu, paying them homage. This organization is dedicated to helping veterans of World War II return to the battlefields where they fought to help enable closure of their war experiences.
On December 5, Soldiers of the 25th CAB hosted the initial event at Hanger 206 on Wheeler Army Airfield. Soldiers, family members, civilian friends, veterans and members of the Foundation gathered here, the first place attacked as the Japanese Empire focused their initial effort on disabling U.S. air assets to ensure air superiority.
Reflecting on what happened 75 years ago, MG Christopher Cavoli, 25th Infantry Division commander, said, " For those of you who were here this day, this is truly hallowed ground. Wheeler was one of the very first places to be hit in a synchronized aerial attack on military airfields at Bellows, Kaneohe Bay, Ewa, Hickham and Ford Island. …
hese veterans include one gentleman who parachuted into Normandy France on D-Day, another who hit the beach at Omaha… Two of you fought in the Battle of the Bulge, one went on to support the Nuremberg trials, one of you was a Navajo code talker and others served in the Pacific, England and France. You are a remarkable group and I am proud to be in front of you today." 95 year old veteran Stuart Hedley who was stationed on the USS West Virginia during the attacks on Pearl Harbor remarked, "We are thankful that we are able to be here as a group honoring that particular day."
Wreaths were laid during the ceremony in remembrance of the historic attack, and COL Stephen Dawson, Hawaii Garrison Commander, concluded with, "To our heroes that are here with us this morning… thank you for answering the call when your nation called, we will forever be grateful!"
Soldiers of the 25th CAB were responsible for the set up and static displays in their hangar, and had an opportunity to visit with veterans and their families afterwards. It proved to be an emotionally inspiring event as shared by:
COL Kenneth Chase, 25th CAB Cdr.
"It was a humbling experience to be amongst those who sacrificed so much for our nation. Too often we take for granted that there are other nations and evil people who seek to do us harm and to attack the freedoms of our nation. It was an inspiration to meet these veterans and it reconfirmed the sacred trust that has been handed down and entrusted to the Soldiers of our own generation."
CSM Brian Hauke, 25th CAB CSM
" To live and work every day on what is considered hallowed ground, well, I don't know if words can express the pride felt not only by myself but from every Officer, Warrant Officer, NCO, and Soldier. The amount of hero actions, selfless sacrifice, and dedication to their comrades in the face of huge odds on WAAF that morning is truly staggering. It was a humbling experience and an honor for us to continue the legacy by hosting them. "
CW5 Terry Horner, 25th CAB, Command CWO
"It was an honor to support our veterans and I am glad we had the ability to provide an up-close look at the Army's modern aviation fleet… our veterans are proud of their service and the Soldiers present were energized by their enthusiasm which made me think about our Soldier for life initiative and how someday our Soldiers may be sitting in ceremonies similar to this."
1LT Jeremy McPhillips 2-6th CAV (assisted with static displays)
"Holding the ceremony on Wheeler allowed me to truly appreciate the historical significance of the sacrifice these veterans made. I took away the importance of having them visit their places of sacrifice as it seemed healing and fulfilling for them."
SGT Amelia Alston, Chaplain Assistant HHC (sang the National Anthem)
"It was humbling to see these service members being excited to share their experiences during and after the attack….Even under pressure your natural instincts will kick in. All I could think about was, they have lived to tell the story and now their story has become history."
CPT Heba Bullock is the public affairs officer and SGT Daniel K. Johnson a public affairs specialist with the 25th Cbt. Avn. Bde., Wheeler Army Airfield, Oahu, HI.
Judy Konitzer is the family forum editor for ARMY AVIATION; questions and suggestions can be directed to her at This email address is being protected from spambots. You need JavaScript enabled to view it..">This email address is being protected from spambots. You need JavaScript enabled to view it..