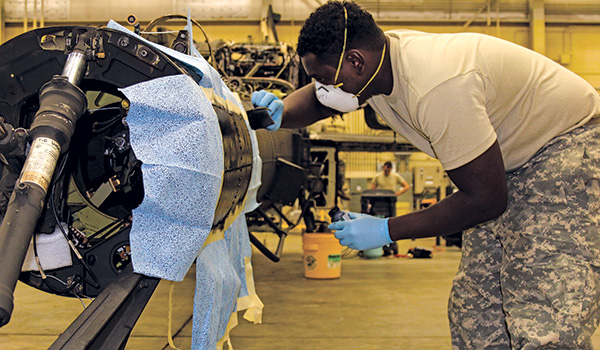 Aviation Logistics Officer / By CW5 Donald L. Washabaugh Jr.: Demand for aviation assets continue to increase as the ground force commander relies upon our ability to project combat power worldwide. The fleet must train new replacements, maintain a reliable ready reaction force, and prosecute the battlefield wherever required.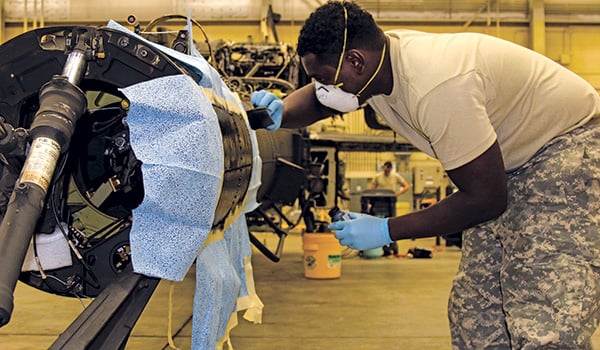 SPC Patrick Travis, aircraft structural repairer, with Bravo Co., 122nd Avn. Spt. Bn., 82nd Cbt. Avn. Bde., repaints a section of the tail-boom from an AH-64 Apache, during a 500 flight hour phase maintenance on Simmons Army Airfield, Fort Bragg, N.C., Nov. 9, 2015.
Aviators must meet a defined regulatory performance with required minimum training standards, and there is the desired level of competency from the combatant commander. Sustaining this capability will continue to require, and consume, vast resources. Maintaining that force is critical, resources are limited and diminishing. Meeting that sustainment goal, and succeeding in our mission requires efficient management of the available resources. Identifying those resource requirements early, and maximizing their availability, is fundamental. The greatest resource available to the aviation commander is the productive available time of the soldier mechanics within their formation. In the simplest of terms, this is the time soldiers are actively turning wrenches on their aircraft.
Productive Available Time
As RESET no longer consumes large amounts of aircraft, the Non-Mission Capable Maintenance (NMCM) rate will come under ever-increasing scrutiny. Although modifications might be the reason for some of this increase in NMCM, this rate is wholly controlled by the application of maintenance man-hours and labor management. These productive available man-hours are directly responsible for conducting both scheduled and unscheduled maintenance. Incorrect management of those hours becomes apparent during times of dwindling resources and can no longer be masked by increased spare parts consumption or large contractor force. Maintenance man-hours determine the ability of a unit to meet its objectives, and the primary component of those man-hours is known as productive available time. Soldiers available for work producing combat power in support of a well-planned flying hour program allow both the completion of maintenance activities and supporting the commander's objective. Additionally, utilizing maintenance activities as training opportunities allows soldiers to become more efficient in their critical MOS tasks, and skills. Training your maintainers to perform these tasks, and ensuring that they are available to perform work is a leadership management challenge.
Last month the Aviation Branch Maintenance Officer discussed the essential roles the aviation maintenance officers and project managers have, highlighting the ability to leverage the material enterprise – all in support of the commander. The crucial component now is how commanders can ensure that the labor resources are available to maintenance leaders and the effective management of those man-hours. Success is sustaining those aircraft, reduced NMCM time, meeting training and flying hour objectives at or below budget.
Managing Resources
Management begins with identifying the problem, predicting the outcome, developing a plan/decide a course of action, execution of the plan and evaluation of the action (IPDEE). The process is not new, and is the basis for our composite risk management. A bedrock aspect of the IPDEE process is the P4T3 (problem, plan, people, parts, time, tools, and training) that dovetails within the development of the plan and execution. The most crucial element of this situation is application of a key resource and one controlled completely by the unit commander – labor. Workforce and man-hour management are essential to successfully sustaining a force that can develop new aviators, train units for combat operations, and deploy the force.
Identifying the problem is the first step in a successful resolution, knowing that problem provides control over the situation. Primarily a well-defined flying hour program, utilizing the unit's yearly training calendar is a good starting point. Planning the hours, sorties, and mission objectives gives the basis for how many hours must be sustained, whether it is in combat or garrison, and sets the basis for knowing how many, and when, the flying hours are to be executed. A concept of support can be developed at this point and the cost in man-hours can be predicted.
Awareness of unit activities and objectives as far in advance as possible will provide the necessary information to develop a predictable goal oriented flying hour program and create an executable plan. The plan will also help develop a viable battle rhythm, which will allow the proper application of all resources to sustain the fleet, primarily the labor that is available organically. The plan will allow an early opportunity to resolve scheduling conflict, and the ability to address any work force gaps that may exist, with potential solutions from a change in battle rhythm, shift in training objectives, or labor augmentation. The commander with a solid plan can effectively provide the resources necessary to maintenance leaders to manage and meet all objectives.
CW5 Donald L. Washabaugh Jr. is the Aviation Logistics Officer in the Program Executive Office, Aviation at Redstone Arsenal, AL.