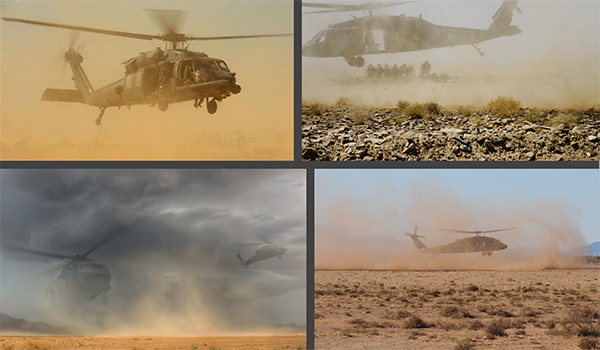 Aviation Support / By Mr. Shawn Gresham: To maintain Army Aviation's asymmetric advantage over our enemies and mitigate risk, the Degraded Visual Environment (DVE) Product Office is committed to delivering solutions that will provide our pilots the capability to fly and maneuver in degraded visual environments.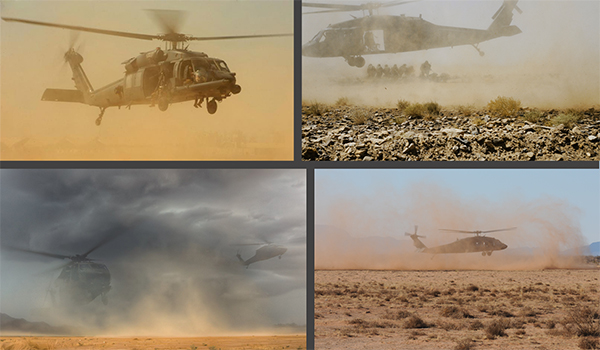 PM DVE COURTESY PHOTO MONTAGE
The U.S. Army Aviation community defines a DVE as an environment of reduced visibility, wherein situational awareness of the aircrew or control of the aircraft can be completely lost, or cannot be maintained as comprehensively as they are during flight operations within clear or undiminished visibility. DVE conditions are further categorized into eleven different types: smoke, smog, clouds, rain, fog, snow, whiteout, night, flat light, sand, and brownout. Brownout, a condition often encountered during an approach for landing or a departure from an unimproved and dusty surface, is created by the helicopter's own rotor wash interacting with loose dirt and debris, eliminating visual cues and significantly inhibiting the ability of the aircrew to determine the accurate position, attitude, and motion of the aircraft relative to the earth's surface. Of all the DVE types, brownout poses the most familiar and immediate threat to our Soldiers operating abroad, especially within the U.S. Central Command (CENTCOM) area of responsibility.
DVE Impacts on Army Aviation
To maintain an asymmetric advantage over our enemies and mitigate risk, Army Aviation must develop the ability to fly and maneuver in degraded visual environments. Along with threat weapons systems, aircrews must also negotiate a variety of obstacles and hazards while operating in DVE. Although our Warfighters have established combat proven tactics, techniques, and procedures to mitigate the risks associated with DVE, a significant threat remains to both our personnel, and our ability to project combat power.
An Incremental Path
Focused on minimizing the DVE threat while maximizing capability for combatant commanders, the United States Congress has identified DVE as an item of interest and has remained steadfast in its support of the Army with continued investment toward solving this complex problem. Working in concert with a combatant command (COCOM), the TRADOC Capability Manager for Aviation Brigades (TCM-AB), and key stakeholders across the Department of Defense, the DVE product office is postured to provide Army Aviation with solutions to enhance operational overmatch in DVE through the following two lines of effort.
In the near term, the first line effort focuses on a directed requirement (DR) approved by the Deputy Chief of Staff, G-8 on May 25, 2017. The DR is intended to leverage a COCOM DVE materiel solution, for integration and fielding on fifteen HH-60M Medical Evacuation (MEDEVAC) Blackhawk helicopters by 2020 in the CENTCOM Area of Operation.
mplementation of the DR addresses an immediate gap in DVE brownout capability, and addresses critical needs identified by the MEDEVAC community. The COCOM DVE materiel solution currently consists of two sensors: an infrared camera, and a laser imaging detection and ranging system. Outputs from both sensors will be fused using a synthetic vision avionics backbone, and presented to the aircrew via a panel mounted, federated display as an aid to situational awareness.
The second line of effort is focused on incrementally introducing enduring capability improvements, providing an overmatch operational capability and tactical advantage over the enemy. TCM-AB has recently published an incremental Capabilities Development Document 10 for the DVE Program of Record (POR), which has been established in parallel to the DR. The DVE POR will conduct a disposition analysis to determine the feasibility of fulfilling an Army Requirements and Oversight Council validated CDD with the COCOM DVE materiel solution, and if required make necessary adjustments to yield an efficient and informed path forward. The POR for Increment I, targeting HH-60M and UH-60M Blackhawk helicopters, implements a schedule that accounts for system software modifications, sensor and fusion configuration, system capability refinement, airframe integration engineering, enduring logistical support, developmental test, and operational test requirements. Initial Operational Capability (IOC) is expected by the early to mid-2020s.
Mr. Shawn Gresham is the Degraded Visual Environment Product Manager, Aviation Systems Project Officer, Program Executive Office Aviation located at Redstone Arsenal, AL.