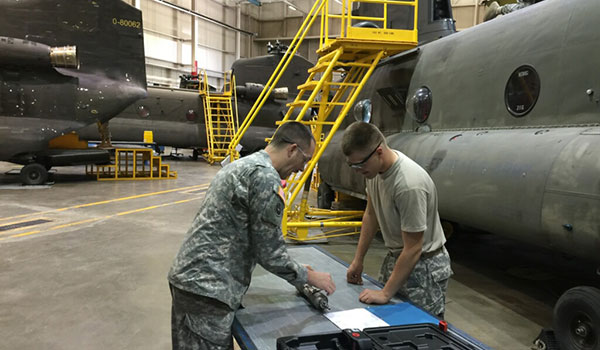 128th Aviation Brigade Instructors / By CPT Joseph R. Snoke and SSG Owen M. Cunningham: Alpha Company, 2nd Battalion, 210th Aviation Regiment, 128th Aviation Brigade provides world class CH-47 Chinook maintenance training utilizing state-of-the-art training devices, classrooms, and equipment.
When Advanced Individual Training (AIT) Soldiers pass through the doors for the 17 week 15U10 training course, they will be taught fundamental maintenance procedures to prepare them for the responsibilities of their first assignment. They will receive training on how to navigate through the electronic technical manuals, how to use interactive software to demonstrate maintenance tasks, and how to use Cargo Helicopter Maintenance Trainers (CHMTs) to gain hands-on experience. The technological advances of training devices and classroom multimedia programs have significantly increased the quality of training AIT Soldiers receive; however, no technology can replace the importance of the instructors responsible for imparting the knowledge on students. The future of Army Aviation still continues to depend on an instructor's professionalism, expertise, and teaching capabilities to prepare these new Soldiers to become the future of our branch.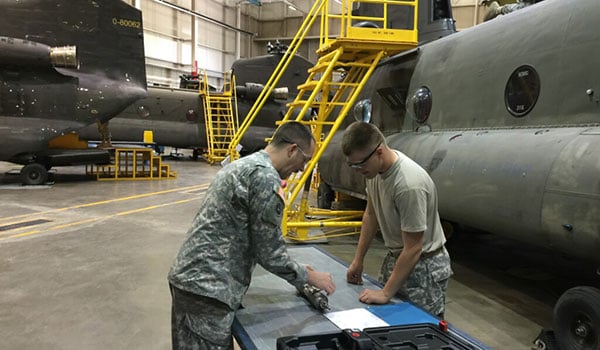 SFC Ray, Master Instructor for Co. A, 2nd Bn., 210th Avn. Regt., provides PV2 Hall with expert mentorship and guidance on properly maintaining the Chinook helicopter hydraulic systems./128th AVN BDE COURTESY PHOTO
Upon completion of Basic Combat Training, Soldiers will arrive at Joint Base Langley-Eustis, Virginia to take the first step in their aviation career. CH-47 15U10 training begins when the students arrive and are introduced to the instructors assigned to the class. It is at this moment that these students are first exposed to the noncommissioned officers (NCO) who constitute the backbone of Army Aviation. Students will see their instructors as the standard bearers, an image of what right looks like, and will begin to emulate their actions. This 17-week course is a critical period in the professional development and Soldierization of these new Soldiers, and it is just as equally critical that the instructors become mentors, teachers, and role models to represent Army Aviation. Instructors will lead their students through the programs of instruction (POIs) beginning with the utilization of basic tools all the way through the culminating Situational Training Exercise (STX) which simulates an environment that many Soldiers will experience at their first unit. Instructors will reinforce the Army Values daily through classes and discussion and use their personal experiences to further enhance the importance of service and what it means to be a part of the Army Profession. The critical importance of an instructor requires that they possess competence, aircraft subject matter expertise, and are properly trained on how to be an effective instructor.
The Making of an Instructor
The average instructor assigned to Alpha Company is an NCO with approximately 10–15 years of service who has held numerous aviation duty positions. Instructors come from many different backgrounds and a variety of career paths where they were inevitably required, as NCOs, to give blocks of instruction to their peers and subordinates. In the 128th Avn. Bde., this basic ability to teach is further cultivated and developed through a company mentorship program along with a series of courses designed to allow instructors to effectively pass on their diverse knowledge to AIT students. Upon completion of these courses, NCOs are deemed assistant instructors (AI) and proceed to enter a company mentorship program referred to as the Training Assistance Program (TAP) where they will be paired with a senior instructor. This program introduces the AI to the lesson plans, test administration procedures, and certifies their use of training devices. The AI will not become a certified instructor until their senior mentor determines that all requirements have been met and that they possess the skills required to be successful. Once a Soldier has been certified and given the title as an instructor, the learning curve then truly begins. Instructors are routinely evaluated on their teaching techniques, technical content, and overall professionalism.
Not all understand the importance of an AIT Instructor assignment. These instructors provide new Soldiers with their first impressions of Army Aviation and the NCO leadership within their ranks. Instructors must understand their vital role in shaping the future of the Army. The trust that stems between students and instructors is vital for the passage of knowledge that protects the lives of anyone who steps upon an aircraft. It is with this understanding that the 128th Avn. Bde. continues to improve and refine the instructor development process in order to produce the world's greatest aviation instructors that will train the world's greatest aviation maintainers.
CPT Joseph R. Snoke is the commander and SSG Owen M. Cunningham an instructor/writer assigned to Company A, 2nd Battalion, 210th Aviation Regiment, 128th Aviation Brigade, Joint Base Langley-Eustis, VA.