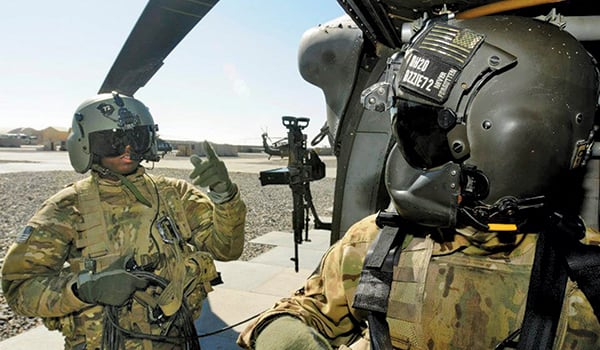 Combat Readiness Center / By BG David J. Francis: For more than 40 years, aviation safety officers have proven an indispensable asset for commanders across the Army, both in peacetime and at war, at home and deployed.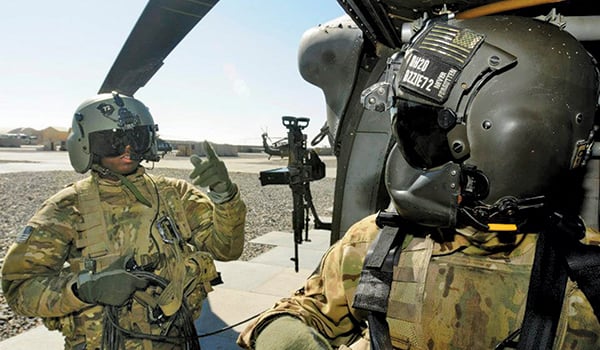 SPC Joseph Merrill, a door gunner with Company A, 2nd Battalion, 25th Aviation Regiment, Task Force Lightning Horse, 25th Combat Aviation Brigade checks his passengers before taking off in Afghanistan./ U.S. ARMY PHOTO BY 25TH CBT. AVN. BDE. PAO
There is little doubt they have played a tremendous role in sustaining the Army's aviation fleet and preserving the lives of our aviators, all while managing competing priorities and ever-increasing OPTEMPO. However, there continue to be some disconnects in how ASOs are utilized in individual formations. We must capitalize on the talents of these critical safety professionals and ensure the right person is in the job, particularly with regard to tactical and technical proficiency.
The safety guidebook for aviation commanders, Department of the Army Pamphlet 385-90, Army Aviation Accident Prevention Program, outlines in detail tasks expected of an ASO. It's a great resource for young leaders assuming their first or second aviation commands, but experience will eventually show there is much more to an ASO's job than safety inspections and monitoring programs. What the regulation doesn't state is that ASOs are an integral part of the operational mission set and must be active in tactical operations at high risk points to effectively assist in risk mitigation. As such, commanders in tactical environments must prioritize where the safety team is needed to produce the greatest mitigation results (e.g., zero illumination missions, forward area refueling and re-arming points, pickup zones, motor pool).
Focus on Tactical Ops
An ASO who is a night vision goggle (NVG) flight lead, mission planner, expert in forward area arming and refuel point (FAARP) operations, etc., provides the commander and unit with a trained aviation safety professional situated at the location that allows him or her unhindered access in ensuring their crews' safety and successful, mishap-free mission completion. Focusing our ASOs on tactical aviation operations allows them to position themselves at locations and times they can best identify and mitigate risk, therefore improving the quality and quantity of observations and advice they pass to their commanders.
We must take a hard look at our training programs, from the schoolhouse to rotational missions and everywhere in between. Only tough, realistic training can provide ASOs with the tacit and explicit knowledge necessary to maximize operational safety during combat operations. We have to shift our focus beyond the regulatory requirements for Army Aviation to transition to an active tactical safety program, and ASOs are key enablers to expedite this change.
Just as commanders focus units on mission essential task list (METL) tasks, ASOs must be in the right places at the right times to ensure operational safety. And just as commanders select key individuals for their command, they also have the prerogative to select their safety team. A young officer just out of the safety course has book sense but might be very inexperienced in tactical operations, so commanders must determine who can best facilitate mission completion with maximum risk reduction. That individual might be a seasoned aviator with tactical experience to pull from as well as years of experience in risk mitigation.
Combat Multiplier
Proactive and effective safety officers continually circulate their units to minimize risk, and commanders can help by ensuring their ASOs are integrated into the unit's tactical mission sets. This doesn't negate his or her duties beyond the tactical operation; instead, it prioritizes the importance of integrating the ASO into the tactical plan, staging at the higher risk areas and directly assisting in preventing aircraft mishaps while airborne or on the ground. A technically and tactically proficient – and involved! – ASO is a combat multiplier.
The U.S. Army will fight anywhere, under any conditions. True risk mitigation smartly applied to the conditions at hand, will prevent the loss of resources and enhance Army Aviation's readiness. Our ASOs are key to maintaining that readiness and reducing loss within our formations. Army Safe is Army Strong!
BG David J. Francis is the commanding general of the Combat Readiness Center at Ft. Rucker, AL, and Director of Army Safety.