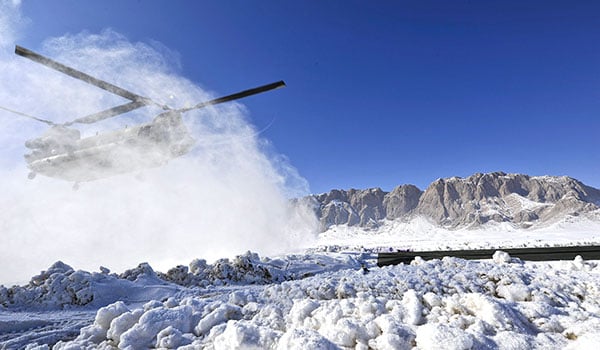 R&D/S&T / By Mr. Jeffrey L. Langhout: What have you done for me lately, and more importantly, what are you planning to do for me?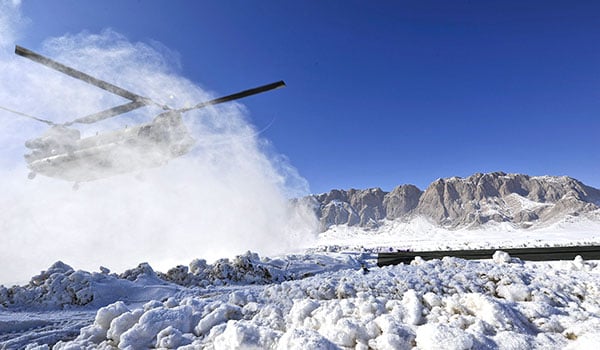 A Chinook landing in white out conditions in Shah Joy, Afghanistan. / PHOTO BY PETTY OFFICER 2ND CLASS JON RASMUSSEN
Since becoming the AED Director in 2013, we have attempted to increase our focus on the customer. Our engineering capabilities have long been superior, thus upon arriving at AED, my focus was simply to take that engineering excellence and, through building relationships both with our customers and our original equipment manufacturers, develop trust and mutual respect. This ultimately gets product to the finish line faster, with less expense and less drama. I am honored to report that the AED customer base is affirming that we are an organization dedicated to timely expert engineering analysis, determined to meet their needs, on their timelines, while maintaining our engineering values.
Does this mean tension no longer exists? Absolutely not. Appropriate tension is a good thing, as AED is the organization that measures to the applicable airworthiness and engineering standards, and we are the organization that writes airworthiness releases and properly informs our customer base of the engineering challenges associated with whatever solutions they determine. But appropriate tension does not mean we are enemies or call each other names. I am confident that with very rare exception, confrontation is long gone, but appropriate and professional debate is alive and well. Thus, we are becoming a more critically valued member of the development and sustainment teams.
Ongoing Challenges
But challenges will always exist. So what are some ongoing challenges and what is AED doing for me lately?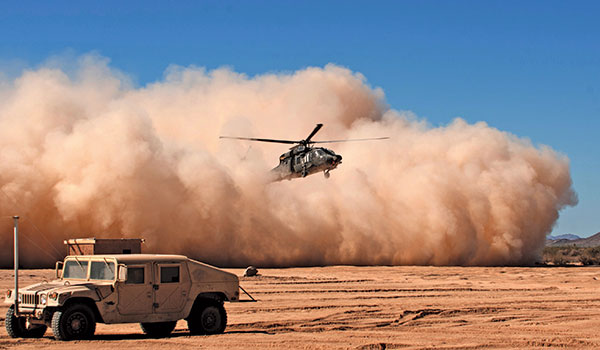 A Black Hawk conducts flight control, cueing, and sensor testing in brown out conditions at Yuma Proving Grounds, AZ.
Degraded Visual Environment (DVE) is an excellent candidate. I heard just last week that AED will never support "pilotage" when it comes to DVE. Oh, how that hurt, as I know for a fact that our team has put in hundreds of hours working with our key customers to identify and communicate the technical challenges and to help them appreciate the differences between a pilotage and situational awareness (SA) solution. Most importantly, the AED team has strived to help our customers with that expectation management. To this end, we have been successful. Our customers understand that the amount of time and money required to design a pilotage DVE solution is obviously significantly more than an SA solution.
Fully pilotage qualified would say that without a doubt, the multifunction display and/or any helmet-mounted displays with a fused multi-sensor synthetic picture overlaid with real-time flight symbology is 100% accurate with no chance that what the pilot is looking at is something other than real-time reality. So does anyone think presenting that type of picture to the pilot with that type of robustness would be affordable and realizable in the very near term? I doubt anyone thinks that could be 100% achievable in 2017. But at the same time, if our software and hardware designers move away from a pilotage lineage, and do not even attempt to design critical software to Design Assurance Level (DAL) A and instead build to a much lower standard, (i.e. DAL C), what are the long term ramifications? If we design to DAL C (read that as SA only) and then 5 years from now our customer comes to AED and asks for a no risk, pilotage airworthiness release (AWR), I can assure the reader that AED and our customer will be highly challenged.
The analogy I like to use is this: designing an SA only DVE solution (DAL C) and then asking for a pilotage solution 5 years from now with the same DAL C design is like building a nice single story house with an appropriate foundation but then 5 years later coming back and deciding to make it a 20 story building and asking the building inspector to certify it with no additional risk. Unless the foundation gets improved, a 20-story building won't be safe and shouldn't be approved. So it will be with DVE moving forward. All I want to do is set appropriate expectations to our senior leaders so they can make the best informed decisions. If DVE is designed with a DAL C foundation and then 5 years from now we are asked to certify to a pilotage solution, will AED say "No?" I submit we will not say "No," but we will say there is significant additional risk that must be accepted if the intent is to take that SA solution and actually land/navigate in a DVE. Is an SA solution better that what our pilots have today? Absolutely! The last thing we want to do is not deliver capability to our aviators. All I want to ensure, from AED's perspective, is that we are providing the very best engineering analysis and judgment, thus enabling our customer to make the most informed decision.
So what else has AED done for me lately?
Every day, we are with our customers supporting their design activities, working real time fleet issues, and solving those hard engineering challenges. We are in theater every day writing maintenance engineering calls authorizing non-standard repairs so our aircraft can make mission every night. We know readiness is the Number 1 priority of our Army, and we are laser focused on our various customers to achieve their objectives: with our combat aviation brigades (CAB) to enable readiness; with our project managers (PMs) and Special Ops customers to ensure we provide the best engineering analysis so they can make the best informed decisions; with our Aviation and Missile Life Cycle Management Command (AMCOM) customer to ensure they can sustain the aviation fleets; and with our Reserve Component customers to aid in sustaining their aviation fleets.
As we move forward, what is AED planning to do for me?
An equally challenging environment is the rapid pace with which additive manufacturing, multi-core processing, and complex systems are making their way into our aviation DNA. Additionally, protecting flight critical systems against possible cyberattack is becoming a significant issue. AED has to be ready to qualify parts manufactured through additive techniques. We have to be ready to qualify flight safety deterministic software processed over multiple microprocessor cores. And we have to be ready to qualify the model-based software developments of the present and future projects. To that end, AED is sending our engineers on long term training with industry assignments in the area of additive manufacturing. We are developing a laboratory to test multi-core software design, and we are training to understand complex software/hardware systems. We are an integral part of the Joint Multi Role and Future Vertical Lift teams and as importantly, we are leveraging the hard work industry is conducting with the FAA to ensure we can support Army aviation. While there remains room for growth and maturation, our engineering capability is staged and ready to adapt and evolve with the airworthiness process to meet the challenges of the next generation aviation systems.
AED is honored to serve our customers from the PMs, to AMCOM, to the Aviation Center of Excellence, to our Special Operators, to our CABs and to our Reserve Component partners. We know that engineering is just one small piece of our customers' very challenging worlds. We are committed to being partners, solving the engineering challenges in a timely manner while at the same time leaning forward to ensure we are ready to support and solve those engineering challenges of the next decade.
Above the Best! Army Strong!
Mr. Jeffrey L. Langhout is the director of the Aviation Engineering Directorate of the Aviation and Missile Research, Development, and Engineering Center located at Redstone Arsenal, AL. AED serves as the delegated airworthiness authority for the U.S. Army.
A Black Hawk conducts flight control, cueing, and sensor testing in brown out conditions at Yuma Proving Grounds, AZ. / U.S. ARMY PHOTO