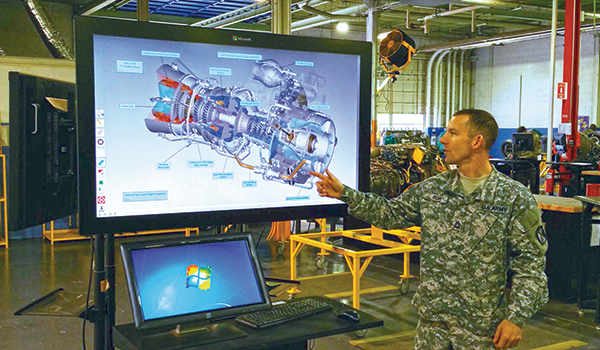 128th Aviation Brigade / By SFC James R. Journigan Jr.: The Virtual Interactive Environment (VIE) is a tool used throughout the Army today. Although simulators have been used in the Army for many years, the VIE is the next generation of equipment in the simulation evolution.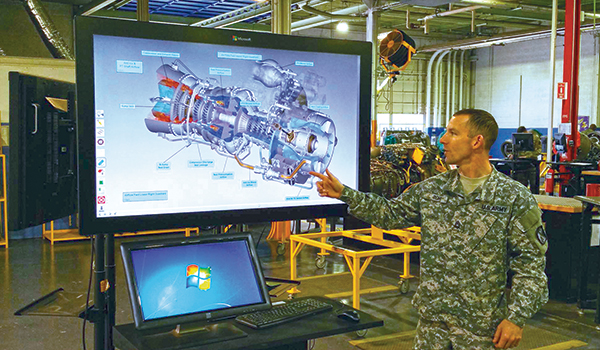 SFC Frank C. Rich, an instructor with Co. C, 2nd Bn., 210th Avn. Regt., Joint Base Langley-Eustis, VA, uses the VIE to go over the T700 airflow theory of operation to a class of 15B Powerplant Repairer students. / 128th AVN BDE PHOTO BY SFC JAMES R. JOURNIGAN, JR
For today's infantry, it bridges the gap between walkthroughs and real life combat. It allows a squad size element to work through simulated scenarios in a virtual environment with minimal risk and operates without the concern for weather considerations. Here in the 128th Aviation Brigade, the VIE is used on a daily basis to reinforce the instruction that students receive prior to working on an aircraft or component. This pivotal tool is currently used in the instruction of seven different Military Occupational Skills (MOS) including the 15D Powertrain Repairer and the 15Y AH-64 Armament/Electrical/Avionics Systems Repairer.
Specific to Each MOS
The VIE system was built specific to each MOS with input from instructors, subject matter experts in the field, course writers, and applicable technical manuals. It uses a computer, combined with interactive touch screen monitors and an interface tablet which allows the instructor to navigate through each section of the program. The VIE program for the 15B and the 15D is designed to provide each instructor the ability to show components and how they work, reinforcing theory of operation down to the lowest level. It displays each three dimensional major component along with its subcomponents, either installed or separate, its functional movement, and any additional driving factor such as airflow or electrical current. Its capabilities also include going step by step through any task that has been programmed into the software. These tasks are mirror images of those contained within technical manuals, and display each component being removed or installed in sequential order as required for that task. This step by step resource is one of the VIE's greatest assets, and the one most used by our instructors.
"You can really see the light come on for students when we use the VIE," stated SSG Soliday, a 15B Powerplant Repairer instructor for Charlie Company, 2-210th Avn. Regt., when asked about the effectiveness of the asset. Students attending the courses come from varying backgrounds. Some have worked extensively as mechanics, whereas others don't have a basic knowledge of the common tools used in a mechanical field. This creates a unique set of challenges for instructors to overcome. For those students who have no mechanical background, the VIE is a widely accepted program that helps them visualize what the instructors have taught them, as well as demonstrate where the component is located, what tool to use for that particular step, and which direction to turn that tool. The VIE for the 15B has replaced the engine run cell and reduced cost and time to teach the same tasks. By using the VIE to reinforce the basic skills it has raised the level of proficiency of aviation mechanics that graduate from the 128th Aviation Brigade and move on to Combat Aviation Brigades.
In times of heightened threat awareness, where we may be called upon at any time to defend our nation, producing highly trained mechanics for the Aviation enterprise is paramount. While there are many educational tools at our disposal, the virtual interactive environment is one that is proven effective and is leveraged at every opportunity. This asset bridges training gaps, reinforces in-depth training material that prepares the next generation of Soldiers, and provides unlimited potential to expand our capabilities as instructors.
SFC James R. Journigan Jr. is the first sergeant for Co. B, 2nd Bn., 210th Avn. Regt. at Joint Base Langley-Eustis, VA.