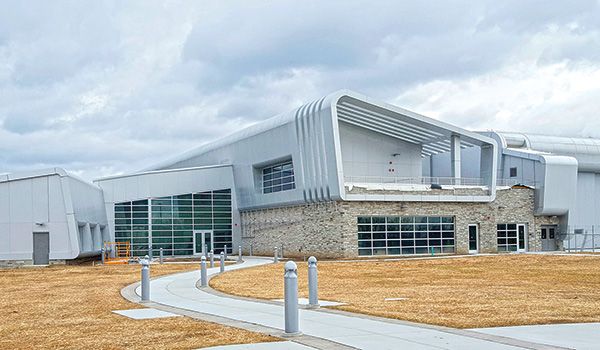 Branch Command Sergeant Major / By SGM Jorge Rodriguez: The Eastern ARNG Aviation Training Site (EAATS) and Western ARNG Aviation Training Site (WAATS) have established themselves as premier helicopter-training resources for Army Aviation.
The new Aviation Maintenance Instruction Building (AMIB) located on the EAATS campus, Fort Indiantown Gap, Annville, PA / U.S. ARMY NATIONAL GUARD PHOTO BY SFC NICHOLAS DAVIS
The EAATS, located near Harrisburg, PA, was established in 1981 and the WAATS, located near Tucson, AZ, was established in 1986. These ARNG training sites are also home to two outstanding Army Aviation NCOAs. Their respective NCOAs were established in 1994, with the receipt of the first Programs of Instruction (POI) directed at NCO Professional Military Education (PME). As part of the One Army School System (OASS), both Army Aviation Training Sites (AATS) have the capability to train Soldiers across all three of the Army components just like their sister NCOAs at Fort Rucker, AL and Fort Eustis, VA. The NCOA training developers work closely with their counterparts to ensure they generate the best training experience possible to effectively mold NCOs into more resilient and adaptive leaders.
EAATS NCOA
The EAATS NCOA has proudly instructed Army Aviation NCOs for the last 23 years and currently is led by their commandant, CSM David M. Dowling. They provide instruction for the CMF 15 Common Aircraft Maintenance (CAM) Senior Leader Course (SLC), CMF 15 CAM Advanced Leader Course (ALC) (Phase-I), 15T ALC (Phase-III), and the 15U ALC (Phase-III). You can find all their courses under the Army Training Requirements and Resource System (ATRRS) school code 960. Since 1994, the NCOA has graduated over 7,000 NCOs and are scheduled to train more than 340 NCOs in FY17. Each academy instructor has on average 21 years of knowledge and experience with a diverse background of aviation military occupational specialties (MOS).
Construction on the NCOA's new Aviation Maintenance Instruction building is expected to be complete by the end of FY17. It will have a functional design and technology that will provide state of the art classrooms that not only increase capacity, but also create a professional learning environment that will positively affect the Soldier's experience. The academy barracks are also going through a renovation to provide a more updated living area for Soldiers to continue their studies and rest. As the EAATS continues to grow and evolve into a more dynamic helicopter-training facility, so does the NCOA. More information on the EAATS and NCOA can be found at https://eaats.ng.mil.
WAATS NCOA
The commandant for the WAATS NCOA is CSM Tamera L. Eldredge. The Backbone of the academy is their seasoned instructors who bring an average of 20 years of experience in Army Aviation and knowledge base to the classroom. They have a diverse experiential background that is used to train the future NCOs of the Army to become well-rounded Army professionals. The academy graduated 157 NCOs in 1994 and has since doubled in capacity to train more than 290 NCOs in FY17. They currently instruct the CMF 15 CAM ALC (Phase-I), CMF 15 CAM SLC, CMF 15P ALC, and CMF 15P SLC. These and other TRADOC accredited aviation courses are under their ATRRS school code 961.
One of the major strengths for the academy is the leveraging of technology in the learning environment. Their state of the art student network allows information sharing not only in their classrooms but also in each dorm room. The WAATS NCOA, like their counterpart in EAATS, is excited for the potential of increased student capacity to better support the development and training of NCOs across all three components.
With the increased backlog of CMF 15 ARNG NCOs that need to complete PME, both of these NCOAs stand ready to meet the growing requirement across all components to get Aviation NCOs trained. The academies understand that the role of the NCO continues to evolve, requiring them to be more creative, resilient, and adaptive leaders who can operate in today's complex environment. One could say that the traditional ARNG NCO has long been adaptive when it comes to balancing their time between their unit, military career, civilian occupation, and family. Over the years, many things have changed at both NCOAs, but their ability to provide consistent quality instruction has remained strong. The cadre at these ARNG NCOAs feel honored and privileged in providing that important leadership development training to the next generation of NCOs.