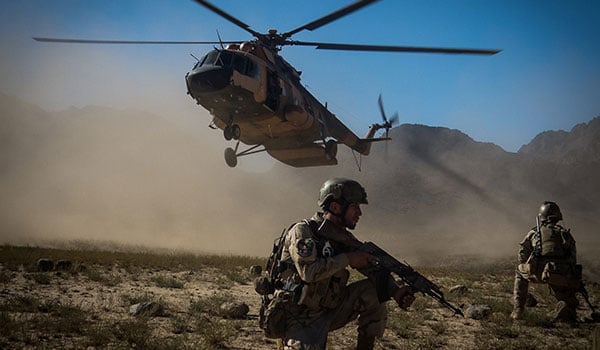 By COL Donald G. Fallin and CPT Lisa Becker: The Special Mission Wing (SMW) is Afghanistan's only Aviation Special Mission unit and is the premier night vision goggle (NVG) helicopter assault force in South Asia. The Wing, built around a fleet of Mi-17v5 and PC-12NG aircraft, provides the country's lone NVG air assault capability and its only intelligence, surveillance, and reconnaissance (ISR) platform. Supporting both the Ministry of Defense (MoD) and Ministry of Interior (MoI), the SMW is an enduring U.S. counter-narcotic and counterterrorism partner, with its wing headquarters and four squadrons providing operational reach in support of more than a dozen battalion-sized special operations and national mission units.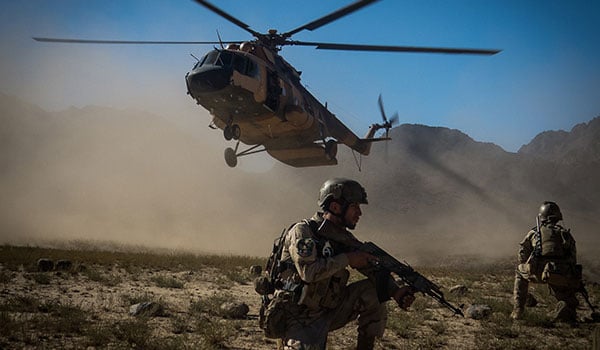 Afghan Security Forces provide perimeter security for a landing Special Mission Wing Mi-17.
With the end of combat operations in Afghanistan, Army Aviation's footprint is shrinking dramatically. Kandahar Airfield, once a competitor for busiest one-runway airport in the world, holds empty parking ramps and soon may only bed Afghan aircraft. While U.S. aviation assets continue to disappear in Afghanistan, a handful of Army Aviators and joint-coalition partners remain to train and advise the Special Mission Wing.
The Genesis
SMW was built upon the work of British and American teams that assembled an experienced core of Mi-17 rotary wing pilots. Formally organized in 2006, the Kabul-based unit was originally the MoI's air interdiction unit. As drawdown efforts in Afghanistan were announced, leaders quickly realized an increased requirement for Afghan air assault capabilities. In 2012, the unit reflagged as the SMW and its mandate expanded to support to all Afghan Special Security Forces units. In four years, SMW grew from a handful of crews to nearly 30 Afghan independent Mi-17 crews, all while continuously supporting combat operations. The wing incorporated a PC-12NG program for ISR in 2014 and produced Afghan independent crews a year later. The expansion continues today.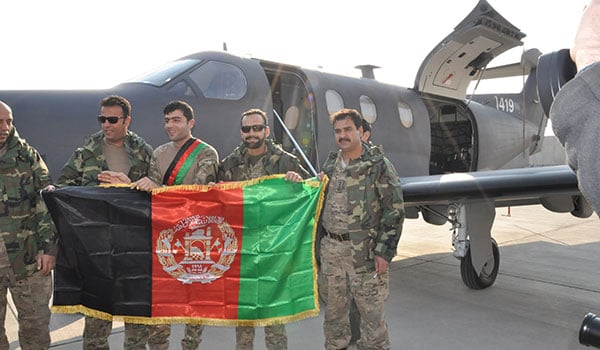 A Special Mission Wing PC-12NG Afghan crew during a recognition ceremony at Kandahar Airfield, Afghanistan
Developing Capabilities
As crews and assets multiply, the Wing works unceasingly to build a sustainable unit. Many of the organization's leaders are Afghan rotary wing pilots with decades of flying experience, and they face daunting tasks: executing mission command, developing a robust support structure, and integrating intelligence with operations. To help cultivate long-term growth in these areas, the SMW Special Operations Aviation Group (SOAG) and Special Operations Aviation Teams (SOATs) provide staff-level and tactical mentorship to the wing and subordinate squadrons.
In light of the unit's growing personnel demands, the SOAG J1 constantly advises the SMW G1 in revising the TASHKIL, the Afghan MTOE. The SMW G2 and his staff have recognized the importance of air intelligence and now follow an air intel curriculum developed in cooperation with SOAG J2 mentors. Across the hallway, the SOAG J4 mentor assists the SMW G4 in leveraging the nascent Afghan logistics system, providing critical material for SMW operations. With U.S. capital investment in the SMW already exceeding $1.3 billion, the SOAG Contracting Officer manages critical contract support in areas such as maintenance, facilities, and force protection. Each SOAG member plays a vital role in the long-term progress of SMW.
While the wing staff remains SOAG's advisory focus, each SOAT focuses on developing processes for mission execution at the squadron level. The Kabul-based SOAT mentors both the 1st and 2nd Squadrons, the most mature squadrons. The advisors focus on refining mission planning for independent Afghan missions that recapture district centers, seize caches of drugs, and provide aerial over-watch. Since the activation of 3rd Squadron in November 2014, the SOAT in Kandahar has provided Mi-17 and PC-12 crewmember training. The 4th Squadron SOAT, based in Mazar-e-Sharif, is preparing to receive Afghan crews for missions in northern Afghanistan. All squadrons will attain fully operational status by 2016.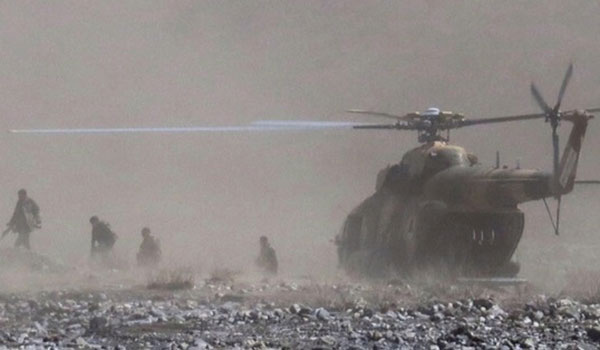 As the SMW grows and the U.S. Army Aviation footprint fades away, the aviation advisors in the SOAG remain dedicated to the task at hand: training, advising, and assisting our partner force. With the help of these advisors, the SMW is building the capacity to fly, fix, and fight on its own. With over 2,000 hours flown already this year, Afghanistan's security depends on SMW aviation more than ever.
COL Donald G. Fallin is the commander of the Special Mission Wing – Special Operations Air Group and CPT Lisa Becker is the 3rd Special Mission Squadron J3, located in Kandahar, Afghanistan.