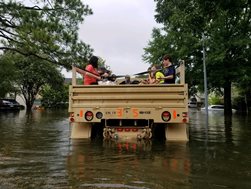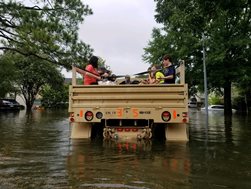 The governor of Texas activated the entire Texas National Guard on Monday, in response to Hurricane Harvey. Military assets from across the country, including aircraft, vehicles, and supplies, were sent to Texas. Additional National Guard units from Arizona, Florida, Louisiana, New Mexico, New York, and Oklahoma have also traveled to Texas to help individuals left in the storm's wake. 
As of Monday morning, there were 16 helicopters aiding in recovery efforts, including 10 UH-60 Black Hawks, four UH-72 Lakotas and two CH-47 Chinooks, with more aircraft on the way. 
This article was originally found here.