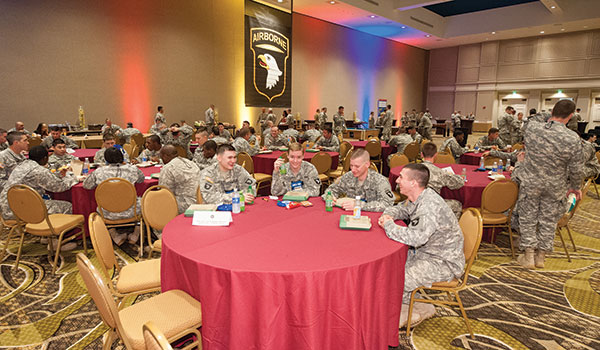 President's Cockpit / By BG E.J. Sinclair, Ret.: I would like to start by first thanking you for the opportunity to be your new AAAA National President. Starting this part of my AAAA journey six years ago as Treasurer and then Secretary, and Senior VP two years ago, it has been a privilege to serve Aviation Soldiers and their Families and I have learned a lot about this great organization.
Looking back I could hardly imagine when I first joined AAAA over 30 years ago that I would end up here. I am truly honored and humble to lead AAAA for the next two years.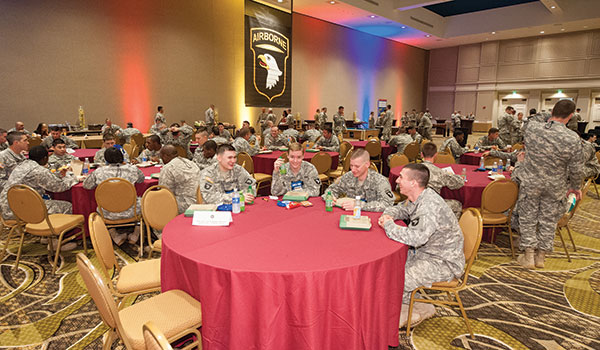 Soldiers and family members relax in the Soldier Café during the 2015 Army Aviation Mission Solutions Summit at the Opryland Hotel, Nashville, TN, March 29-31.
| AAPI PHOTO BY RENÉ BIDEZ
We have a great new National Executive Group leadership team of BG (Ret.) Steve Mundt, Senior VP; Secretary, MG (Ret.) Jeff Schloesser; and Treasurer, MG (Ret.) Tim Crosby, we are working on the new National Member at Large appointments, and new committee chairs and will announce them soon. CW5 (Ret.) Dave Cooper will continue as VP of Membership and LTC (Ret.) Jan Drabczuk will continue at VP of Chapter Affairs. We will also appoint a VP of National Guard / Reserve affairs. COL Mark Weiss will assume that role.
The two major lines of effort going forward will be: new Membership Initiatives and Chapter Initiatives that will both leverage the new AAAA brand of Networking, Recognition, Voice and Support, with special emphasis on how we can best serve our members in the Army National Guard and U.S. Army Reserve. Local Chapters are the bedrock of AAAA and are what makes this organization so successful. Those of us at National AAAA Office are dedicated to providing the tools and resources necessary to make Chapters successful. We also will make a concerted effort to increase our membership. Since aviation end strength is declining, we have seen a slight decrease in our membership. We want current members and potential members to know all that AAAA does for Aviation Soldiers and their Families.
We had a great event in Nashville at the 2015 Annual Summit. Every metric was up over 2014 and the feedback is quite positive indeed. You will see the photo review in this issue. Thanks again to all who participated, especially the Soldiers from Fort Campbell who made the trip down, the National Guard who held their State Army Aviation Officer conference there, and the DUSTOFF Association who also met during the event. Taken together with the NATO conference that was held during AAAA again this year you can see that we are truly becoming the umbrella event for the entire domestic and international Army Aviation Community.
Finally, I would like to thank my immediate predecessor, BG (Ret.) Howard Yellen and Susan for all their great work over the last two years. Howard was a fabulous President for AAAA and made some much needed changes that made us a better organization today. I look forward to hearing from you on any issues you wish to bring to our attention.
We have come a long way since I joined AAAA, but I am sure there is still room for improvement. Let us know how we can better serve you and your families. Thanks again.
BG E.J. Sinclair, Ret.
32nd President, AAAA
This email address is being protected from spambots. You need JavaScript enabled to view it.