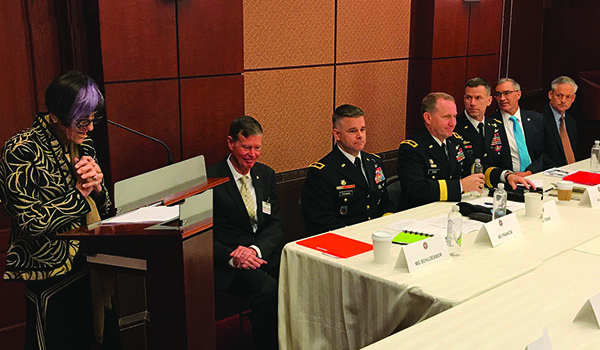 President's Cockpit / By MG Jeff Schloesser, Ret.: I am honored to serve as the new AAAA President. I have been a member for almost four decades, and I believe our association provides a true service to our Army, Army Aviation, and our Soldiers and their families.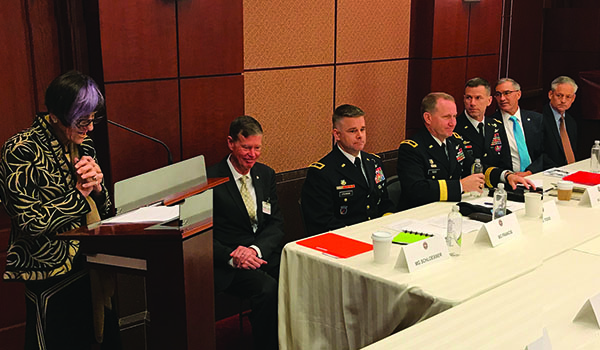 Representative Rosa DeLauro, addresses members of the Army Aviation Congressional Caucus during an AAAA-sponsored breakfast in Washington, DC, May 16, 2019. Also attending: (left to right) MG (Ret.) Jeff Schloesser, AAAA President; BG(P) Dave Francis, incoming U.S. Army Aviation Branch Chief; BG(P) Thomas Todd, PEO Aviation; BG Allan Pepin, Commanding General, U.S. Army Special Operations Aviation Command; Mr. William Marriott, Executive Director, U.S. Army Aviation and Missile Command; and Mr. Geoffrey Downer, Acting AMCOM Director, Special Programs. / AAPI PHOTO BY BILL HARRIS
I am committed to ensuring we support and provide a voice for our members and their families, while providing an important means for networking and both personal and unit level recognition.
I sincerely thank our previous president, BG (Ret.) Steve Mundt, for his two years of exceptional vision and leadership, which culminated in eight years of volunteer leadership within our AAAA National Executive Group. Steve has willingly accepted my request to continue to play a substantive role in AAAA, and so I expect you will see his face and name in our future activities.
I thank our Executive Director, Mr. Bill Harris, for his superb leadership of his talented AAAA professional team over the past year, culminating in our latest AAAA Army Aviation Mission Solutions Summit 14-16 April 2019. Bill and his team make this huge and complex event look seamless, but it is in fact a highly complex orchestration of multiple near simultaneous events that benefit Army Aviation and our members, as well as our industry and media partners. This year's summit was a hit: with almost 7,500 attendees, and multiple professional forums capped by the Army's most senior aviator, Vice Chief of Staff General Jim McConville (who we also congratulate on his confirmation by the Senate as our Army's next Chief of Staff).
At the Summit, your National Executive Group (NEG) was elected: Senior Vice President MG (Ret.) Tim Crosby, Treasurer MG (Ret.) Walt Davis, Secretary MG (Ret.) "Wally" Golden, and me as your 34th President. My congratulations to Tim, Walt, and Wally, and my thanks for their selfless service to AAAA!
As part of the NEG, I am em-powered to appoint Vice Presidents to
serve in one-year capacities, and so reappoint MG (Ret.) Les Eisner as VP of National Guard and Reserve Affairs, LTC Jan Drabczuk (Ret.) VP of Chapters, and CW4 Becki Chambers as VP Membership. I thank them for their continued hard work!
As I look at Army Aviation, we are a strong, mature, and highly relevant branch. That said, we, like the rest of the Army, are at an inflection point. To borrow the Chief of Staff of the Army's phrase, and we must modernize our capabilities as the Army shifts to focus on peer to peer competition and deterrence, all the while maintaining a laser focus on current readiness. We at AAAA will seek to support our Army and our branch in this balancing act.
By the time you read this article, we will have hosted a forum between our elected leadership in Congress and Army Aviation Six-pack leaders for them to exchange viewpoints and learn from each other (the Army Aviation Caucus).
You can also expect to see in-depth articles in this magazine focused on Army Modernization, Future Vertical Lift, Peer to Peer competition and what that means for Army Aviation, and practical / tactical solutions for readiness challenges faced by our commanders, warrant officers and NCO leaders of our combat aviation formations. As you have come to expect, we will continue to give voice and focus to our total Army Aviation team of teams: Active, Reserve, National Guard, and Special Operations Aviation forces.
Congratulations to LTG Dan Hokanson on his confirmation as Director of the Army National Guard. As an Army Aviator, he brings a unique awareness to this critical position for the success of our Total Army Team.
This month our Army Aviation Branch Chief, MG Bill Gayler, relinquished command at Fort Rucker after 38 months in command. Bill has provided strong, passionate, and visionary leadership to our branch, and on behalf of our over 18,200 members of AAAA, we wish he and Michelle (a leader in her own right) a fond farewell and best wishes in their next posting in Europe. We also welcome BG (P) Dave Francis and his spouse Jodie back to Fort Rucker and offer our best wishes as Dave assumes command of our branch.
I also welcome our new AMCOM Commander, BG (P) Todd Royar back to Redstone Arsenal, and look forward to working with him to provide focused attention on readiness and sustainment of our fleets. And, we likewise welcome BG Mac McCurry as the Director of Aviation at DAMO-AV and wish him well as he looks out for the Army Aviation Enterprise interests at HQDA.
As I look forward to AAAA events this year, we have the Luther G. Jones Army Aviation Depot Forum in Corpus Christi, August 20-21; our AAAA National Executive Board semi-annual meeting in Washington, DC, October 13; and in Huntsville, our Aircraft Survivability Symposium, November, 18-19 followed by the Joseph P. Cribbins Army Aviation Product Sustainment Symposium on Nov. 20-21. Additionally, we will be supporting many Chapter events this year with resources to lower costs and expand opportunities to our members and prospective members.
It is shaping up to be an exciting year for Army Aviation, and I look forward to providing proactive leadership of our great association!
MG Jeff Schloesser, U.S. Army Retired
34th President, AAAA
This email address is being protected from spambots. You need JavaScript enabled to view it.