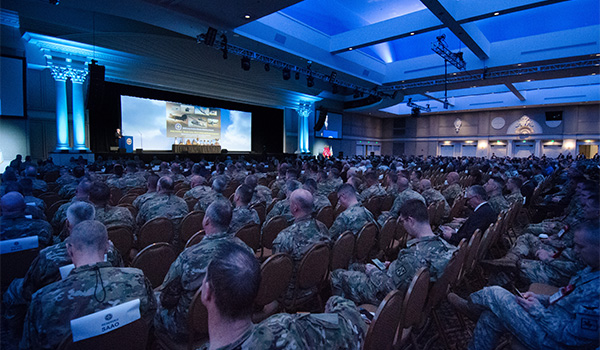 President's Cockpit / MG Jeff Schloesser, U.S. Army Retired: We start off 2020 with a deep dive into the fundamentals of our Army Aviation profession: maintenance, sustainment, and logistics.
As a deputy division commander in Iraq and a division commander in Afghanistan, it was clear to me that no matter how well planned and led our operations were, our ultimate success was equally dependent on logistics, and everything and everyone that support our combat formations' sustainment.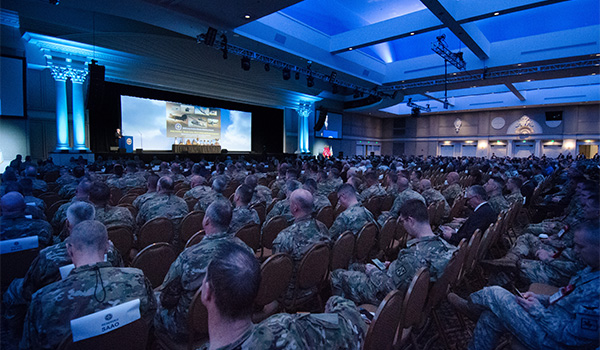 Attendees at the opening professional session of the 2019 Army Aviation Mission Solutions Summit on April 16 in Nashville, TN./ AAPI FILE PHOTO BY RENE BIDEZ
In this issue, our Branch Chief, MG Dave Francis, introduces our theme: sustainment and maintenance that enables Army Aviation independent maneuver and expeditionary aviation operations. Army Material Command (AMC) CG General Gustave "Gus" Perna discusses Army precision logistics for responsive and what I would call "anticipatory" sustainment in support of Large-Scale Combat Operations (LSCO). General Perna sets the bar higher for our aviation fleet readiness, seeking to move beyond the 75% fully mission-capable goal. AMCOM CG MG Todd Royar pinpoints a critical readiness enhancer – the unit Logistics Assistance Representative, or LAR – and gives recommendations on how to enhance their contributions to unit level sustainment and readiness.
Much of the remainder of the issue talks to AMCOM initiatives to drive readiness, as well as an in-depth look at changes at the PEO for PM Aviation Turbine Engine. Finally, Kevin Cochie gives us insight into the Congressional budget process. As I am writing this at the end of 2019, we now have both an authorization bill as well as the appropriations to support it, but we were all on pins and needles for much of the last quarter of 2019.
The bills themselves show strong support for the current Army Aviation fleet and Future Vertical Lift programs, and provide a significant pay raise to our well deserving military members. As you read this in January, the next budget, PB 21, will almost be complete and ready for release. All of us hope to see continued strong support for Army Aviation as our military continues to operate around the world in difficult and dangerous locations, and as we begin to execute Army modernization. To support our Branch Chief and his fellow "Six Pack" of Aviation senior leaders, we will be hosting another Army Aviation Caucus on Capitol Hill, this time in March, to continue the critical dialogue with our elected representatives.
Your AAAA team is deep into final preparations for our AAAA Army Aviation Mission Solutions Summit in Nashville April 22-24. We have been working closely with our Branch Chief, MG Francis, and his staff to make this the best Summit so far. Our Army Chief of Staff and Master Army Aviator, GEN Jim McConville, will present our keynote address. Mark your calendars!
It's an exciting time for our Army and Army Aviation, and I predict 2020 will be a critical year. We at AAAA are dedicated to helping make it so through building effective networks at all levels, recognizing excellence in our ranks, supporting our aviators, crew and maintainers as well as their loved ones, and perhaps most importantly, speaking out for Army Aviation to elected officials as well as providing forums for Army senior leaders to voice their priorities.
Let's all work together to make 2020 a great year for Army Aviation!
MG Jeff Schloesser, U.S. Army Retired
34th President, AAAA
This email address is being protected from spambots. You need JavaScript enabled to view it.