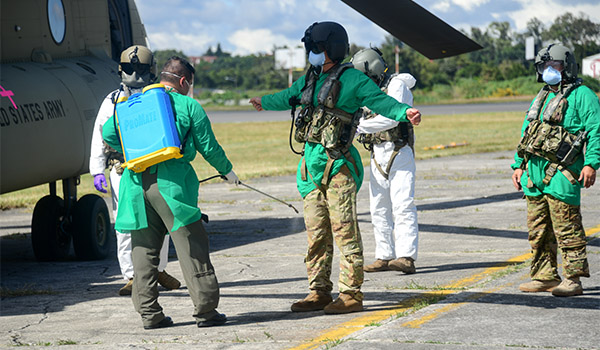 President's Cockpit / By MG Jeff Schloesser, U.S. Army Retired: It is finally 2021! Like most of you, I have been looking forward to a new year for many months.
Always an optimist, I hope that this new year brings all of us health, prosperity, and the ability to continue to support Army Aviation in the best possible manner.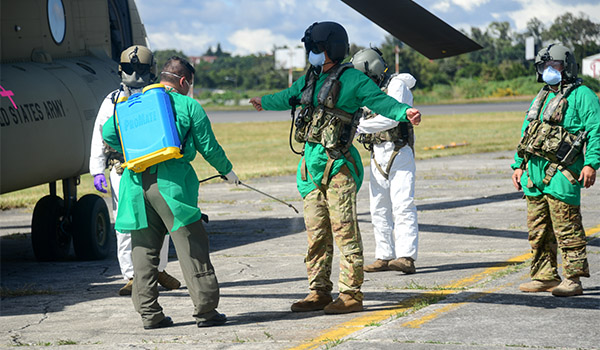 Army CH-47 Chinook crew members assigned to the 1st Battalion, 228th Aviation Regiment, Joint Task Force-Bravo, sanitize after transporting a pregnant COVID-positive patient in Guatemala City, Guatemala Nov. 27, 2020./JOINT TASK FORCE BRAVO PHOTO BY AIR FORCE SSGT. ELIJAIH TIGGS
That said, we have had to "deal" with the COVID situation in a forthright and transparent way: just as our Branch Chief determined that a face to face Army Aviation Senior Leaders Forum in late January 2021 would not be possible, Bill Harris and I determined that our annual Luther Jones ASE Forum, February 9-10, also could not be safely held. We will be announcing how we will honor the many AAAA Award winners that normally receive their awards during these two events – most likely we will have to combine them with 2021 winners at the next forums.
So now we focus on our Army Aviation Mission Solutions Summit, April 21-23, at Opryland, Nashville, TN! We at AAAA are exploring every means possible to hold the summit, and will be announcing measures we plan to take in the near future. Warning order: they could include taking a COVID test at or prior to the Summit, and clearly coming back negative. Certainly, please consider receiving the vaccination when it is made available for you.
In this issue we focus on Army Aviation sustainment. As I have said before in my Cockpit articles, amateurs talk tactics, and professionals talk logistics.
Our lead article is authored by the senior Army leader responsible for Army sustainment, Army Material Command (AMC) Commander, General Edward Daly. He sets the stage for the rest of the articles as he discusses how his command is supporting Army Aviation modernization while also focusing on the enduring fleet. The Commander of U.S. Army Aviation and Missile Life Cycle Management Command (AMCOM) MG Todd Royar, noting that seventy percent of a program's total cost is generated in sustainment, delves into how AMC and AMCOM are developing PPMx, Predictive and Prognostic Maintenance, in order to address the sustainment resourcing issues.
Our Branch Chief, MG Dave Francis, dives deep into the impact of the newly released U.S. Army Concept for Aviation 2028, specifically in calling for a reduced logistics footprint, an increased organic Army Aviation maintenance capability, and an improved overall operational availability.
In keeping with our monthly "People" highlights, we congratulate MG Frank Tate on his command of First Army Division West and his retirement after so many decades of selfless service and send him and his family our very best wishes.
We also want to congratulate BG Dave Hall as he assumes his new role at the Army National Guard, replacing retiring BG Ray Davis, whom we farewelled last month.
Finally, we congratulate the twenty-nine aviators on the Colonel and Lieutenant Colonel Command lists!
We at AAAA are always trying to remain relevant to our membership and our branch despite the COVID pandemic restrictions. We are working on details for a virtual Army Aviation Congressional Caucus meeting with the Army Aviation senior leadership, as well as a virtual Army Aviation senior leader update to our AAAA Senior Executive Associates.
Stay healthy! As always, I pledge to ensure that AAAA does its part to help YOU: our Soldiers, families, and senior leaders!
MG Jeff Schloesser, U.S. Army Retired
34th President, AAAA
This email address is being protected from spambots. You need JavaScript enabled to view it.