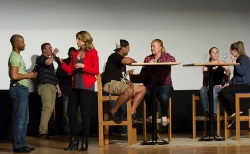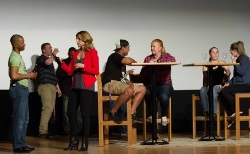 Joint Base Lewis-McChord kicked off Sexual Assault Awareness Prevention Month at the Carey Theater with an educational performance featuring Janine DiVita, a Broadway actress, and several JBLM Soldiers on April 1, 2016. The performance aligned the Army's core values with personal responsibility, lessons in situational improvisation, character development and bystander intervention in addition on how to strengthen awareness and end harassment and assault as part of the "Not in my squad, not in my Army" Sexual Harassment Assault Response Prevention campaign.
Ms. DiVita received a gift from Command Sgt. Maj. Michael Grinston, I Corps command sergeant major, for her educational performance. "It's time to take back our Army and keep standing until we stamp out sexual harassment and assault for good," said Grinston. "We must all have the courage to say 'Not in my Squad. Not in my Army.'
This article was originally found here.