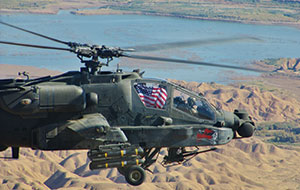 From AAAA President's Cockpit: January 2014
I hope everyone had an enjoyable and safe holiday season. As we shake off the effects of our New Year's celebrations, we realize that 2014 is upon us and once again we are moving at an inarguably fast pace.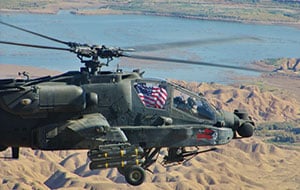 While much was accomplished in 2013, we will not rest on those laurels, but will move even more aggressively to ensure your Association remains ready and relevant in order to serve our Aviation soldiers and their families.  
As I described previously, we have rebranded the Association to focus upon four core membership values: Networking, Recognition, Voice, and Support. We continue to update and refresh AAAA from top to bottom and our rebranding is just one aspect of the many improvements to the Association. New AAAA coins are about to be delivered featuring these four core values. 
We are also well on the way toward our Annual Mission Solutions Summit and AAAA Annual Meeting May 4-6, 2014 in Nashville, Tennessee, which will serve as a culminating event for all four values. We've shortened the event by one day, the Hall of Fame induction ceremony is now formal attire, and the final evening will feature an informal Soldier Appreciation dinner concert featuring Trisha Yearwood!
As you know, registration opened on January 15th and in just a short time is going strong. Check out the website, www.quad-a.org, for more details and, after February 1st, download the 14 Summit app which will be available in the App Store and Play Store.  
Before we get to Nashville don't miss the Joseph P. Cribbins, Aviation Product Support Symposium, February 12-13 in Huntsville, Alabama. Again, check out the website for details and registration. As we go to press this month, exhibits are almost sold out and registration is closing on 250 people with only several weeks to go!
To start the new year, I would like to highlight one aspect of how the AAAA provides Support back to our members distributed across our 70 chapters. Each chapter can submit a request to the National Office for up to $5,000 (the limit our National Executive Group is empowered to approve) to support local events such as deployment and redeployment ceremonies, chapter/brigade formals, and worthy local chapter and Soldier-focused activities. 
Each year we distribute approximately $80,000 to $100,000 to our local chapters that allows them to both directly and indirectly support Aviation soldiers and their families. Chapter leadership simply submits a request to This email address is being protected from spambots. You need JavaScript enabled to view it. with a description and justification of how it aligns with the AAAA Mission Statement, "Supporting the U.S. Army Aviation Soldier and Family," and the dollar amount requested. The general rule is $5,000 for brigade-size events, $1,500 for battalion, and $750 for company, however exceptions have been granted.  
By now, I'm sure you are all aware of the budget deal recently passed by the Congress and signed by the President. One element of that compromise was the one percent COLA reduction for working-age military retirees until age 62, at which time a veteran would once again receive full benefits. I would like to make it clear that as part of The Military Coalition (TMC), a coalition of over 5.5 million members, we are working this issue to ensure your Voice is heard on Capitol Hill. Despite the omission of the AAAA from their December 11th letter, AAAA is fully supportive to the TMC memos sent to the majority and minority leaders in both the House and the Senate. Please see page 58 in this issue as our TMC representative, COL (Ret.) Bill Morris, provides additional information pertaining to this COLA issue. 
I look forward to the Cribbins APS in Huntsville next month and the Mission Solutions Summit in Nashville in May.  Hope to see you there.
Above the Best!
BG Howard W. Yellen, Ret.
31st President, AAAA
This email address is being protected from spambots. You need JavaScript enabled to view it.