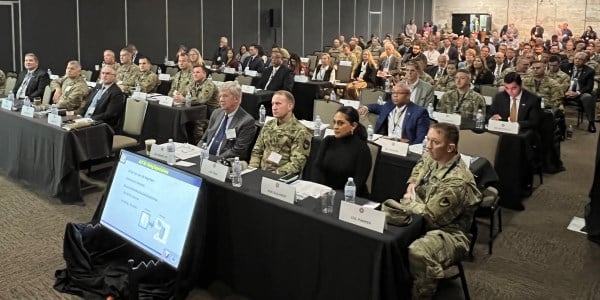 President's Cockpit / MG Tim Crosby, U.S. Army Retired:
It's a new year and new opportunities are ahead as we look forward to holding our first AAAA Annual Army Aviation Mission Solutions Summit in two years!
April 3-5, 2022 at the Opryland Hotel in Nashville, TN are the dates. Hard to believe we are barely over 60 days away by the time you read this. Chief of Staff, GEN Jim McConville will be our keynote speaker on Monday and we have a packed agenda with everything from our Branch leadership led by MG Dave Francis, to simulation, Warrant Officer and Soldier updates by our Chief Warrant Officer of the Branch and Branch CSM to safety, international panels, survivability working groups, and Future Vertical Lift.
There is something for everyone to include a spouse program with various tours and presentations. We are even working on reduced rates for Soldiers at the impressive indoor water/surfing park right at Gaylord, called "Sound Waves." Keep up to date with the app #22Summit for the latest agenda.
The Opryland itself is close to being sold out but we have a number of other Marriott properties across the street that are available. The AAAA website will direct you to our event vendor eShow which will show you what is still available. You can book at the same time you get your event tickets.
Attention Industry Members: There are a few exhibit spaces left but very few indeed. Most of our exhibitors rolled over their contracted booths from the last two years' cancelled shows so we are about sold out.
Remember to get your tickets for the Hall of Fame Banquet on Monday night and the closing casual Soldier Appreciation Concert with Justin Moore on Tuesday evening.
As you read last month, the Joseph P. Cribbins Training and Maintenance Symposium was an amazing success in Huntsville. Recognition of outstanding Soldiers is such an important part of what AAAA does. The last two years of pandemic have not helped us to work that pillar of our mission statement.
Please see pages 40-44 for full coverage of the 2020 and 2021 National awards that we presented at the Cribbins event catching up on two back years of awards to include the Hall of Fame, our Soldiers of the Year, Crew Chiefs of the Year, National Guard Unit of the Year and many, many more not to mention the Material Readiness awards to industry that were presented there. What a joy to see these individuals and their family members finally appreciated before hundreds of their friends and peers. There were a lot of emotional moments I assure you and I hope the photos convey some small part of that to you.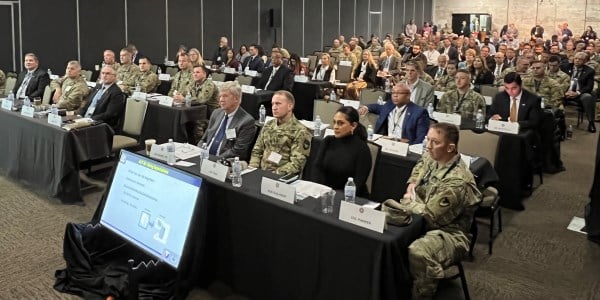 Photo by Bill Harris: A packed house listens to a presentation during the opening session of the Luther G. Jones Army Aviation Depot Forum, 6-7 Dec 21, Corpus Christi, TX. Among the VIPs pictured are: (front right table, left to right) MG (Ret.) Tim Crosby; AAAA President; LTG Thomas H. Todd III, DCG, Army Futures Command; Corpus Christi Mayor Paulette Guajardo; and COL Joseph Parker, Corpus Christi Army Depot commander.
We have also just held in December our Luther G. Jones Army Aviation Depot Forum in Corpus Christi TX. Recognition of two outstanding Artisans of the Year were presented there as well. The Mayor herself along with LTG Todd and MG Royar helped us honor those outstanding unsung heroes who do such an outstanding job returning our aircraft to like new condition every year at the Depot as well as provide the new UH-60V model to the force.
I am continuing to travel around the country visiting our chapters as I work toward the goal of visiting each one by the end of my term in 2023. We are also working initiatives on a Hall of Fame review, new standards for industry sponsorship of our national awards, increased benefits for our industry members and much more. I look forward to seeing many of you in Nashville and during this next year as we keep pressing on our Mission Statement: "Supporting the U.S. Army Aviation Soldier and Family."