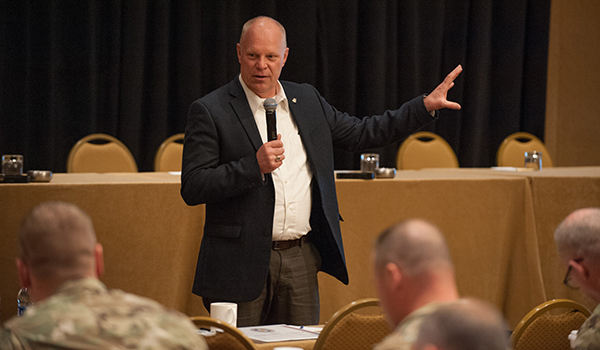 President's Cockpit / By BG Steve Mundt, Ret.: Congratulations to the Army Warrant Officer Corps on turning 100 on 9 July and, on that same day in 2004 for branching warrant officers in Aviation. You truly make Army Aviation Above the Best!
Summer is here and while the weather patterns across the country may not reflect it, the kids are out of school and many military families are in transition to new assignments and opportunities. While many are planning summer vacations and many outdoor activities I ask everyone to please take a minute to think about safety. How many times have you heard someone say after the accident, "I knew that was going to happen?" If so, then why didn't you stop it or try to prevent it? We all have a part to play so please help us to have a zero accident summer!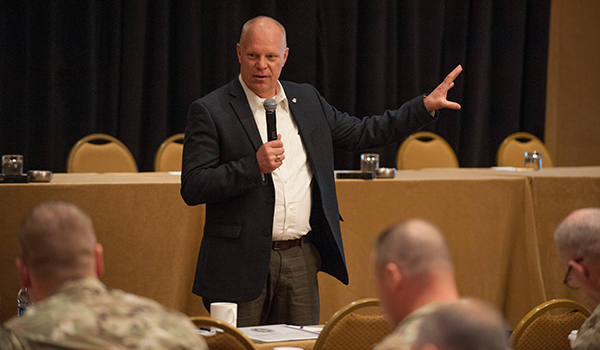 Dave Cooper, AAAA VP Membership, speaking at the Chapter Officers Workshop during the 2018 Summit/ Photo by René Bidez
I did want to take a minute on behalf of all the members of AAAA to call out CW5 (Ret.) Dave Cooper who is stepping down as your Vice President of Membership and a key member of the National Executive Group. Dave has been a cornerstone of our organization from the chapter level with the Air Assault Chapter all the way to the national level where he has been a consummate professional; Distinguished Service Cross decorated Warrior, Gold Order of Saint Michael and member of the Army Aviation Hall of Fame. Dave has made a huge impact on your association and we expect he will contribute even more in the future. Please join me in wishing Dave and Mary the very best in their future adventures.
Our new National VP Membership is CW4 Becki Chambers. Becki entered the Warrant Officer Flight Training Program in January of 1996 and has had assignments ranging from Korea and Fort Campbell to Washington State and Florida in the Army National Guard and Army Reserve. During a five-year break in service, she served as the first family readiness support assistant for the 160th Special Operations Aviation Regiment (Airborne) from 2004 to 2006. She relocated to Ft. Lewis in 2006 and joined the Washington Army National Guard. In 2009, she transferred to the Tennessee Army National Guard and in 2014 she switched to the Army Reserves and is now assigned to Co. G (MEDEVAC), 5-159th Aviation based in Clearwater, FL.
If her name sounds familiar, it appears that she is married to some guy named Greg… as in CSM Greg Chambers! So what we have here is another amazing Aviation professional who has done it all from spouse and mom with family readiness group experience to Active Duty, National Guard, and U.S. Army Reserve service. Welcome Becki as our new VP Membership!
It is amazing how time flies and once again people are on the move. While we do our best in the magazine to capture people moving and being reassigned it is tough and we could use your help. I wanted to take a minute and update you on Army Aviation key leadership changes that have/are taking place this summer.
Congratulations to BG Dave Francis who has assumed responsibilities in the Pentagon as Director of Army Aviation, a job I am somewhat familiar with. Dave is going to do a great job as he did at the Army Combat Readiness Center and as Director of Army Safety. His immediate predecessor, MG Frank Tate, is now Advisor to the Minister of Defense, United States Forces-Afghanistan, and OPERATION FREEDOM's SENTINEL.
In addition, MG Frank M. Muth has moved from program manager, Saudi Arabian National Guard Modernization Program, Saudi Arabia, to commanding general, U.S. Army Recruiting Command, Ft. Knox, KY.
BG Thomas R. Drew, deputy commanding general (support) of the 2nd Infantry Division (Combined), Eighth Army, Republic of Korea, has assumed responsibility as deputy commanding general, U.S. Army Special Operations Command, Ft. Bragg, NC.
COL Allan M. Pepin has assumed command of the US Army Special Operations Aviation Command from BG(P) John Evans who has moved to command U.S Army Cadet Command.
BG Scott R. Morcomb has relinquished command of Army Reserve Aviation Command to BG Jamelle (Jami) C. Shawley and CSM JamesPeter M. Matthews transferred responsibility to CSM Juddiah (Judd) Mooso during the same ceremony.
As you saw in last month's ARMY AVIATION Magazine, our Army Aviation Branch Command Sergeant Major Greg Chambers changed responsibility with CSM Brian Hauke.
We also welcome the first ever PEO Aviation sergeant major since the inception of the PEO in 1987, SGM Roy Sullivan.
Summer is a time of change to be sure, but one that continues to help us evolve as an Army, a Branch, and your association. As some of our members enjoy summer vacations, please keep in mind all those in harm's way around the world. Everyone please stay safe!
Above the Best!
33rd President, AAAA
This email address is being protected from spambots. You need JavaScript enabled to view it.
Congratulations to the Army Warrant Officer Corps on turning 100 on 9 July and, on that same day in 2004 for starting to branch warrant officers in Aviation. You truly make us Above the Best!
BG Steve Mundt, Ret.