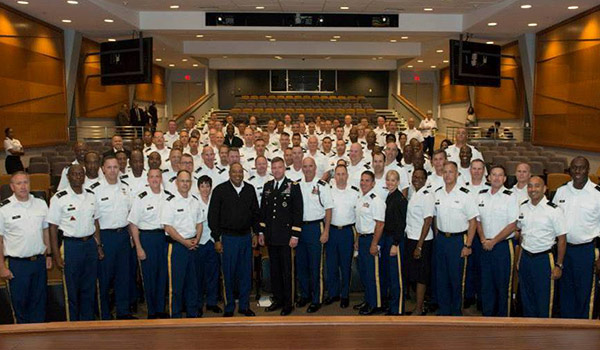 Chief Warrant Officer of the Branch / By CW5 Allen R. Godfrey: On June 29-30, 2015, CW5 David Williams, Army Staff Senior Warrant Officer, under the direction of GEN Raymond T. Odierno, Army Chief of Staff (CSA), hosted the first annual Senior Warrant Officer (SWO) Summit in Washington, DC.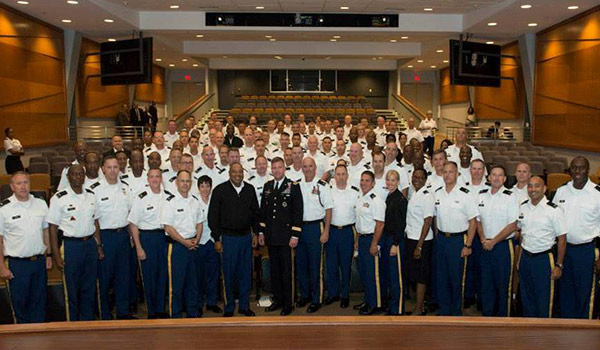 Attendees at the first Army Senior Warrant Officer Summit in Washington, DC gather around U.S. Army Training and Doctrine Command Commanding General, GEN David G. Perkins (center), and CW5 David Williams (left of Perkins), the Army Staff Senior Warrant Officer. The author, CW5 Randy Godfrey, is front row, 3rd from left. / U.S. ARMY COURTESY PHOTO
This summit served as a strategic communications forum outlining the Warrant Officer 2025 Strategy. The summit facilitated an informative dialogue among SWOs of the cohort and a variety of senior Army leaders across the Total Army.
There were over 120 SWOs in attendance from all 17 warrant officer branches, including over 30 Aviation warrant officers. Among these SWOs were representatives from the United States Army Aviation Center of Excellence, total force combat aviation brigade command chief warrant officers (CCWO), National Guard state CCWOs, Special Operations Aviation, Human Resources Command, Aviation and Missile Command, HQDA G-1, G-3, G-4, and the Warrant Officer Career College.
SWOs from the cohort provided briefings on the WO2025, the Army Warrant Officer Solarium, and Warrant Officer Professional Military Education. Seven senior Army leaders spoke during the Summit: Training and Doctrine Command Commanding General, GEN David Perkins; Army Materiel Command Commanding General, GEN Dennis Via; U.S. Army Pacific Commanding General, GEN Vincent Brooks; Combined Arms Center Commanding General, LTG Robert Brown; Army G-1, LTG James McConville; Army G-3, LTG Joseph Anderson; and Army G-4, LTG Gustave Perna.
GEN Odierno states United States Army Warrant Officers, a cohort within the officer corps, are the Army's premier land force technical experts and systems integrators. Increased reliance on warrant officers to meet current and future Army requirements necessitates the delivery of warrant officer training and education that keeps pace with rapidly changing technological advancements and dynamic operational environments.
The Strategy
The Warrant Officer 2025 Strategy is organized into four broad lines of effort (LOEs), Accessions, Development, Talent Management, and Army Profession, supported by two crosscutting concepts. The two crosscutting concepts – Leader Development and the Army Profession – serve to link the four LOEs. The strategic approach organizes the LOEs by purpose and links supporting objectives and key tasks to the strategic ends. The supporting objectives define realistic outcomes that are necessary and sufficient to achieve the desired end state. The key tasks are the specific efforts identified as most likely to produce the desired outcomes.
Senior leaders from the Army provided insights, lessons learned, and the future. Each told personal stories about their experiences with warrant Officers. These stories highlighted the contributions to not only their career, but also their contributions to the Army. The dominate message is warrant officers must maintain the emphasis on being knowledgeable. Warrant officers take action to be the technical expert and provide frank advice, in the words of LTG Anderson "don't stop telling the truth."
Some of the insights and strategic messaging from senior leaders focused on the agility, adaptability, and flexibility of our Soldiers. GEN Via talked about the unpredictable nature of the world with examples of Europe, Africa, and the Middle East. We must always reinvest in our Soldiers and train to maintain standards, discipline, and accountability. LTG Perna talked about the need to make sure our future portfolios are sustainable and modernized.
Development and Education
Many leaders discussed leader development and education, a CSA priority. LTG Brown discussed the impact of social media and immediate information. "Now we must do the right thing while the whole world is watching," this is an update to doing the right thing while no one is watching. LTG McConville reminded us the Army is people. Personnel management will improve with systems currently being fielded, including the Integrated Personnel and Pay System – Army (IPPS-A). These systems will better manage talent by matching skills with assignments and requirements. LTG Anderson reiterated training starts at the company or troop levels. Commanders at all levels should develop training based on the need to maintain over-match capabilities required in the complex global environment.
CW5 Williams stated, "I had the privilege of hosting our very first Army Senior Warrant Officer Summit! This summit was the first of its kind for our cohort. Select Senior Warrant Officers across all compos and branches gathered in Washington, DC to hear and establish a dialog with several of our most senior leaders. A special thanks to our senior leaders, all briefers, and attendees. This was a phenomenal event!"
Remember to start our day asking, "What are we doing for the Warfighter?" At the end of the day, the answer is, "We provided no fail support to the Warfighter on the ground and in the air."
Above the Best!
CW5 Godfrey
This email address is being protected from spambots. You need JavaScript enabled to view it.
CW5 Allen R. "Randy" Godfrey is the chief warrant officer of the Aviation Branch with the U.S. Army Aviation Center of Excellence, Fort Rucker, AL.