ARSOAC CWOC / By CW5 David F. Greenwood: The United States Army Aviation Center of Excellence (USAACE) prepares the best aviators in the world for assignment to war-fighting units in our Army. "Above the Best" is a motto that every Army aviator knows.
The United States Army Aviation Center of Excellence (USAACE) prepares the best aviators in the world for assignment to war-fighting units in our Army. "Above the Best" is a motto that every Army aviator knows. It is ingrained in our aviators' ethos that their task is to continually develop individual tactical & technical expertise in their craft to best inform and enable successful Army ground force missions. We exist to support the ground force.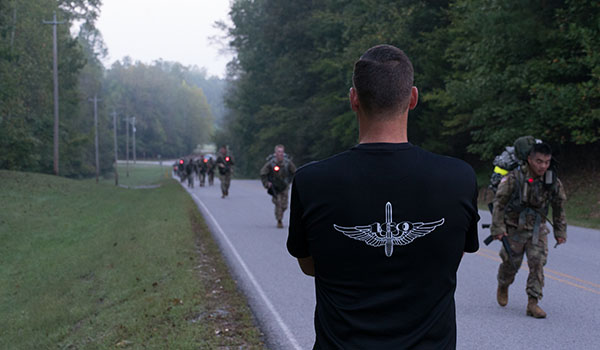 A Green Platoon instructor from the Special Operations Aviation Training Battalion (SOATB) at Fort Campbell, Kentucky observes Night Stalker candidates during a timed road march. Green Platoon is the assessment and selection entry point for all enlisted, officer and warrant officer candidates to serve within Special Operations Aviation./ ARSOAC COURTESY PHOTO
The Aviation Warrant Officer (AvWO) is a critical component of our aviation force structure. Our nation's Army invests millions of dollars in the development and training of each AvWO during their first obligation of service and continue to invest throughout their careers. As the AvWO progresses up through the ranks, their roles become more important to our Army's ability to fight and win tonight. By design, the career status Chief Warrant Officers Two, Three, and Four are the Aviation Branch's journeymen and masters who execute the commander's priorities and training guidance. They do this by assisting in the development and execution of their unit's training plans and equipment sustainment readiness. They are also force generators supporting the pipeline at the USAACE. If you are one of these journeymen/masters, our Army teammates need your continued commitment, mentorship, leadership, and professional example.
If you are looking for a new environment to challenge your unique skills, or are at a decision point to stay in or get out of the Army (but have plenty left in the tank), consider the opportunities that joining the Special Operations team may offer you and your family.
Do you remember the excitement you felt when you received word that you have been selected for Warrant Officer Flight Training (WOFT)? You didn't know what you didn't know, but you knew that you were about to embark on something special. An opportunity that you may have wondered if you would succeed at, now that you were accepted. It was not just another PCS; all of your peers were impressed. You had quietly moved through the packet process and gained support of your company and battalion commanders. You reached out to a senior warrant officer for an interview, no idea how that process would go. You were internally optimistic, but the wait was grueling. Thinking back to this time, ask yourself if you would have regrets if you hadn't applied?
Not unlike the application process that feeds the Army Aviation enterprise, YOU must take the first step to join the SOA team. Fan the flame that burned within you when you applied for WOFT. You don't know what you don't know, but you have already proven to yourself that you have the guts to try. Similar to getting accepted into WOFT, the opportunities for you in SOA are exceptional as you apply yourself through your already proven disciplined initiative and motivation. Don't leave a stone unturned in your pursuit to find fulfillment in your Army career.
SOA units are actively seeking AvWO men and women applicants that want to join well-resourced, well-trained and combat ready units. SOA assesses and selects fit, disciplined and motivated AvWOs for assignment. Assignment in SOA guarantees a graduate-level training program that will rapidly enhance your capabilities and skills. A SOA assignment guarantees you the time and resources to focus on planning for and executing realistic, challenging training and real-world aviation missions in all environments. SOA unit members and their families are provided superb family support programs and location and assignment stability. Preservation of the Force and Family (POTFF) initiatives provide world-class services that deliver the tools to build resilience and longevity at all SOA AvWO assignment locations. SOA units normally deploy and train in teams which allows for a more predictable and flexible individual schedule, allowing better balance between work and family.
Imagine what you can accomplish with the synergy of highly modified mission design aircraft, well-resourced sustainment and modernization programs, working with like-minded motivated teammates. Are you an Aviation Warrant Officer with at least 50 hours Pilot in Command or 500 hours total flight time? The SOA community is interested in having your skills on the team. The Special Operations Recruiting Battalion (SORB) in concert with unit recruiting team(s) offer one-on-one briefings to interested applicants and their families (see 160th Recruiting schedule in this article).
Want to know more? Contact a SORB recruiter today or attend a brief at your duty station.
Contact a recruiter today through our email: This email address is being protected from spambots. You need JavaScript enabled to view it. or website: https://goarmysof.com/160th/
Follow us on FB, Twitter, and Instagram @USASOAC
CW5 David F. Greenwood is the fifth command chief warrant officer of the U.S. Army Special Operations Aviation Command (Airborne) at Fort Bragg, NC.