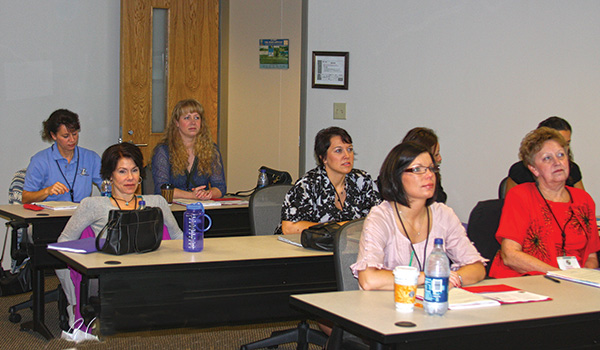 Family Forum / By LTC Reggie Harper, MAJ Mike Nguyen, Mrs. Karen Harper and Ms. Birgit Jones: The cornerstone organization for family readiness is the company-level Family Readiness Group (FRG).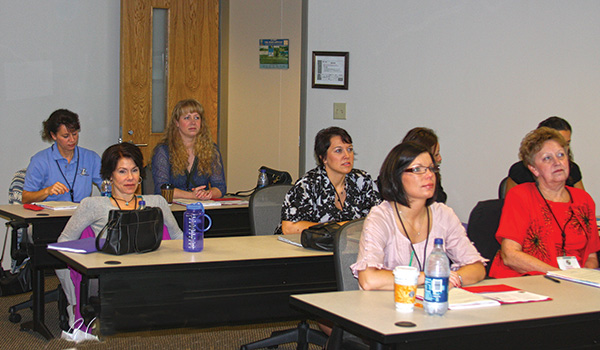 Members of 3rd Bn., 160th SOAR (A) Family Readiness Group discuss upcoming events. / ARMY PHOTO BY ARSOA STAFF MEMBER
A well-functioning company FRG is the foundation through which spouses and family members access information and connect to a support network to overcome unique challenges faced by military families. This is certainly the case in the 160th Special Operations Aviation Regiment (SOAR), and we anticipate that it will remain so in the future. While they are critical, however, company FRGs are not a panacea for all spouse and family support and readiness issues – FRG effectiveness ebbs and flows as company leadership changes, as unit members turnover, and as units move and reflag. Sometimes, the company FRG leader is neither the most experienced spouse in the unit nor is he/she prepared or willing to take on the FRG leadership role. Additionally, as FRGs have become more formalized and governed by Army regulations over the last decade, some spouses have preferred not to participate due to either real or perceived rules and rigidity. Given these challenges, spouses from across 3rd Battalion, 160th SOAR collaborated to develop a concept for a battalion-wide spouse mentorship program designed to strengthen ties among spouses within the battalion.
Whereas the company FRG structure functions in a top-down manner, the concept for the spouse mentorship program is to operate in a very flat, bottom-up style. The program will cross all company and rank structures and will feature experienced volunteer spouses mentoring less experienced spouses. The program will foster compatible peer-to-peer relationships that consistently support and provide tools for families and spouses to thrive in our unique and fast-paced deployment and training cycles. It is a simple concept designed to complement the existing company and battalion FRG structure, not replace it.
Our budding program will provide two major functions. First, Spouses Who SOAR will form a decentralized, informal network (a cloud if you will) of spouse mentorship that will operate in the background of the routine FRG operations. This will create an underlying culture of trust between spouses without regard to rank or company, which will allow spouses to reach across the organization to trade ideas and develop relationships faster than allowed by the normal hierarchal structure and responsibilities of current FRGs according to regulations. Second, Spouses Who SOAR, because of its network organization, will continue to exist as formal FRG programs change as FRG leaders/personnel move in and out of the organization. The anchor will be our seasoned spouses with longevity in the unit who possess institutional knowledge of family challenges associated with the high OPTEMPO.
Our Spouse Mentorship Cornerstones
Our unit spouses and family readiness support assistant named our program Spouses Who SOAR – "SOAR" being an acronym for the four cornerstones of the program – Support, Orientation, Adaptability and Resilience. The program will be anchored by experienced Army and unit spouses, separate from the formal FRG leadership. These volunteer spouses will serve as mentors with a goal of increasing trust with newer spouses and ultimately creating mentor-mentee relationships that result in unit spouses and families who feel integrated into the 160th family and are prepared not only to survive the pace and stresses of multiple deployments but to thrive in such an environment.
Support
Assignment to the 160th can be daunting for Soldiers, Officers and their families. The first step in our spouse mentorship program will be to reduce that anxiety by focusing on support. This begins by reaching out to newly assigned spouses early and informing them in a friendly and engaging way that there are spouse mentors within the unit who care and are dedicated to helping them integrate and access the social, emotional, and educational support necessary for them to flourish as families in the 160th SOAR. The initial engagements will occur through email, social media accounts proctored by our battalion family readiness support advisor (FRSA) and direct contact via phone or face to face engagements.
Orientation
Secondly, our mentors will further educate mentees by providing information and awareness on Army-wide, Special Operations Force (SOF)-specific and installation support services and resources available to them and their families. Orientation will take the form of a quarterly meeting for new family members arriving to the organization. This meeting will further open the lines of communication and will share information with our newly assigned and junior spouses.
Adaptability and Resilience
Maintaining predictability can range from being extremely challenging to nearly impossible in today's operational environment, particularly for high-demand Army Aviation units. Although unit leaders try to maintain as predictable a schedule as possible, we recognize that we will likely never succeed to the degree we would prefer. Therefore, we will focus the last two tenets of our mentorship program on building adaptability and resilience in spouses and families so that they might better withstand, recover, and grow from the demands of repeated deployments and other challenges they face.
For those spouses who choose to continue with the mentorship program, they will gain both individual and group mentorship through specially designed experiences and events that focus on building Adaptability and Resiliency. These experiences will cost money and we are currently seeking funding through our MACOM – U.S. Army Special Operations Command. We envision these spouse mentorship experiences as bi-annual, 2-3 day events conducted off-site, very similar to couple's retreats that the Chaplain's Corps have executed with much success over the last decade. The focus during these mentorship experiences will be to educate and inform our spouses on peer-to-peer mentoring in the military utilizing outside professional experts on topics ranging from mental and emotional health and human performance to diet and healthy eating to team and confidence building events. The range of potential topics and activities is broad and will be selected and developed by the spouse mentors.
The goal of our mentorship experiences is to strengthen social connections, foster enduring peer-to-peer relationships, encourage connections within the surrounding community, and prevent isolation before, during and after Soldiers' deployments. The unit's mentors will also undergo mentor training that will help them coach, train, inform, and educate less experienced spouses. We plan to reinforce our bi-annual mentorship experiences through quarterly mentoring events that may range from very small events (a few spouses) to large events (up to 150 spouses) depending on the number of spouses who elect to participate as both mentors and mentees. We fully anticipate starting small and growing the program.
A Simple, Bottom-up Structure
As we get our program started, we are careful to ensure that we do not duplicate the efforts of existing company FRGs. Our spouse mentorship program will be led by spouses who are not necessarily FRG leaders and may not be spouses of unit commanders. Although FRG leaders and spouses of unit leaders may be mentors – it is not required and we will select mentors specifically to cut across lines of military rank in the hopes that we might reach spouses that we may otherwise miss through normal FRG outreach. Our program is specifically designed to NOT be tied to any specific company or company chain of command.
Additionally, we prefer that our mentors have experience both in the Army and in our unit, in particular, having been through at least two deployments with the unit. We want to focus on peer-to-peer relationships that rely on mentors' experience rather than the rank of their military spouse, although we acknowledge experience often comes with rank. Finally, while the Battalion Commander is the overall executive agent for the program, a program director will oversee the planning, execution, and management of the program. The program director will be a volunteer, mentor spouse who is selected by the battalion commander from within the unit and will initially have 2-5 additional volunteer mentors to start the program. Both the director and the mentors will be trained through a specific four-day mentor course at Fort Bragg, NC to prepare them for their duties.
Our vision is to create a standing spouse mentorship program within the battalion that complements existing company-level FRGs and provides increased continuity as FRG leaders come and go – leveraging peer-to-peer relationships and a flattened program structure. We will focus on our four cornerstones – Support, Orientation, Adaptability and Resilience to increase and build relationships, trust and confidence in spouses and family members to provide a better sense of control despite the unpredictable nature of their military spouse's service. Our goal is for our spouses and families to grow from their assignment and experience with our unit – not to simply survive but to thrive.
LTC Reggie Harper is the commander of 3rd Battalion, 160th Special Operations Aviation Regiment (Airborne), MAJ Mike Nguyen is the training officer, Mrs. Karen Harper is the Family Readiness Group (FRG) advisor, and Ms. Birgit Jones is the family readiness support advisor (FSA) at Hunter Army Airfield in Savannah, GA.
Judy Konitzer is the family forum editor for ARMY AVIATION; questions and suggestions can be directed to her at This email address is being protected from spambots. You need JavaScript enabled to view it..">This email address is being protected from spambots. You need JavaScript enabled to view it..