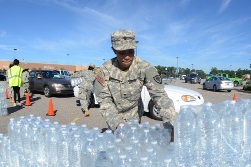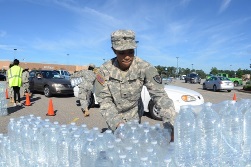 U.S. Soldiers from the South Carolina Army National Guard and civilians worked together to provide clean drinking water to residents in Columbia, S.C., during the statewide flood response earlier this week. The South Carolina National Guard has been activated to support the state and county emergency management teams and local first responders as intense flooding impacted counties all over the state. Currently, more than 2,200 South Carolina National Guard members were activated. A U.S. Army CH-47 Chinook helicopter and flight crew from South Carolina's National Guard's 2-238th General Support Aviation Battalion delivered an excavator to the Columbia Canal for the construction of a new dam during the flood response. 
Thank you to the South Carolina National Guard! 
This article was originally found here.