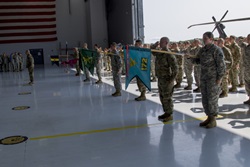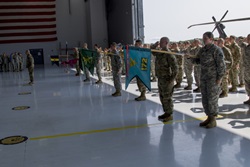 September 10, 2017
South Burlington, VT
Photo by Spc. Avery Cunningham
172nd Public Affairs Detachment
U.S. Soldiers with 86th Troop Command, Garrison Support Command, Vermont National Guard, salute during the playing of the National Anthem at the Army Aviation Support Facility, South Burlington, Vt., Sept. 10, 2017. Lt. Col. Christopher Ruggerio took command of the unit from Lt. Col. Roger Drury during a change of command ceremony at the facility.