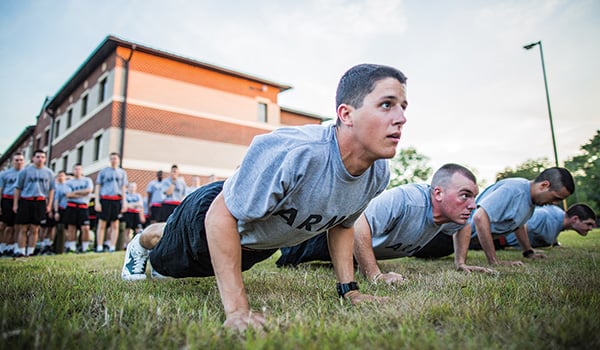 128th Aviation Brigade / By CPT Christopher Quinlan: The Army's Soldierization process is the conceptual cornerstone which determines the character, competence, and commitment of an American Soldier. Most critical, the cornerstone, or foundational stone, is the first stone set in the construction of a masonry foundation.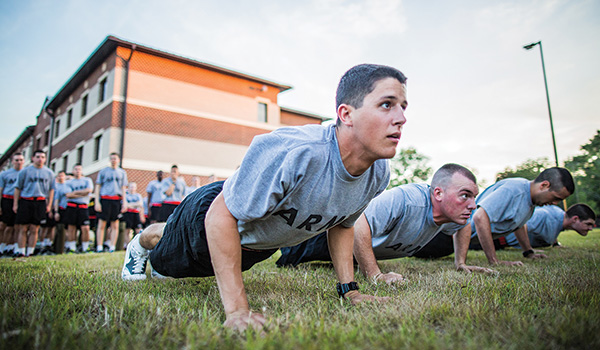 Soldierization continues from basic training through advanced individual training at the 1-222 Avn. Bn. for Army Aviation Soldiers./ 128th AVN BDE PHOTO
All other stones are set in reference to this one, thus determining the soundness of the entire structure. Soldierization is the process by which civilian volunteers are transformed into capable and trusted professional Soldiers.
Beginning in Basic Combat Training (BCT), civilian volunteers are taught the basic skills and competencies that define what it means to think, look and act like a Soldier. That process continues after BCT when a Soldier arrives at the 1st Battalion, 222nd Aviation Regiment, 128th Aviation Brigade, their Advanced Individual Training (AIT) site, to begin technical training in their selected aviation Military Occupational Specialty (MOS). The Brigade, as the Aviation branch maintainer AIT component, is tasked with training and certifying thirteen enlisted aviation maintenance MOSs as a continuation of the Soldierization process. All AIT Soldiers are assigned to the 1-222nd, the battalion responsible for executing Soldierization training.
Holistic Approach
Implementing Soldierization during AIT requires the careful application of multiple applied pressures. In BCT, civilian volunteers conform to the demands of drill sergeants; a necessary step in the process to transform civilian to Soldier. In AIT, aspiring Soldiers willingly follow the example and leadership of platoon sergeants. Healthy pressures bring about growth, maturity, and confidence in each and every Soldier. During AIT, Soldiers learn and apply their technical MOS while concurrently acting out the values and ethos they learned during BCT.
Soldiers in AIT serve in student leadership positions, earn the right to wear the Brigade patch, attend class, work on aircraft, and earn increased freedoms such as off-post pass privileges early on as they progress. They are faced with real-world decisions and dilemmas as they begin to exercise their freedom and assume increased responsibilities transforming from trainee to Soldier.
They must choose for themselves if they truly believe and embrace the Army values they have been taught. They must see themselves as Soldiers first, with the ability to think and act in ways that are congruent with the Army Values. The AIT phase of the Soldierization process is tasked with bringing such self-vision to each and every Soldier.
Soldierization is fully integrated throughout the Brigade. Integration is achieved through effective training and personnel management beginning with program of instruction (POI) development, which includes Soldierization tasks mandated by TRADOC Regulation (TR) 350-6. All MOS course starts are synchronized on a weekly start cycle which incorporates all reinforcement training requirements into each course POI.
Students receive values training in both their technical MOS class as well as PSG-led instruction in their parent units. They continue receiving reinforcement training as they progress through Warrior Tasks and Battle Drills (WTBD) in weeks 6-11, and their MOS certification which range from 14 to 23 weeks long – all focusing on the principles that will enable all Soldiers to shoot, move, and communicate and do their MOS functions effectively.
Lastly, Soldiers participate in a week-long Situational Training Exercise (STX) and weapons immersion phase that validates all Soldierization topics and competencies previously addressed.
Outcomes
Since implementation, Soldier indiscipline issues that once plagued the ranks have been on the decline. Graduation rates have increased and positive behaviors are on the rise. Within the first nine months of implementation, administrative separations due to APFT failure decreased by 70% with overall Soldier separations decreasing at 54%. Soldiers are now less likely to seek Inspector General (IG) inquiries to address complaints because they are encouraged and empowered to resolve issues at the lowest level. IG complaints have decreased 94% in the past nine months.
A secondary effect of the decrease in Soldier issues is a significant reduction on the battalion's hold-over/under population (transient Soldiers). The hold-over average decreased by 86% with monthly averages ranging in the low twenties as compared to an average of sixty or more in the months before implementing the Soldierization model.
Most interesting is the overall positive reception and feedback from AIT Soldiers and cadre alike. Cadre are confident to perform their duties and are empowered to uphold and enforce standards. Soldiers have embraced the accountability philosophy of increased freedom and feel a sense of loyalty, enthusiasm, and devotion to the Army and identify with being members of the Army Aviation team.
The Army's Soldierization process is both an art and science defined by incremental and sequenced change in key areas of life: physical, social, emotional, spiritual, and technical. Beginning with Basic Combat Training (BCT) and ending with Advanced Individual Training (AIT). Soldierization is the cornerstone upon which future Aviation Soldiers develop and mature into leaders of the branch.
CPT Christopher Quinlan is the operations officer for 1st Battalion, 222nd Aviation Regiment, 128th Aviation Brigade at Joint Base Langley-Eustis, VA.