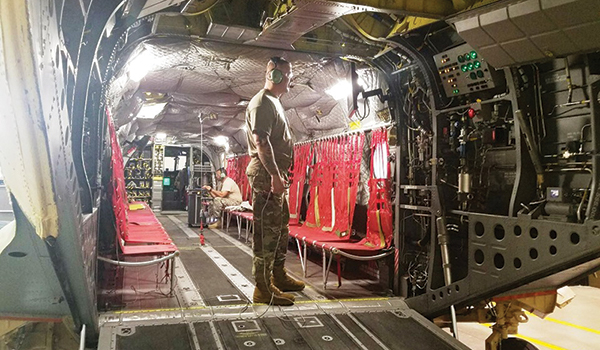 128th Aviation Brigade Update / By SSG Dustin Phipps: As the modern day aviation warfighter prepares for Multi-Domain Battle and Future Vertical Lift, the training environment should evolve along with these advances.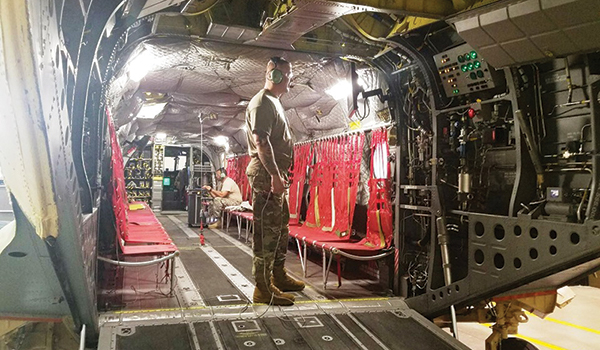 One Advanced Leaders Course student observes a fault in a Chinook Helicopter Maintenance Trainer as another student follows the interactive technical manual while in training with Co. A, 2-210th Avn. Regt., at Joint Base Langley-Eustis, VA./ U.S. ARMY PHOTO BY SFC ERIC LONGO
Simulations are important tools in the modern learning environment. Whether using computers for scenario-based faults or utilizing actual aircraft to provide trainees hands-on experience, the use of simulations in training is a powerful teaching method for Army Aviation.
At the 128th Aviation Brigade, home of Advanced Individual Training (AIT) and Advanced Leader Course (ALC) for Army Aviation helicopter mechanics, we enhance training through simulation technology in our maintenance training devices. 128th AB training devices include Virtual Interactive Environment (VIE) trainers, the Maintenance Blended Reconfigurable Aviation Trainer (MBRAT), and Helicopter Maintenance Trainers (HMT) for the AH-64 Apache, UH-60 Black Hawk, and CH-47 Chinook.
Each trainer incorporates distinct features for training different maintenance skill levels. For example, the VIE trainer uses a smart screen for tactile reinforcement and simulated maintenance. The VIE trainer's primary focus is theory of operations and a systematic simulation of common maintenance tasks, including part identification and removal. The MBRAT, on the other hand, is a virtual trainer with touch computer screens that simulate the flight controls dashboards of a CH-47. The computer screens provide a virtual representation of the cockpit, allowing trainees to manipulate functions and troubleshoot errors. These simulators provide a unique ability for the instructor to incorporate scenario-based training that is relevant to the current fighting force.
HMTs allow instructors to train both AIT and ALC students on removal, reinstallation, and troubleshooting procedures. AIT Soldiers progress through the course starting with systematic interactive media instruction in the classroom before proceeding to practical exercises on removal and reinstallation of parts on retired aircraft. Once reinstallation is complete, maintenance operational checks and troubleshooting simulation demonstrate part failure or success after replacement. Students experience the full spectrum of maintenance actions to prepare them for work in the operational force.
NCOs use the trainers during ALC to increase technical expertise and prepare for duties as a Technical Inspector. ALC instructors use the VIE trainers to demonstrate theory of operations prior to practical exercises on aircraft. Instructors induce simulated faults on maintenance trainers for NCOs to conduct troubleshooting procedures. Simulations offer real-time, instant feedback for the student and instructor to establish best practice behavior. Each course culminates in a situational training exercise where each student works individually and as a team to solve a series of troubleshooting and diagnostic exercises. These exercises reinforce the importance of critical thinking in the aviation maintainer community and improve readiness for the future warfighter.
The use of simulations capitalizes on technological advances, provides real-time feedback for troubleshooting, and enables instructors and students to train on scenarios for the current operational environment. Simulators and maintenance trainers are a cost effective, multi-functional method to train, certify, and prepare maintainers for required tasks, and instructors at 128th Aviation Brigade have observed that maintainers progress though the rigors of understanding function and techniques more rapidly with interactive media and scenario-based diagnosis.
As the Army prioritizes readiness while posturing to support tomorrow's mission, Army Aviation's training strategies require a relevant, responsive, and cost effective approach to developing and sustaining a maintainer's technical skills. Simulators and training enablers offer a sound technological solution to enhance the future fighting force of Army Aviation maintainers.
SSG Dustin Phipps is a CH-47 Chinook instructor with Company A, 2nd Battalion, 210th Aviation Regiment, 128th Aviation Brigade at Joint Base Langley-Eustis, VA.