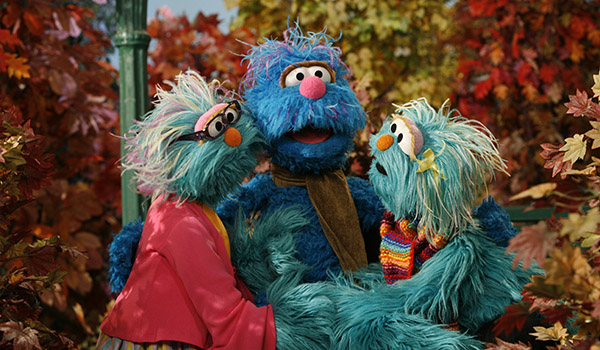 Family Forum / By Judy Konitzer: Time really flies, but has it really been 50 years since the beloved Sesame Street began its flagship program with iconic and lovable characters aimed at reaching children in their early years? The creators relying on research realized that before the age of 5, a child's brain grows faster than at any other time, laying the foundation for all learning, behavioral, physical, and mental health and decided to help young children reach their full potential through a variety of creative initiatives. I asked our "Magnificent 7" now ranging in age from 34 -50 who their favorite characters were, and all had amazingly quick responses from Big Bird to Snuffleafagus to Kermit etc. How fun to have such happy memories!
Sesame Street Workshop Initiatives for Military Families
Fast forward to 2006 when Sesame Street expanded its Workshop program (a non-profit educational organization) to offer initiatives for Military Families. Sesamestreetformilitaryfamilies.org is the online hub providing multi-media resources designed to help families navigate the challenges of military life, deployments, homecomings, grief and loss, military to civilian initiatives, staying healthy as a family, and more. Since its inception, the initiative has grown to include bilingual videos, storybooks, activities, TV specials, several "Sesame Rooms" in military spaces, with new topics and outreach programs added regularly.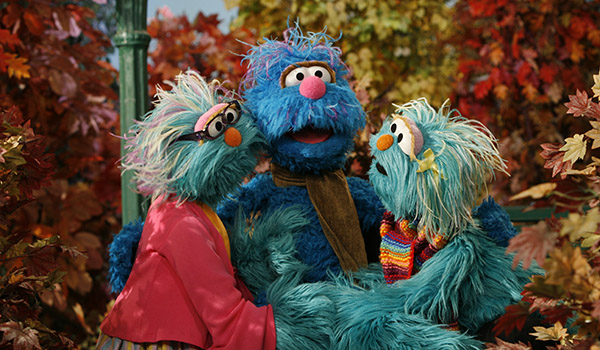 Sesame Street's newest initiative for Military Families/Caregivers' video shows Rosita and her Mom and Dad embracing each other and how important this is when facing challenges. Rosita had been dancing with her Dad who is confined to a wheelchair after being injured during a deployment. She happily discovered that he was still the same Dad even with his disabilities. / PHOTO COURTESY OF SESAME STREET
In the U.S. we have an estimated 5.5 million caregivers for former or current military personnel with few resources devoted to little ones to help them understand the changes caregiving can bring to their lives. To address this, Sesame Street launched its latest "Caregivers Initiative" program in August. Its purpose is to help children understand, cope with, and ask questions about their parents military service and address "why their parents may look or act differently than before;" how to express complicated or confusing feelings; how their parent's injury or illness can change over time; and how to describe their family's new situation to themselves and others. There are 3 videos, mobile games, an activity board, and articles for parents about how to answer their children's questions, Interesting to me as I did research for this article, was that Sesame Street Workshop produces programs in over 150 countries and in 70 languages. I was fascinated seeing videos showcasing children in Syria and Afghanistan. I encourage our readers to explore Sesame's programs and share them with anyone who is unfamiliar with them at Sesameworkshop.org
Youth Sports Programs and Facts About Concussions
Sports are a great way for children and teens to stay healthy and do well in school, but the chance for injuries and concussions is possible. A concussion is a type of traumatic brain injury (TBI), caused by a bump, blow, or jolt to the head or by a hit to the body that causes the head and brain to move quickly back and forth. This fast movement can cause the brain to bounce around or twist in the skull, creating chemical changes in the brain and sometimes stretching and damaging brain cells.
CDC (Centers for Disease Control & Prevention) offers some facts to recognize symptoms and how to help lower your children's chances of getting a concussion:
Work with the coach to teach ways to lower the chances of getting a concussion.
Emphasize the importance of reporting concussions and take time to recover from one. Some think that if they report symptoms, they will lose their position on the team or look weak. Remind them that it is better to miss one game than the whole season.
Notice some signs and symptoms like losing consciousness, even briefly, appearing dazed or stunned, not being able to recall events prior to or after a hit or fall, experiencing headache or pressure in head, dizziness, or double or blurry vision, confusion, and just "not feeling right". More serious signs are increased headache, vomiting or nausea, convulsions, unusual behavior, unequal pupils, slurred speech, weakness, numbness, drowsiness, or loss of consciousness. If symptoms seem serious call 911 or take the child to urgent care or an emergency room.
If you suspect a concussion, keep your child out of play the day of the injury. Have a health care provider evaluate for concussion. If a child continues to play with a concussion or returns too soon – while the brain is still healing – there is a greater chance of getting another concussion and this can be very serious and affect a child or teen for a lifetime, it can even be fatal. Learn more at cdc.gov/HEADSUP.
Judy Konitzer is the family forum editor for ARMY AVIATION; questions and suggestions can be directed to her at This email address is being protected from spambots. You need JavaScript enabled to view it.This email address is being protected from spambots. You need JavaScript enabled to view it..">.