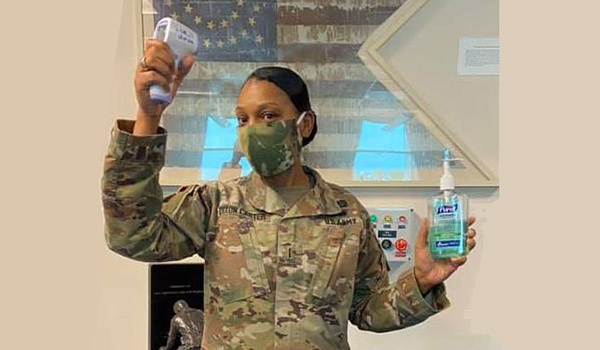 By CW5 Yolondria S. Dixon-Carter: It is an honor to serve as the Senior Warrant Officer Advisor to the Chief of Staff of the Army. I am humbled and excited to experience new initiatives, training, education, and growth alongside the greatest Warrant Officers of our Nation, and I am extremely proud of the work of our Army Aviation Warrant Officers.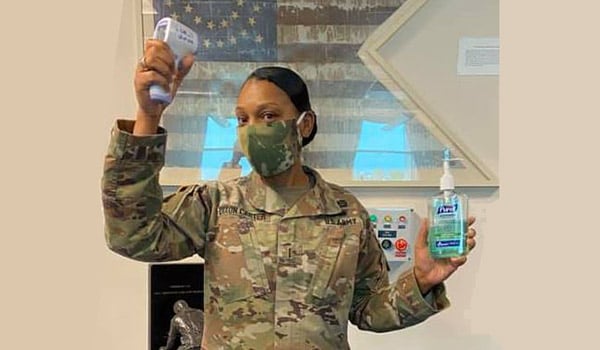 CW5 Dixon-Carter joining the fight against the COVID-19 virus at the Pentagon, April 17, 2020./ SWOA2CSA FACEBOOK PHOTO
You proved you are more than highly specialized technical experts. You are combat leaders, trainers and advisors across all three components: Active, Guard and Reserve. No matter where the Nation sends you, you make a difference.
As we continue to serve in unchartered waters, it is imperative that we remain committed to our profession. We must continue to build proficiency and perfect our craft. It is critical to our readiness and key to the Army's success on and off the battlefield. My goal is to continue to build a cohesive cohort that will best support our Army. This will require warrant officers at every echelon to build cohesive teams. Teams which treat everyone with dignity and respect and take care of one another. If we do these things we can, together, significantly decrease those things which endanger good order and discipline.
This is MY Squad
In the spirit of building cohesive teams, it is important to address Sergeant Major of the Army's "This is My Squad" initiative. It is more than an initiative; it is our call for action. The events we have witnessed over the past months from COVID-19 to civil unrest, racism, sexual harassment and assault, and suicides have been both personally and professionally alarming and frustrating. These topics may be uncomfortable, but they are necessary. They are necessary to maintain the integrity of our organizations and maintain our Nation's most ready and able fighting force, and necessary in order to protect the men and women in our squad.
Many believe the squad is limited to a defined unit led by a noncommissioned officer subordinate to an infantry platoon. I offer you a different version starting with ownership: "This is MY Squad." When you think of something you own, you take pride in owning it. You take care of it and keep it well-maintained. This is no different than the pride you have for the people in your squad.
Family, Soldiers, Civilians, Retirees and Veterans, look to you for answers. Sit down and talk with your squad. Get to know them and show interest in their careers, culture and life experiences; it will make a difference to and in your squad, and will help decrease SHARP incidents, suicides, and racial tension in our Army, as well as extremist activities.
BUILD
In addition to taking ownership for "our squads," we must BUILD – Be Unique In Leader Development. What worked 20 years ago may not work today. We must meet Soldiers where they are and BUILD them to reach their full potential. In addition, we must influence change. Does everyone look like you or behave like you? Is your inner circle, or advisors, comprised of those with your same branch, gender, race or even religion? If so, change the environment. Recruit personnel unique in experience and diverse in race, ethnicity and gender. Different looks, different opinions, often breed different perspectives. Let us be stronger than our excuses and BUILD.
Opportunity
BUILDing provides the greatest opportunity to create cohesive teams and directly impact change. Our cohort has an opportunity to make changes to our Professional Military Education (PME), and I am excited to share the Combined Arms Center and Training and Doctrine Command initiatives to redesign the Warrant Officer Education Model. This model will align warrant officer education throughout the Army and include PME name changes and attendance aligned with selection for promotion. These changes will undoubtedly enhance our technical depth and build our strategic capabilities.
Talent Management is also evolving to better support our cohort. Initiatives such as, Direct Appointment to CW2 (SF and ADA), Aviation WO1 ADOR Adjustment, and RA Retired Serving in Reserves, and we continue to work toward an opt-out of promotion and merit-based promotions to align with officer promotions. These initiatives will increase accessions and maintain talent within our cohort.
My Pledge
There are over 25,000 warrant officers across 17 branches and over 60 specialties serving in all three components. Each warrant officer has a significant role and must play their position. When you are not in position, you deprive us of your experience, knowledge and your value. Bottom line: We need you. I need you. This is why my pledge to you is to best represent and advise Army Senior Leaders to make decisions which create the best opportunities for warrant officers, build cohesive teams, and make the greatest impact to our Army's long-term success. My pledge to you, and my call to action is to continually make a difference.
Thank you for all you do, are doing, and continue to do. I am a proud member of YOUR squad.
Stronger Together! Army Strong!
CW5 Yolondria S. Dixon-Carter is the third Senior Warrant Officer Advisor to the Chief of Staff of the Army since the position was established in 2014.
CW5 Jonathan P. Koziol is the eighth chief warrant officer of the Aviation Branch with the U.S. Army Aviation Center of Excellence, Fort Rucker, AL.