The Secretary of Defense, Chuck Hagel, and his wife, Lilibet, walk to board an H-60 Black Hawk at Orogrande Range, N.M., on January 15, 2015.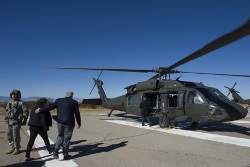 H-60 Black Hawk Hagel qualified on the FIM-43 Redeye at Orogrande Range as an enlisted soldier at Orogrande Range before volunteering to deploy to Vietnam. (DoD Photo by Petty Officer 2nd Class Sean Hurt/Released)
For more photos from his visit, click here.