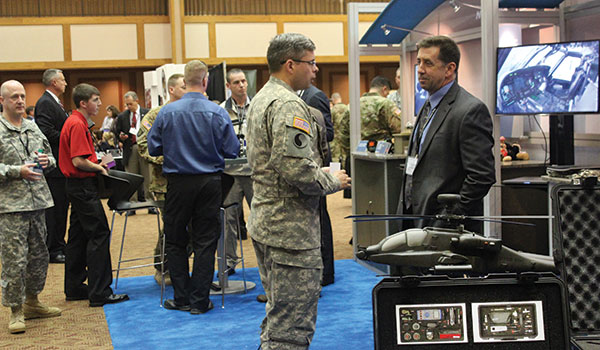 President's Cockpit / By BG E.J. Sinclair, Ret.: Just before Thanksgiving, we experienced one of the busiest weeks in recent AAAA history. We hosted three separate symposia in one location over four days in Huntsville, Alabama.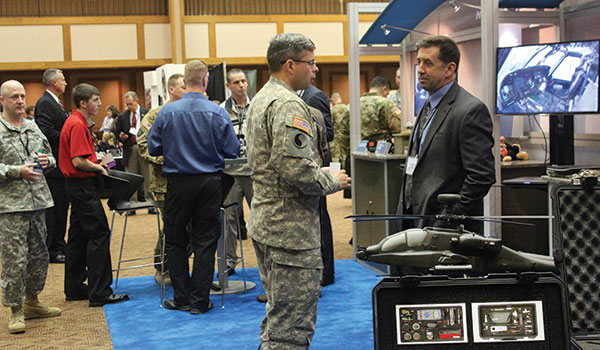 Military and industry networking during the 2015 AAAA Survivability and Support Week at the Von Braun Center in Huntsville, Alabama, November 16-19, 2015. / AAPI PHOTO BY ALICE BYRNE
More than 740 Soldiers, industry, acquisition, training personnel and Special Operators gathered at the Von Braun Center to network for solutions to materiel and training challenges in the Aviation Life Support Equipment (ALSE) Symposium, Aircraft Survivability Equipment (ASE) Symposium, and acquisition and maintenance at the Cribbins Aviation Product Support Symposium.
For me, what was most gratifying was to see the interaction and questions from those in uniform, especially our NCOs and warrant officers with the project/program/product managers and key leaders like PEO Aviation BG Bob Marion and MG Jim Richardson, CG Aviation and Missile Command (AMCOM). Even our NATO allies were well represented and presented tough questions themselves. We all expressed our support to our Fort Rucker based French Liaison Officer, LTC Emanuel Wolff, in the wake of the tragic Paris terrorist attack which took place only a couple days before.
There is no doubt these events contribute significantly to the capability and readiness of our Branch and we are very proud that AAAA can provide the platforms to make this happen.
It is hard to believe that we are almost in 2016. We are well down the road planning for the Atlanta Annual Summit on April 28-30, 2016. Latest news is we just signed BOTH Kellie Pickler and Trace Adkins for the closing Soldier Appreciation Concert. Table sales are going fast so get on line and get your tickets soon.
The night before the concert on Friday, April 29th, we will honor three great Soldiers with induction into the Army Aviation Hall of Fame, our "Oscar Night" of Army Aviation. Hall of Fame Chairman, Dr. (COL) Hal Kushner, Ret., has informed us of the results of the voting and I am pleased to announce that GEN J.D. Thurman, Ret., COL Harvey Stewart, (deceased), and CW5 Edmund Hubard, Ret. are the three inductees for 2016. Again, get your tickets soon!
Finally as you read this we will be well into the holiday period. On behalf of the AAAA board and the AAAA national staff we wish you all a happy and safe Christmas time together with your families. Let us never forget our brothers and sisters who cannot be with their families as they defend our great Nation around the world. We must also especially reach out to our veterans who have given so much so that we can enjoy times like these.
Happy Holidays, Merry Christmas, and Happy New Year.
BG E.J. Sinclair, Ret.
32nd President, AAAA
This email address is being protected from spambots. You need JavaScript enabled to view it.