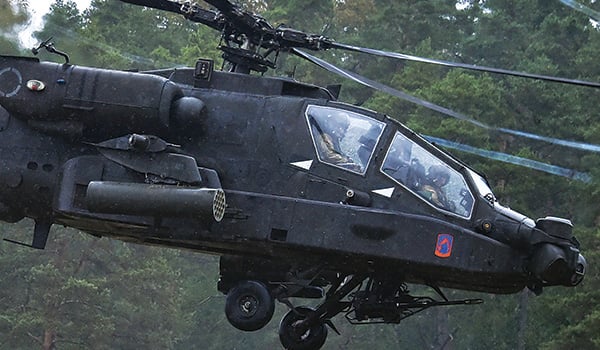 PM Update / By COL Joseph A. Hoecherl with COL (Ret) Robin D. Cofer: At the end of 2016, the Army took delivery of its 169th AH-64E Apache helicopter, which equates to 5 AH-64E battalions and almost 25% of the current Army Acquisition Objective (AAO) of 690 aircraft. Fielded units include 1-229th Attack Reconnaissance Battalion (ARB), 4-6 CAV, 1-101st ARB, 2-17 CAV, 7-17 CAV, and USAACE.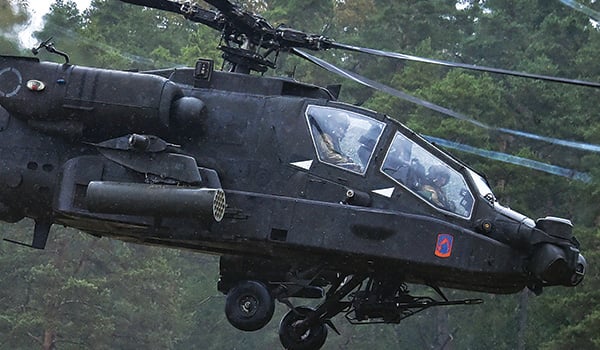 The final technology insertion originally planned for the AH-64E production line, referred to as Version 6 (V6), provides the remaining technologies required to meet the approved requirements for the program. / U.S. ARMY PHOTO BY VISUAL INFORMATION SPECIALIST GERTRUD ZACH
The Apache Project Office is on track to implement a Multi-Year contract across fiscal years 2017 through 2021. This contract action will allow procurement of the Army's projected requirements for AH-64E along with options for emerging requirements for Foreign Military Sales. Successful award of Apache Multiyear will result in over $425 million in savings versus single year contracts for the purchase of 244 remanufactured AH-64Es. These savings are the result of industry having stable and known requirements over the five year period versus the instability of individual year contract planning. This predictability allows the Apache Project Office to deliver capability to the Army and Soldiers at the best value possible.
Apache Development and Modernization – MAJ Aaron Kia
The AH-64E Development and Modernization Product Office is working hard on the second planned technology insertion which is referred to as AH64E Version 6 (V6). The V6 aircraft enhances several capabilities first introduced in the Version 4 build and adds a variety of new capabilities to the platform. With the addition of V6 into the platform, the aircraft will meet all of the requirements for the AH-64E program.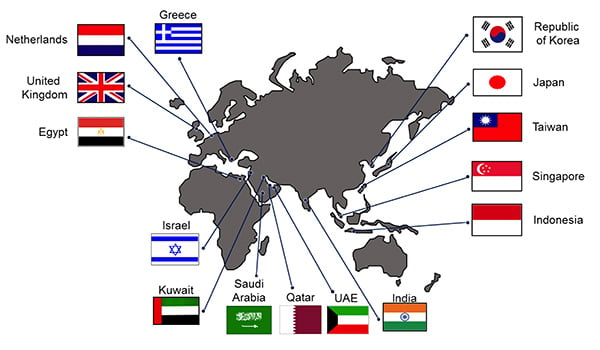 The AH-64 International Fleet includes 15 countries and a fleet size of 413 Apaches. There is a mix of AH-64A, D, and E model aircraft across this worldwide footprint. The aircraft fleet size and composition is expected to grow and change over the next 5 years. / PM APACHE GRAPHIC
Over the next decade, the Army plans to integrate a variety of new technologies into Apache including the Improved Turbine Engine, the Common Infrared Countermeasures systems, the Small Airborne Network Radio, the Joint Air-to-Ground Missile, and the Advanced Precision Kill Weapon System laser-guided rocket.
As a software driven platform, the Apache will also move towards an open system architecture through Future Airborne Capability Environment (FACE) conformance, in order to enable software reuse throughout the defense enterprise. This will increase interoperability with the joint force, reduce developmental costs, and deliver capabilities to the Warfighter more quickly.
The Apache will continue to enhance the ability to detect, protect, and respond to cybersecurity threats in the electromagnetic spectrum and the cyber domain. With these capabilities in mind, the AH64E Apache will remain a key force multiplier in the employment of U.S. forces in multi-domain battle. The Apache will operate as an air asset over both land and littoral environments, bringing to bear high resolution sensors, lethal weapons, and digital command and control capabilities to support combined arms maneuver across all domains.
Apache Sensors – MAJ Jeffrey Timmons
The Apache Sensors Product office will continue to provide significant improvements to the fleets' current sensors with our major efforts including Modernized Day Sensor Assembly (MDSA), Modernized Radar Frequency Interferometer (MRFI), Manned Unmanned Teaming Expanded (MUMT-X), and High Reliability Turret (HRTUR).
MDSA provides color video to the crew stations and adds Ultra Narrow and eXtended Range (XR) fields of view to the day sensors which are available only in the night time FLIR fields of view today. Additionally, MDSA adds an on-gimbal Laser Pointer Module, an eye-safe mode Laser Rangefinder Designator, a modified Laser Spot Tracker (functioning in tactical and eye-safe laser wavelengths), and an embedded training laser for Combat Training Center rotations.
MRFI improves capabilities by providing pilots with greater situational awareness against radar based threats. Improvements include an upgrade from analog to digital receivers and increased spectral coverage, enabling detection of additional radar threats. These improvements are supplemented with an enhanced pilot-to-vehicle interface and additional data displayed in the crew station.
Modernized Day Sensor Assembly (MDSA) and Modernized Radar Frequency Interferometer (MRFI) are in production with deliveries to the assembly line on track to meet a 2019 aircraft delivery.
MUMT-X increases pilot situational awareness with the ability to receive live video from unmanned aircraft systems (UAS) or wingmen equipped with a compatible system. MUMT-X has an improved upper receiver and more robust software build when compared to today's Manned Unmanned Teaming – Level 2 (MUMT-2) system and will provide Apache crews with the additional Levels of Interoperability (LOI) 3 and 4. LOI 3 and 4 provides crew members with control of the payload and flight path of compatible UAS.
HRTUR will replace the legacy turret with an improved system designed to reduce operations and sustainment costs through improved maintainability and sustainability, with faster slew rates and improved sensor stabilization. HRTUR will finalize development and continue with testing by the close of 2017.
International Apache – LTC Lance Culver
Operational readiness and interoperability between the United States Government (USG) and our allied partners continues to be a primary responsibility for the International Apache (IA) Office. The global Apache fleet is currently made up of 740 AH-64D and E airframes operated by the USG and 413 AH-64 A, D, and E airframes operated by our allied partners. Between today and 2021, the international fleet will grow to 491 airframes based on scheduled deliveries and change its composition as more countries modify their existing Longbow Apaches to the AH-64E. There is also the likelihood of six new Foreign Military Sales (FMS) cases.
The constant growth and proliferation of the Apache requires continuous analysis and planning to provide solutions to arising issues from an allied perspective. One challenge for the international fleet is the uniqueness of each of the 16 allied partners. Unique Operational Flight Programs (OFP), Mission Equipment Packages (MEP), sustainment requirements, and training needs based on each countries individual cultural, operational, economic, and regulatory environments cause complex problems throughout every program.
In an effort to maintain the established success of the Apache around the world IA strives to find innovative solutions to enhancing coordination and collaboration with our allies. The IA Office conducts two working groups per year to facilitate coordination between FMS partner countries. IA invites all of our international partners to an annual working group called the Apache Coordinated Technical Services Improvement Program (ACTSIP) where an open dialogue is used to disseminate information related to important subjects within the global fleet and discuss emerging requirements from both the USG fleet and the International fleet.
IA also meets with operational users of a select group of likeminded partners, both USG and international, with the primary goal of enhancing developmental collaboration and operational synchronization. In order to increase interoperability for all users, the Apache PMO developed a "Common Configuration" for AH-64E production. The goal is to encourage adoption of the common configuration across partner countries to the greatest extent possible. This approach increases interoperability, improves technology synchronization, and decreases sustainment costs for all users.
As you can see, the Apache Helicopter Project Office remains busy. We work tirelessly to support our Soldiers and the Warfighter with both the best attack helicopter in the world (the AH-64E) and the second best attack helicopter in the world (the AH-64D). Our Soldiers, our Army, and our country deserve no less!
Attack!
New/Improved Capabilities in the AH-64E Version 6:
Cognitive Decision Aiding System (CDAS)
Data Correlation
Link 16
Soldier Radio Waveform (SRW)
Systems Level Embedded Diagnostics / Smart Tool 4 Aviation Maintenance Platform (SLED/STAMP)
Area Navigation (RNAV)
Tactical Air Navigation System (TACAN)
Multicore Mission Processor (MMP)
Fire Control Radar (FCR) Enhancements
Modernized Day Side Assembly (MDSA)
Manned-Unmanned Teaming Expanded (MUMT-X)
Modernized Radar Frequency Interferometer (MRFI)
Common Configuration
Cyber Security
The final technology insertion originally planned for the AH-64E production line, referred to as Version 6 (V6), provides the remaining technologies required to meet the approved requirements for the program.
COL Joseph A. Hoecherl is the project manager for the Apache Project Office, Program Executive Office for Aviation, Redstone Arsenal, AL; and COL (Ret.) Robin D. Cofer is a support contractor with S3 Inc., Huntsville, AL supporting the Apache Project Office.