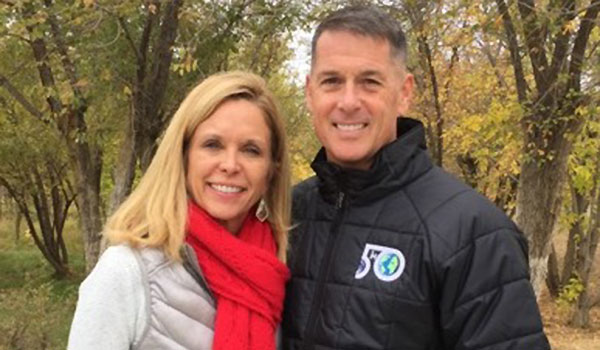 Family Forum / By Judy Konitzer: Seems like yesterday when Tom and I were in Mission Control at the Johnson Space Center in Houston, Texas. Then LTC Robert S. (Shane) Kimbrough had arranged to have COL Bill McArthur inducted into the Gold Honorable Order of St. Michael aboard the International Space Station (ISS).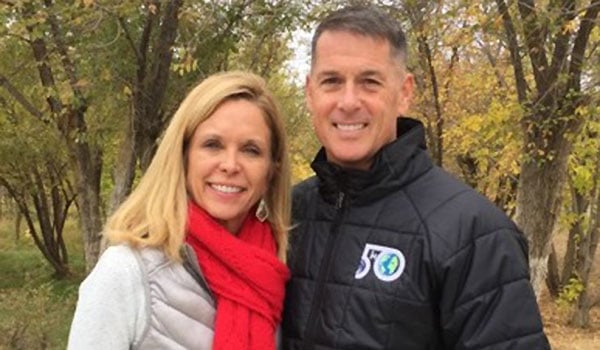 The Robbie Kimbrough with her husband, Shane, in Kazakhstan on the grounds of the Russian space training facility./ KIMBROUGH FAMILY PHOTO
We watched as COL Jeff Williams, who was replacing Bill on the ISS in April 2006 did the honors. Tom congratulated Bill and a video of the ceremony was broadcasted at the AAAA Annual Convention a week later.
Fast forward to September 7, 2016, when Jeff, now a veteran of four space flights, returned after breaking the record for NASA astronauts with an accumulated log of 534 days in space. The transition was complete when Shane launched on October 19 along with 2 Russian cosmonauts, Sergey Rhyzikov and Audrey Borisenko, and docked on the ISS on October 21.
We have known Shane and Robbie for many years, so I was delighted that Robbie agreed to share some thoughts about this expedition and their life within the NASA community.
Judy: Can you describe Shane's mission on this Expedition?
Robbie: Shane joined a crew of 3 onboard as Expedition 49. After a week, he took command of the ISS from cosmonaut Anatoly Ivanishin, who along with his 2 crewmates (Kate Rubins and Takuya Onishi), departed for earth on 30 Oct. Once they departed, Shane's mission became Expedition 50. He and his crew will have 3 weeks until the next crew of 3 arrives. Their crew will conduct world-class science and research in the amazing orbiting laboratory. Shane is planning on doing 2 space walks in order to replace the batteries on the outside of the ISS with new ones. They are also expecting Japanese, Russian, and American cargo vehicles to arrive during their 4 month stay. These vehicles bring equipment, experiments, food, clothing, and even care packages from the families.
Judy: How long have you been with the NASA family?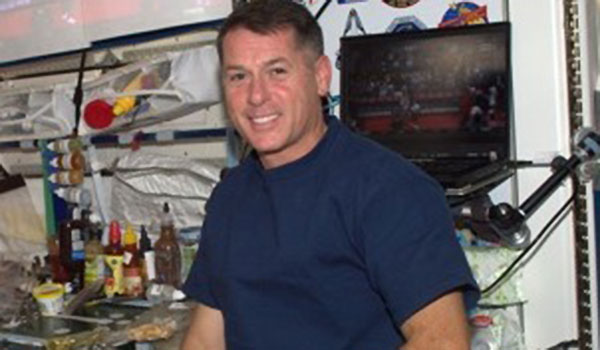 Shane Kimbrough on the International Space Station.
Robbie: We moved to Houston in August 2000. Shane worked as a flight simulation engineer for NASA before being selected for the 2004 Astronaut class. We have enjoyed living and raising our 3 children here. The kids have gone to school with many NASA families so it isn't a really big deal to their local friends that their dad is an astronaut. I feel like they have had a very 'normal' life here. To stay busy now, I visit our daughters at Baylor and Texas Christian University, work part time, volunteer with my church, meet friends for coffee or lunch, and exercise with our relatively new rescue dog, Maggie.
Judy: Are there education programs for families to give an appreciation for the science and technology of this life?
Robbie: NASA takes really good care of the family members of astronauts. There are many briefings as we prepare for launch, so I personally felt very informed for what was ahead regarding the mission. Traveling to Russia and Kazakhstan for the launch can create a lot of stress on the families, but the astronaut office prepares us well so we can get the most out of the experience. Talking with other spouses who have recently gone through this experience has helped me tremendously.
Judy: I remember you talking about Shane being a guest speaker at schools, etc.
Robbie: Shane does speaking engagements frequently. It is part of their job to get the NASA story out to the public.
Judy: At launch times how do the wives support one another?
Robbie: The Astronaut Spouses Group provides great support during a mission. The group formally meets every quarter, but informally helps the families often whose astronaut is flying in space.
Judy: Now that launches are in Russia, is there a difference in your being there for launch or return?
Robbie: I was able to attend launch in Baikanur, Kazakhstan with a small number of family and friends, but I will not go to landing which is also in Kazakhstan. Shane will be back in Houston within 24 hours of landing.
Judy: Are you ever able to have any "private" conversations with Shane while he is in space?
Robbie: We are able to speak to Shane on the phone privately when he has time to call, which is at the end of most days. Once a week, we can have a private family video conference (much like Facetime) where we can have a video chat. He is able to communicate with our girls at college this way as well.
Seeing our astronauts at a launch, at Mission Control or on Facebook is a magical experience for me, and our AAAA family joins me in sending the Kimbrough Family our best wishes for continued success on all their endeavors.
Judy Konitzer is the family forum editor for ARMY AVIATION; questions and suggestions can be directed to her at This email address is being protected from spambots. You need JavaScript enabled to view it..">This email address is being protected from spambots. You need JavaScript enabled to view it..