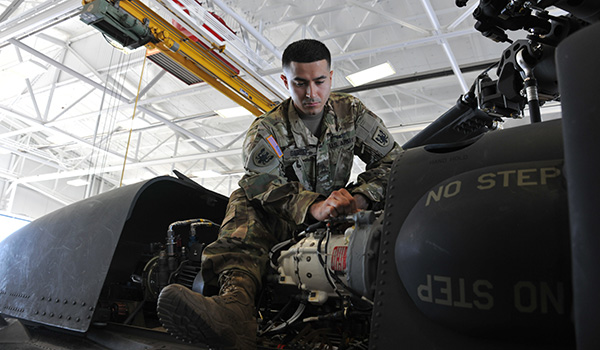 By BG Scott R. Morcomb, MAJ Clint Williams, and CPT Matthew Roman: The current geopolitical reality makes a U.S. engagement in a major conflict with a near peer enemy a definite possibility. Army Reserve Aviation has embraced this reality by executing the mass restructuring that is the Aviation Restructuring Initiative (ARI) while revolutionizing the way that we train our crews, battalions and brigades. We feel that this plan will prepare us to fight and win a unified land-air battle against any future foe. With the ever-evolving threat, the need for the capability to operate within a unified land-air operation, and known operational demand that will stretch the Army's capability to its utmost limit, a mass restructuring needed to take place. A way to maximize training effectiveness had to be developed.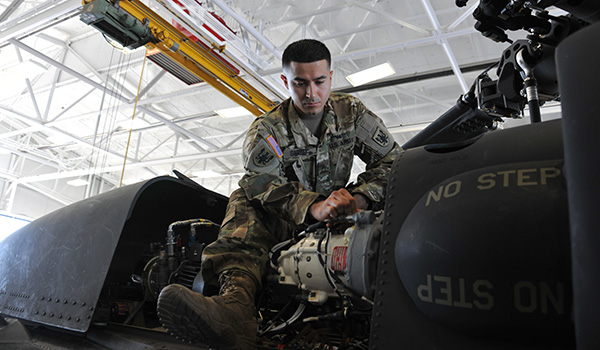 An aircrew member from the Army Reserve Aviation Command performs maintenance on a UH-60 Black Hawk helicopter, Aug. 30. / U.S. ARMY PHOTO BY GREG CALDONIA
Reorganization
The old adage which says "change is good" has taken on a new meaning within the Army Reserve aviation community over the past 24 months. Formerly designated as the 11th Theater Aviation Command, the Army Reserve Aviation Command (ARAC) is now a one-star headquarters element which oversees two fully deployable Expeditionary Combat Aviation Brigades (ECABs), the 244th and 11th with identical utility, heavy-lift, aeromedical evacuation (MEDEVAC), maintenance, and fixed-wing capabilities. The ARAC coupled with the National Guard Bureau has developed a sustainable readiness model that will allow for continuous support to all combatant commands (COCOMs). To echo what others have highlighted in the past, Army Aviation is an asymmetric advantage for our nation. The global operating environment we bear witness to today is not of anything this nation has seen before.
The previous several decades have pitted our forces against unconventional extremists who elect to solidify their fighting positions within the fog of civilian cover. The near peer enemy we may face in the future will compete via an increasingly complex and hybrid method of cyberwarfare coupled with newly refined conventional capabilities. While we still hold the advantage of air superiority, we cannot rest on our laurels, nor can we continue to expect to fight from fixed based operations in the "fight tonight scenario." Our capabilities, from an individual and collective standpoint, are realized only through our great leaders and their obsessive drive for mission success. Today the priority remains combat readiness in the form of decisive action proficiency and synchronized combined arms maneuverability.
Building and Sustaining Combat Readiness
In keeping with the guidance of the commanding general of the U.S. Army Reserve, the ARAC's soldiers and units must be ready to conduct their mission at any time or any place and adjust to whatever conditions or changes they may face. Building and sustaining combat readiness will remain the primary objective of every unit under the ARAC. At the ARAC, our approach to training mirrors the doctrinal blueprint of the army aviation training strategy but under a heightened level of scrutiny. In keeping with that model, our aviators and flight-crews first focus on the basic individual level tasks which include Readiness Level (RL) Progression and crew integration. As the mastery of individual, crew and collective tasks can only be achieved by sufficient repetition, it is incumbent on the ARAC to maximize the time we spend with our formations and ensure readiness at all levels is achieved and sustained. Through newly formed partnerships with our Compo 1 and 2 brethren, we are able to integrate into many challenging and readiness enhancing training scenarios, enabling our reserve aviation forces to be on par with our active duty counterparts. In the end, our command will continue its "learning organization" personality to navigate the existing challenges and consistently meet the training requirements through creative and ever-evolving training schedules.
SRM
Implemented in fiscal year (FY) 2017, the Sustainment Readiness Model (SRM), replaced the recognized Army Force Generation (ARFORGEN) readiness concept with the desired end state being sustainable readiness as opposed to progressive and cyclical readiness. We require our commanders to focus on training and leader development to achieve and sustain the highest levels of combat readiness in the unit's standardized mission essential task list (METL) and assigned mission tasks. Within the USAR aviation community, our leaders have taken it one step further and nested an aviation specific readiness model within the parameters of SRM. The end result being the ARAC's Collective Training Strategy, which couples the specific prepare year (PY) requirements of SRM into an actionable blueprint that can be utilized at each level of command. Whether it's a platoon size element or a brigade command and control (C2) staff, the ARAC's Collective Training Strategy allows for each corresponding leader to spearhead their own individual and realistic training initiatives, as long as it is within the scope of the Commanders Intent.
Embracing the broad concepts of Sustainable Readiness allows the ARAC to give the Army and Department of Defense (DoD) a capability for immediate use in contingency operations, when and where needed. Rather than train to a specific known demand and fall off a readiness cliff upon return and entering into a reset period, sustainable readiness allows for units to operate within a higher aggregate "band of excellence" with respect to operations. This is particularly important when considering reserve component organizations, both in the U.S. Army Reserve and National Guard. Operating within a higher band of excellence is truly a risk mitigation factor for senior army and national leaders as they plan and orchestrate force projection into a theater of operation.
We fully expect that any large scale contingency operation will demand more than our active component can provide, particularly in view of aviation capabilities. Therefore, it is incumbent upon the ARAC to ensure we are pre-mobilization focused throughout all operations and maximize our readiness with decisive action based mission essential task training. We are embracing our role in the ever developing evolution of total force capability that is ready to meet known demands, is postured for surge contingency operations, and remains globally responsive and regionally engaged. We truly are a new Army Reserve Aviation.
BG Scott R. Morcomb is the commanding general, MAJ Clint Williams the deputy G-3/5/7, and CPT Matthew Roman the public affairs officer of the U.S. Army Reserve Aviation Command, headquartered at Fort Knox, KY.