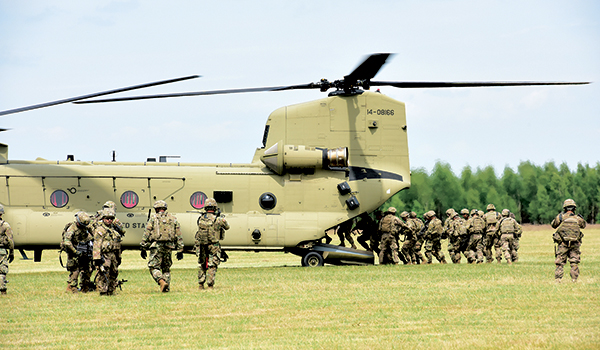 Aviation Branch Chief / By MG William K. Gayler: While the U.S. military enjoys many technological advantages over current and potential adversaries, the rapid pace of technological change in the world is quickly eroding those advantages in many areas – and the Army's Aviation Branch is no exception.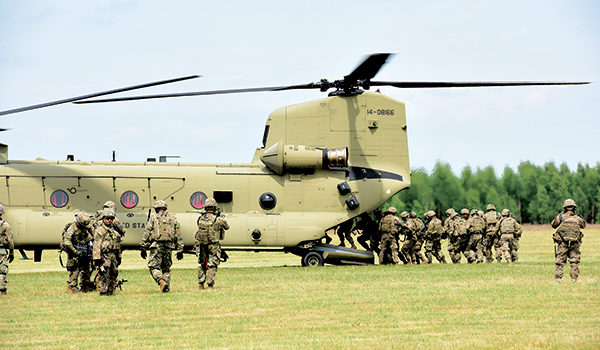 Battle Group Poland U.S. Soldiers conduct air assault training with 10th Combat Aviation Brigade's CH-47 and UH-60 helicopters at Rostki Helipad near the Bemowo Piskie Training Area during Saber Strike 17 June 6. Saber Strike 17 is a U.S. Army Europe-led multinational combined forces exercise conducted annually to enhance the NATO alliance throughout the Baltic region and Poland. This year's exercise includes integrated and synchronized deterrence-oriented training designed to improve interoperability and readiness of the 20 participating nations' militaries./ U.S. ARMY PHOTO BY U.S. ARMY PHOTO BY SFC PATRICIA DEAL
Regardless of the effects of technology proliferation, however, one of the most significant advantages of the U.S. Army and the Aviation Branch remains in the human dimension. The quality of our Soldiers and leaders – highly trained, exercising disciplined initiative at every echelon to overcome all challenges – is what has enabled our branch to employ the world's most technologically advanced aviation forces in support of Army operations throughout its history to keep faith with Soldiers and commanders on the ground. Without a doubt, technology helps and we owe it to our Soldiers to provide them every technological advantage possible to dominate in current and future conflicts; but the greatest technology in the world is only effective as long as the Soldiers who wield it possess the skill, confidence, and resolve to realize its full potential. We build that skill, confidence, and resolve through training.
Challenges in Multiple Arenas
You can rest assured that the leaders of the Aviation Enterprise are committed to ensuring that our warriors retain technological overmatch and the unique capabilities that Army Aviation provides to the combined arms team to fight and win in an increasingly complex world. To achieve that requires long-term vision, unity of effort, tough decisions about developmental priorities and associated resource allocation, and consistent collaboration across the Army and with our industry partners. This is no easy task. To succeed, we must simultaneously overcome challenges in multiple arenas: meeting substantial commitments to ongoing world-wide deployments in support of an Army that relies on Army Aviation as an integral part of the team; preparing for the unknown and difficult-to-anticipate conditions and threats on the battlefield of the next conflict; and recognizing the unknown and difficult-to-anticipate fiscal considerations at home that influence our branch's development and modernization efforts. Until we achieve the game-changing reach, protection, and lethality that Future Vertical Lift will provide, it is critical that we maximize every training opportunity and resource to hone our Soldiers and leaders through challenging, realistic, doctrine-based training.
Objective T rightly sets a high bar for measuring readiness: collective proficiency in standardized Mission Essential Tasks, tested against an opposing force, externally evaluated and with a live-fire component. It's not only a challenge to excel in this environment; it is a significant challenge to create this environment as well. Due to limited range space for maneuver and weapon employment on a scale required by aviation forces, schedule prioritization and deconfliction, ammunition availability, access to limited training enablers, and other competing priorities for Soldiers' and leaders' time and attention, it is even more imperative that we make use of every domain—live, virtual, and constructive—to create training opportunities, and to maximize the training value of those training events.
Training to Collective Proficiency
Without a doubt, this is a challenging task. Fortunately, the Army and the Aviation branch field a cohort of professional training experts intently focused on setting conditions for units to train to collective proficiency. The Program Executive Office for Simulation, Training, and Instrumentation (PEO STRI); Training and Doctrine Command (TRADOC) Capability Managers; USAACE Directorates of Training and Doctrine (DOTD), Simulations (DOS), and Evaluations and Standardization (DES); and combat training centers represent a significant investment of the Army's intellectual capital in building readiness through maximizing training opportunities. I encourage units to tap into this base of training expertise to solicit advice and help understand the factors that affect training at the unit level.
In a fiscal environment where the technical complexity and cost of our platforms often drives the conversation toward counting flight hours and dollars, it becomes even more important to ensure we do not lose sight of the fundamentals. Your unit's measure of readiness is not simply the number of flight hours flown; it is the ability of your team to collectively execute your mission even when faced by a determined foe—to fight, win, and fight again. The shared focus and commitment of the Army's senior leaders on supporting Army Aviation training objectives is as high today as it has ever been, and it is incumbent upon Aviation Soldiers and leaders at every echelon to harness this emphasis to train the force and to meet the urgent needs of an Army still very much engaged in achieving our nation's objectives around the world. Execute the Aviation Training Strategy to the best of your abilities; if you need more resources to meet readiness objectives, communicate this to your chain of command and to the Aviation Enterprise.
Train Using All Tools Available
I encourage you to train using all the tools available. The circumstances for live iterations may not always be ideal, because of multiple demands on Soldiers' time, finite resources for aviation operations and sustainment, personnel shortages, and turbulence caused by continuing deployments and new equipment fielding. This makes it even more critical for us to make best use of Training Aids, Devices, Simulators, and Simulations (TADDS). We acknowledge that these systems may not be perfect, but they still provide utility to unit trainers looking to make the most of precious training time to enhance collective proficiency, and allow units to make the most of every live flight hour where they can concentrate focus on the most important aspects of training.
Above the Best!
MG William K. Gayler is the Army Aviation branch chief and commander of the U.S. Army Aviation Center of Excellence and Fort Rucker, AL.