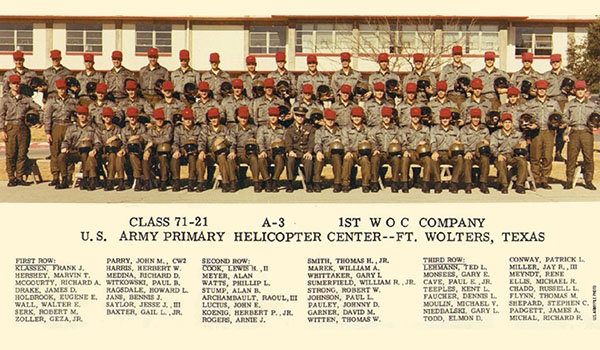 By LTC M. Lee Chase: The United States Army Primary Helicopter School at Fort Wolters, Texas, instituted colored class hats in 1957. Restoring this tradition to Army Aviation would directly improve morale and camaraderie, with promise to enhance recruitment and retention as we negotiate continuous deployments, variable priorities in the Army Budget, and COVID-19.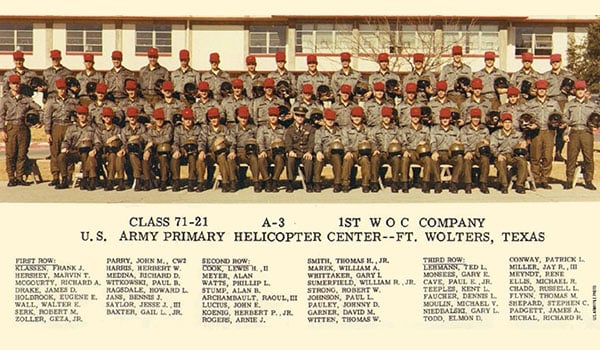 Is Army Aviation exceptional? Yes. My personal book collection includes "DUSTOFF," the autobiography of retired CW4 Michael J. Novosel, who earned the Medal of Honor for his heroism flying UH-1 Huey MEDEVAC missions during the Vietnam War; "A Hundred Feet Over Hell," which illustrates the valor of Army O-1 Bird Dog Aviators facilitating air strikes for American and Partner Nation units in Vietnam; and the more recent "South of Heaven," summarizing the gallantry of AH-64 Apache Aviators 'getting after it' in Afghanistan. These texts exhibit the unparalleled support that Army Aviation provides for our Ground Force Commanders and their troops. Does this mean that we are better than our brothers and sisters in other branches of the Army or sister services? No, but it does indicate that we are exceptional.
The Blue Hats "completed four months of incident-free, accident-free flying during A Phase and started B Phase early last month. BIG BLUE wasted no time in challenging Section 1 to a contest in barrier landings and takeoffs." Published in a Fort Rucker newspaper 58 years ago, the accompanying article illustrates the progress of BIG BLUE and the precision flying contests their sections had in the L-19 (O-1) Bird Dog during my father's Officer Fixed Wing Aviator Course 62-2 at Fort Rucker, Alabama. Each class wore a different colored hat and he was a proud Blue Hat. This tradition developed spirited camaraderie within and productive competition between classes. During Warrant Officer Flight Training (WOFT) in 1999, I too was a proud Blue Hat in my Initial Entry Rotary Wing Aviator Course (IERW). My father's Blue Hat days in 1962 and mine of 37 years later was a perfect combination of legacy and tradition.
While attending WOFT on 10 December 2003, a friend and former SOF teammate was speculating about what color his class hat would be. He welcomed the esprit de corps to follow in IERW and anticipated being an Orange Hat like his father years before.
At Fort Rucker that day to officiate the Change of Command, the Commanding General of TRADOC directed MG John M. Curran, the outgoing commander, "to get rid of the hats prior to the Change of Command, in order to better comply with Army Uniform Standards." To no avail, MG Curran pushed back by explaining "the history of the hats, as well as their practicality with the example of class leaders establishing more efficient accountability of troops."
Unceremoniously, the hats – and several decades of tradition – were taken from Army Aviation that day. While most were opposed to this move, a former training battalion commander at Fort Rucker contends that he was partly pleased with the order, because of "issues with students that did not follow prescribed standards for wearing of the hats."
As Christmas 2003 approached, word of the hats' demise spread globally throughout Army Aviation, with a narrative that the decision had been made to somehow increase morale by those in garrison wearing the same uniforms as Army Aviators in combat zones. Discontent ran far and wide. For Grey Hat (8 Ball) 1LT Douglas R. Chace in Mosul, Iraq serving as a Platoon Leader and CH-47 Chinook Aviator in A/7-101st, it "adversely affected morale" within their formation. In Tal Afar, Iraq, Blue Hat and AH-64 Apache Aviator CW2 Michael R. Hopkins fighting as a member of the 2-101st Rakkasans recalled that "the decision negatively impacted those of us in combat at that time." Retired LTC Bruce D. Silvey, current president of the Army Otter-Caribou Association and 1962 Gold Hat graduate, expressed that "lots of guys from my era still hold the hats in high esteem and take group photos at reunions wearing their original colored class hats." Retired CW4 Scott D. Kelly says that his Grey Hat (8 Ball) connects him to "a lineage of Army Aviator Grey Hats." Another Grey Hat (8 Ball) currently serving as an Army Senior Leader and Aviator would welcome the return of "a touchstone Army Aviation tradition." Today, the "US Army TH-55A Osage" Facebook page displays the character and camaraderie that past generations of Army Aviators associate with class colors and hats. Now retired LTG Curran "favored bringing back the hats in the year or two following the decision," but restoration has yet to be achieved.
Should the Army Aviation Center of Excellence restore the tradition of colored class hats for IERW and Initial Entry Fixed Wing (IEFW) Aviator Students, it would honor Army Aviation tradition, culture, and esprit de corps that began more than 60 years ago. Considering distinctive unit headgear for a multitude of Army branches and units, Army Regulation 670-1 could certainly be revised to include Colored Class Hats for wear at Fort Rucker, thereby fortifying one of the proud traditions of Army Aviation.
The Army Aviation enterprise has the bandwidth to excel in training, warfighting, and acquisitions; and even fight COVID-19, while restoring and maintaining our traditions that enhance camaraderie. Are we exceptional? Yes. But not more or less than Riggers wearing red hats, Airborne and SOF wearing berets, and Cavalry Soldiers wearing Stetsons and spurs. Having served in SOF as both an Airman and Soldier and, for the past 21 years in Army Aviation, I have a distinct perspective on what defines exceptional. The trials of becoming an Operator, an Army Aviator, or any number of other military specialties are unique and challenging. I am optimistic that IERW and IEFW Students will inherit the tradition of colored class hats, a cost-effective course of action to improve morale and esprit de corps; recruitment and retention; and honor our family of Army Aviators and Air crewmembers from past generations.
LTC M. Lee Price is an Army Attaché/C-12 Instructor Pilot with the Defense Intelligence Agency.
Editor's Note: This is an OPED article. The opinions expressed are solely those of the author.