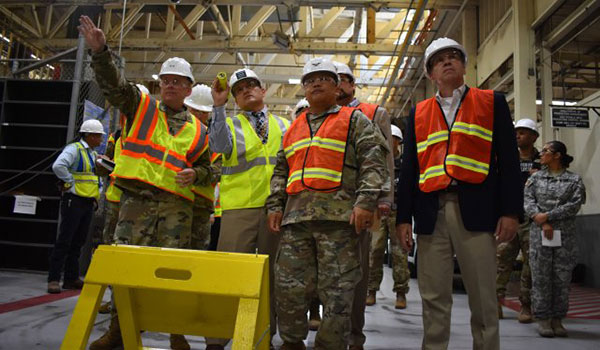 By Ms. Brigitte Rox (AMC) / army.mil: CORPUS CHRISTI ARMY DEPOT, Texas – For nearly fifty years, anyone with a vested interested in Corpus Christi, Texas has at some point heard (or said) that a major hurricane hitting town was never a question of if. It was always a question of when.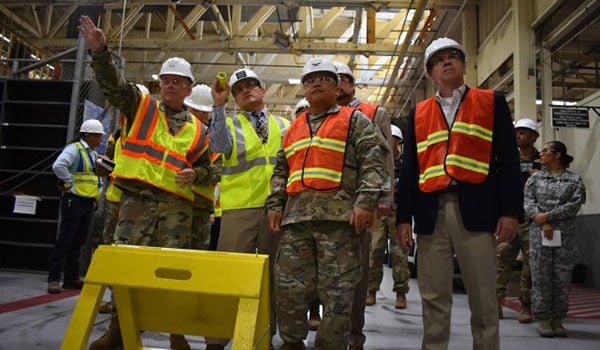 Maj. Gen. Douglas M. Gabram, Commanding General of the US Army Aviation and Missile Command points out ongoing repairs inside of Corpus Christi Army Depot's production facility, Sep. 6. Depot commander Col. Allan H. Lanceta and other depot leaders guided him through the most damaged areas and discussed their ongoing recovery efforts. (Photo Credit: Ms. Brigitte Rox (AMC))
BEFORE THE STORM
Corpus Christi Army Depot command leaders, emergency management office and others met with Naval Air Station Corpus Christi leaders and staff when Harvey entered the Gulf of Mexico as a tropical disturbance the week of Aug. 21.
This is common procedure every hurricane season, and usually, storms develop and go away or go somewhere else. However, it was a risk CCAD would not take.
Harvey was tracked as it grew each day and every hour, receiving regular updates from the warning coordination meteorologist of the National Weather Service office in Corpus Christi.
On Wednesday, the storm was 72 hours off the Texas coast line. The Commander of Navy Region Southeast ordered Tropical Cyclone Condition of Readiness 4. For CCAD, COR 4 initiates actions to execute a possible shutdown of the depot and evacuation of personnel and aircraft. 
The workforce sprang into action: securing buildings and assets, reviewing roles and responsibilities and backing up the digital infrastructure, all while coordinating and accounting for everyone and everything linked to CCAD. Personnel updated their emergency contact information to receive timely AtHoc messages through phone, text or e-mail from the CCAD Security Communications Center.
Click Here for full article