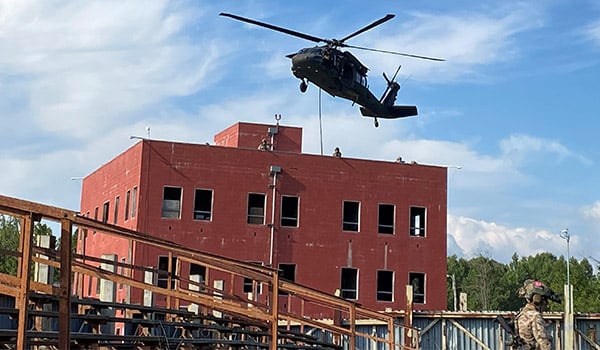 By CPT Carlo Aragoncillo: Recently back from a deployment to the Southwest Asia Area of Operations in support of Operations Spartan Shield and Inherent Resolve, the 8th Battalion, 229th Aviation Regiment (8-229th AHB) based out of Fort Knox, Kentucky, is keeping readiness at the forefront.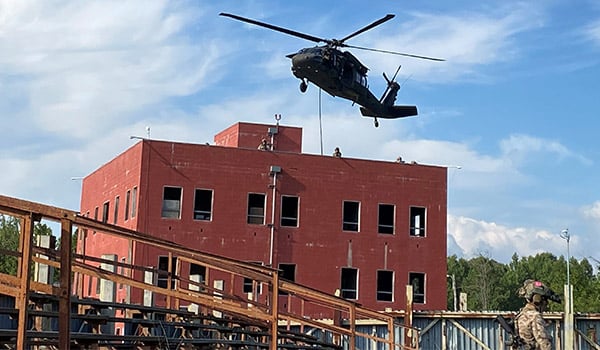 Aircrews from the 8-229th AHB stationed at Fort Knox, KY perform Fast Rope Insertion (FRIES) with Naval Special Warfare operators at a military operations in urban terrain (MOUT) site on Ft. Knox. / U.S. ARMY RESERVE PHOTO BY CW3 STEPHEN LACOMBE
Within months of coming back home in early 2020, Aviation flight crews and assets were sent throughout the United States for training exercises which included special operations forces, combat arms, and several other units in need of rotary support.
The key to a successful high operational tempo is to maintain standards both overseas and at home.
CW3 Stephen Lacombe, who serves as a battalion standardization pilot for 8-229th AHB described standardization as, "The cornerstone of Aviation. Everything from training the aircrew to working within safety guidelines allows us to efficiently accomplish any mission. Because of those standards, we can support a wide range of organizations to include both U.S. and partner nations. This also affords us the flexibility to the Command by allowing them to build interchangeable aircrews comprised of different members from other organizations."
While with every mission and aircrew there can be a difference, readiness and safety are always a top priority for every event. No matter the challenge crews have been faced with, whether the current Coronavirus pandemic or balancing their military career with their civilian obligations, the 8-229th continues to maintain its readiness month after month to include conducting or participating in the following recent exercises and missions:
Fast Rope Insertion (FRIES) operations with Naval Special Warfare operators at a Military Operations in Urban Terrain (MOUT) site on Ft. Knox, performing both day and night iterations with Night Vision Goggles (NVG).
Military Free Fall (MFF) operations at 12,000 ft. altitude over Ft. Knox, with the 5th Special Forces Group.
Military Static Line parachute operations over Ft. Campbell, KY.
Water bucket (Bambi) operations to build proficiency in fighting fires with helicopters. The unit utilized both standard and "long line" water buckets that extended over 100 ft. below the helicopter for use in large wildland areas. These buckets are used to extract water from resources that are under normal circumstances deemed inaccessible. Each of the 8-229th AHB's aircrews are equipped and prepared to conduct helicopter firefighting operations under both day and night conditions.
Night Vision Goggle (NVG) Air Assault infiltration on target areas in support of Special Operations Force operators.
External fuel tank training for new aircrew members and familiarization with the Extended Range Fuel System, effectively doubling a helicopter's fuel load for extended operations.
Routine multi-ship flight operations to prepare for operational deployments as well as Air Assault operations.
Support of the Sabalauski Air Assault School in continued partnership with the 101st Airborne Division.
Forward Arming and Refueling (FARP) operations in conjunction with aerial gunnery during this summer's Extended Combat Training (ECT) at Ft. Knox.
The 8-229th AHB's hard work and dedication to the mission is embedded in the unit's DNA. Successful training events after a demanding deployment overseas is not by happenstance. Every Soldier's attentiveness, expertise and fortitude is put to the test as these events are a culmination of hours upon hours comprised of planning, rehearsals, briefs and simulations leading up to each event.
"Supported ground units can plan and execute their training more effectively, efficiently and safely by knowing what capabilities we possess," said CW3 LaCombe. "How proficient we are in a training environment sets the tone for everyone's mission success. We perform to the same standard regardless of what 8-229th AHB event we're tasked with."
As the 8-229th AHB closes out the fiscal year, they are not letting off the pedal as the unit is busy preparing for its next mission and the upcoming year, which means as a team staying individually and collectively ready.
CPT Carlo Aragoncillo is the 244th ECAB Public Affairs Officer at Joint Base McGuire-Dix-Lakehurst, New Jersey.