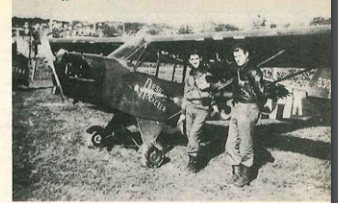 (From Army Aviation archives. Page 27, Vol. 3, No. 3, New York, NY., March 1955. By: Lieutenant Colonel Thomas E. Haynes, OCT, D/A.)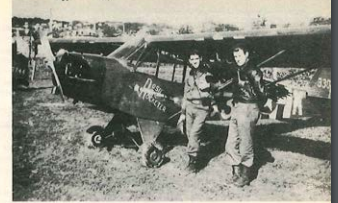 WWII vintage L-4 and the two characters are Major Carpenter (right)[1] and Lt. Col. Thomas E. Haynes (left)
         "D.C.—Here's a 'Remember When?' snapshot of interest. Of course, you'll recognize the WWII vintage L-4 and the two characters are Major Carpenter (right)[1] and myself (left). Carpenter was sort of a legendary character with the 4th Armored Division and is alleged to have knocked out several tanks with the bazookas (mounted on the struts). My only connection with the deal was that I rigged the ship up in England and Carpenter wanted to take it into combat with him.
         "My feelings at the time were as they are now, that close support was not our mission. Not only that—I had postwar plans! The picture, incidentally, was taken in Nancy, France, sometime in September of 1944.
         "I don't know where Carpenter is now. More later! . . . Lt. Col. Thomas E. Haynes."
         The story of Major Carpenter can be found in other sources. For instance . . .
         . . . Following the German defeat at St. Lo, July 1944, the Allies prepared to push the Germans towards their own border.
         "No division played a greater role in exploiting the German defeat than the U.S. 4th Armored Division, commanded by Maj. Gen. John S. Wood. From the beginning of mobile operations in the newly activated Third Army, Wood used L-4s to reconnoiter ahead of the division's columns. The pilots used a common radio channel with ground elements allowing for instantaneous communication. The division artillery officer, Captain Charles C. Carpenter, reported that scouting for armor and cavalry was 'one of our most useful jobs.'
         "At times an aircraft would land in a field beside a column and would then take up the column commander so he could orient himself to the terrain. Having an aircraft at the head of a column markedly increased the rate of advance by lessening the degree of uncertainty involved in what was in the road around the next bend and over the next hill."[2]
         The story continues, as American forces closed the German frontier.
         "By then (September 1944), the 4th Armored Division had already demonstrated a new technique that held the most promise for the future of organic aviation.[3] On 19 September during a fog-shrouded counterattack by XLVII Panzer Corps against the 4th Armored Division at Arracourt, France, the division artillery officer, now Major Carpenter, reputedly knocked out two tanks from an L-4. No pilot was as enthusiastic about arming liaison aircraft than Carpenter, whose advocacy of his weapon of choice earned him the nickname Bazooka Charley. A civilian in uniform, he had been a high school history teacher in Malone, Illinois. During the breakout from Normandy, two lieutenants in the division put a bazooka under each wing of their L-4. They claimed to have knocked out two German trucks, which piqued Carpenter's interest. About the same time, Carpenter also learned of how Major Haynes' experiments with a rocket-firing Cub at grove and secured permission to bring it to the Continent.
         "Although all other aircraft were grounded because of fog on 19 September, Carpenter somehow took off successfully. Through a break in the mist he saw a company of German armor attacking toward the division's water supply point. He radioed a warning to the supply point crew, then regained altitude and went into a step dive. He fired two rockets. Both missed. On a second pass his aim, or perhaps his luck, was better, and he knocked out one tank. His third pass he added yet another victim. At that point he had expended all his anti-tank rockets, but the German commander, disconcerted by this totally unexpected intervention from the air, hastily broke contact and withdrew. In miniature this episode foreshadowed the fate that befell XLVII Panzer Corps later in the day when the fog cleared sufficiently for Army Air Forces fighter-bombers to take-off. The only disconcerting element lay in higher headquarters' inability to find any physical evidence to support Carpenter's report, which might testify to the efficacy of German armor retrieval and repair efforts. While Carpenter and the 4th Armored Division had no doubts as to what had happened, considerable skepticism remained at higher levels."[4]
         Regardless of the "skepticism" held at higher levels, Edgar Raines offers an interesting synopsis: "If the very degree of the air-observation post success in France and Germany held conservative implications for the postwar force, two other functions, not formerly codified as missions, suggested future directions of change. Both brought Field Artillery pilots to the very performance limits of their aircraft. The XII Corps' planned, but not executed, airlanding using light aircraft suggested the possibility of transporting ground troops by air within the battle area and inserting them at some decisive point for the ground battle, the concept that Lt. Col. John C.L. Adams had proposed at Fort Bragg in 1942. A subsequent generation termed the XII Corps concept airmobility.
         "Major Carpenter's use of an L-4 in an anti-armor role in the 4th Armored Division hinted at the revival of the direct fire support of closely engaged ground troops from the air. (This had been performed on a limited basis by the III Corps observation squadrons during World War I and championed by Col. Bryan Q. Jones in the interwar period.). It is doubtful if a majority of Field Artillery pilots, let alone ground officers or Army Air Forces officers, would have agreed on the utility of organic aviation performing these functions. Yet, for the pilots as well as for the ground officers, the question was not one of doctrine but of technology: Could light aircraft accomplish these missions? By squeezing all potential performance out of L-4s and L-5s, Field Artillery pilots not only demonstrated what was possible but also what might become possible with improved equipment. Without realizing it, they created a demand among both themselves and the men they supported for a machine that most of them would not hear about until after the end of the war—the helicopter."[5]
Endnotes
[1] Major Charles C. Carpenter.
[2] See page 213, Chapter 6, "The European Theater of Operations, June 1944-September 1945," Eyes of Artillery, by Edgar F. Raines, Jr.
[3] Note terminology used here, "organic aviation." Not Army Aviation. For what is generally referred to as "Army Aviation" is actually, at this stage, the "Air Observation Post." Yet the seeds for what will become Army Aviation are certainly being planted here.
[4] See page 228, Edgar F. Raines, Jr.
[5] See page 235, Edgar F. Raines, Jr.
Bibliography
Haynes, Lieutenant Colonel Thomas E., "Remember When?" Army Aviation, Vol. 3, No. 3, New York, NY., March 1955.
Raines, Edgar F., Jr., Eyes of Artillery: The Origins of Modern U.S. Army Aviation in World War II, Center of Military History, United States Army, Washington, D.C., 2000.
Wakefield, Ken, The Fighting Grasshoppers: US Liaison Aircraft Operations in Europe, 1942-1945, Midland Counties Publications, Leicester, England, 1990.