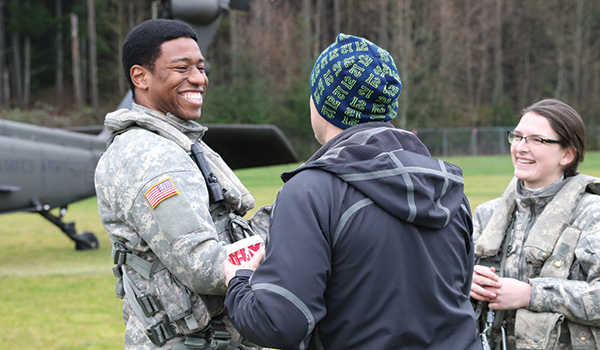 Chief Warrant Officer of the Branch / By CW5 Joseph B. Roland and CW4 David J. Stock II: In order to provide no-fail support to our nation and the warfighter on the ground, Army Aviation strives to access, train, and develop the best aviation warfighters in the world.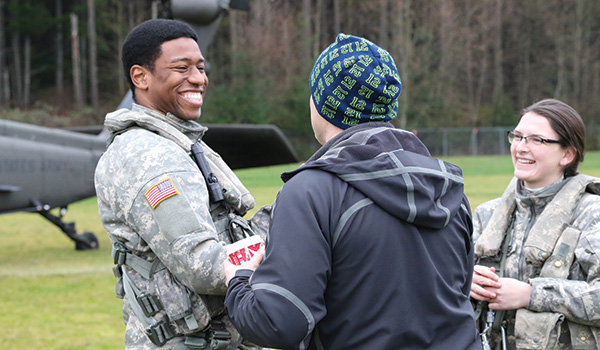 CW2 Sean Quillin, Charlie Company, 1st Battalion, 140th Aviation Regiment, greets Jeff Coleman, aviation instructor at Emerald Ridge High School, after landing his UH-60 Black Hawk helicopter on the school's football field. His visit to the high school was part of a partnership with the school's aviation program which gives aspiring pilots the chance to talk to real pilots and sit in real helicopters. / COURTESY PHOTO BY JENNIFER PICARDO.
When I first came on board last spring CW4 Stock briefed me on an initiative for the branch to play a much bigger role in seeking out those civilians with the character and commitment we require of our aviation professionals. Civilian entries account for 25% of the overall aviation warrant officer accession mission, yet our branch has no formal process to actively seek out our nation's best and brightest civilian talent. Aviation's current group of senior warrant officers that accessed through the Warrant Officer Flight Training (WOFT) program continue to operate and excel in key positions. It's our responsibility as guardians of this profession to ensure we actively seek out those young men and women with the character, commitment, and values to be a part of this warfighting cohort. The following was written by CW4 Dave Stock, one of our talented warfighters who make this profession what it is today.
Warrant Officer Accessions
Many of us know a warrant officer who joined the Army via the out-of-service program called Warrant Officer Flight Training, commonly referred to as "High School to Flight School" or "Street to Seat." WOFT has been around for over 30 years and has recruited civilians with a clearly defined path to a warrant officer aviator career, but we typically access just 25% of our annual requirement from WOFT.
The majority of warrant officer aviators are enlisted first, served an average of seven years, and are approximately 28 years old when they submit their packets. Most warrant officers didn't know about WOFT before they joined the Army, and many say they would have applied for it from the start had they known. I am one of those warrants. Having no family in the Army or the internet as a source, I walked into the recruiters' office and told them I wanted to be a helicopter pilot. I was told that I had to be a mechanic first and could apply to be a pilot later. I enlisted for a different branch and later applied through the in-service board, but those years could have been spent as an aviator had I known about WOFT. The question and circumstances aren't much different today: how do we recruit and get the word out about WOFT? Can we benefit by having younger aviators with more years of service remaining before retirement?
Reaching Out
Aviation Branch has recently made a deliberate effort to reach out and inform the public about WOFT. In the summer of 2016, we established a U.S. Army Aviation booth in the Education and Career Center at one of the world's largest aviation expos, the Experimental Aircraft Association's Airventure in Oshkosh, Wisconsin. During the event we had hundreds of aviation enthusiasts stop and learn about Army Aviation and WOFT. One of the visitors to our booth was college educated, loved aviation, held a private pilot certificate, wanted to serve our country, and had never heard about WOFT. Within just a couple months the board selected this applicant and he is currently in basic training. This is just one example of the excitement we've seen since we started increasing our WOFT awareness events. There are more events planned in 2017 that will bring the WOFT program to additional civilian aviation forums.
Aviation Branch has also been reaching out to colleges and universities, specifically those with aviation degree programs. Many of these schools have Reserve Officer Training Corps (ROTC) programs, but they know very little about Army Aviation's warrant officer accession programs. Our goal is to ensure that qualified applicants are educated on all Army Aviation accession programs and the differing career paths; one path focused on leadership and command roles as a commissioned Aviation Branch officer, and the other path focused on specialized technical and tactical fields as an Aviation Branch warrant officer.
Army Aviation has recently coordinated our efforts with Aircraft Owners and Pilots Association (AOPA), the world's largest aviation advocacy organization. AOPA has an annual Aviation High School Symposium that provides a forum and resources for aviation high school programs. In November 2016, Army Aviation distributed WOFT brochures and spoke with numerous aviation high school principals during the symposium. Out of all of the aviation schools, only one person knew of WOFT and all thought it was a great option for their students. Army Aviation will be a featured guest during the 2017 symposium and will continue to inform educators about the WOFT program and how it may benefit their graduates.
While we've been making great strides to improve the awareness of our WOFT program, we've also been seeking more in-service applicants, with a specific focus on installations with unique military occupational specialties (MOSs) and skillsets. Intelligence professionals, Special Operations personnel, and other low density MOSs should be aware of the requirements and opportunities in Army Aviation. Their education, training, and experience is valuable, and we'll continue to aggressively seek them out!
It's been said that we are all Aviation Safety Officers…well, the same can be said that we can all be warrant officer recruiters. We will utilize our local units and command chief warrant officers to help facilitate greater execution and maximize our reach. We will also continue the Branch initiatives that are providing positive results. With your help, WOFT can transform from the most unknown program to the most sought after program. Recruiting the future force requires a deliberate plan of attack and it must start today.
Above the Best!
CW5 Joseph B. Roland is the chief warrant officer of the Aviation Branch with the U.S. Army Aviation Center of Excellence, Fort Rucker, AL; and CW4 David J. Stock is the USAACE Aviation Warrant Officer Proponent.